Is Forced Procreation Coming to China? | Opinion
"China officially further relaxed its family planning policy, allowing couples to give birth to three children," the Communist Party's Global Times announced on May 31. "The move aims to improve China's population structure and actively respond to the country's aging problem."
No, the move won't do that. A three-child policy will be even less successful than China's two-child policy, which itself was a complete flop. So watch out: Beijing could—and probably will—take the next step and outright force couples to have children.
Mao Zedong, the founder of the People's Republic of China, believed there should be as many Chinese in the world as possible. His pro-growth attitude resulted in 5.9 births per female of child-bearing age at the beginning of the 1970s. The rate, of course, was unsustainable, and Beijing's technocrats adopted the mostly voluntary wan, xi, shao—"late, long, few"—program to limit population growth.
The birth rate fell in half in less than a decade. Deng Xiaoping, Mao's successor, was not satisfied, however. He instituted the one-child policy in 1979 as one of his first initiatives after assuming power. During the existence of this coercive program, "probably the largest social experiment in human history," China's total fertility rate (TFR)—the number of children per female reaching child-bearing age—declined from 2.9 to an estimated 1.05 in 2015.
Beijing went to a two-child policy beginning the first day of 2016. The policy worked—for one year. Births increased in 2016 but then fell in each of 2017, 2018, 2019 and 2020.
Beijing claims the country's 2020 TFR was 1.3. But Yi Fuxian of the University of Wisconsin-Madison told me the TFR last year was an extremely low 0.90. Yi's estimate is consistent with 2015's TFR.
Replacement TFR for most societies is generally 2.1, although some think China's replacement rate is actually 2.2 because of higher child mortality. In any event, China this century is on track to experience history's most dramatic demographic collapse in the absence of either war or disease.
The Chinese Academy of Social Sciences projects China's population will halve by 2100 if the country maintains a 1.3 TFR. If the TFR stabilizes at 1.2, the country will have a population of only 480 million by the end of the century. By then, there will be 433.9 million Americans, according to current UN projections.
Just about nobody thinks Beijing will be able to prevent the predicted collapse. "The three-child policy will not work any better at encouraging births than the two-child policy," Reggie Littlejohn, the president of Women's Rights Without Frontiers, told Newsweek. "I predict that China's birth rate will continue to decline."
"The only way forward is to abolish the draconian family-planning system and let every Chinese couple choose its family size freely," Susan Yoshihara, president of the American Council on Women, Peace and Security, said to me.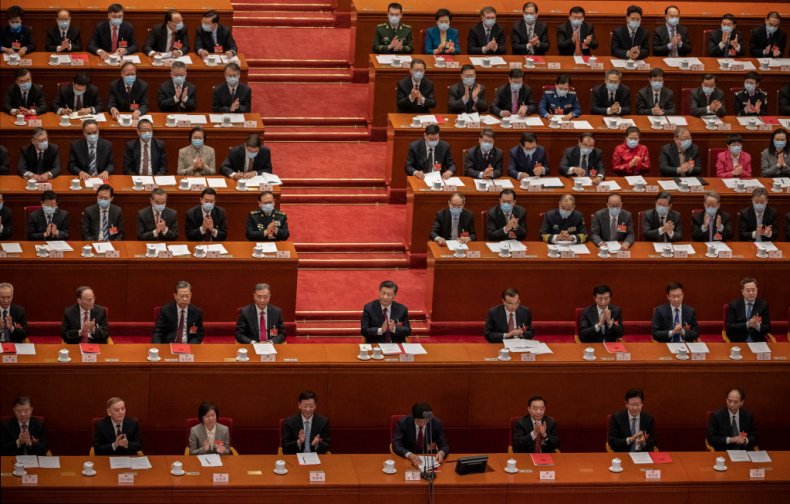 Many, including sociologists Wang Feng and Yong Cai writing in The New York Times, argue China is not about to abolish family-planning rules because that would result in losing a mechanism of control. The Communist Party under Xi Jinping is moving China back to Mao-era totalitarianism, so officials do not surrender opportunities to micromanage the lives of the Chinese. As Littlejohn says, "the Womb Police are still in business."
And that brings us to a disturbing possibility: That Chinese officials will coerce couples—single females are not eligible for birth permits—into having children. "What will the Communist Party do next?" asks Littlejohn. "Will it turn to forced pregnancy? Since coercion is at the core of their population control policy, this possibility cannot be dismissed." Chinese netizens are already concerned about being forced to procreate.
In fact, forced procreation has been on the minds of Chinese officials for years. "We should make sure our policy and system allow our [women] to give birth to two children," said Mei Zhiqiang, deputy director of the Family Planning Commission in Shanxi province, to a Chinese news site in February 2015, on the eve of the adoption of the two-child policy. "And they must have two children."
"Seems it won't be long before the government starts fining those who only have one child," said a poster on the Sina Weibo microblogging site, at the time.
Fines to encourage procreation did, in fact, become a reality. In 2017, about a year after Beijing's relaxation of the one-child policy, some localities required couples to make deposits at the time of marriage and returned the funds only after the birth of their second child.
Such a local practice could be turned into a nationwide policy. A system of deposits could morph into legal procreation quotas for officials and legal requirements for couples.
As Littlejohn notes, women's bodies in China are considered "instruments of the state." Chinese state policies are often coercive—especially when vital state interests are concerned. Communist Party leaders, even long after Mao, have made the connection between a large population and great national power.
Ceausescu's Romania monitored women's menstrual cycles so that officials could know when to force intercourse. Chinese officials have monitored women's cycles to keep births down, so it's not hard to imagine they would now use their capabilities to increase births.
"This is a developing story," the Global Times stated, in making the three-child policy announcement. "We will update it later."
"Updating" sounds ominous. Forced procreation is coming to China.
Gordon G. Chang is the author of The Coming Collapse of China. Follow him on Twitter: @GordonGChang.
The views expressed in this article are the writer's own.