Ford Is America's Top-Selling Vehicle Brand So Far This Year
North America has always loved Ford's trucks. This year, they love the Dearborn, Michigan-based automaker's trucks and sport utility vehicles (SUVs), driving Ford to the top spot as America's top-selling brand so far in 2023.
"Ford if off to a fast start for the year. February sales numbers and overall sales growth show Ford's commitment to the truck, SUV and electric vehicle segments. And this is coming on the heels of an upcoming new Escape, Super Duty, Mustang and Ranger truck," Andrew Frick, vice president sales distribution and trucks, Ford Blue told Newsweek.
Through the end of February, the Ford brand has sold 291,995 vehicles, up 11.8 percent year-to-date. Over half of those sales are from the trucks with more than 163,000 of the companies F-Series, Ranger and Maverick model customer deliveries happening during that time.
That's 20,000 trucks more than General Motors has sold and an 18.6 percent gain over 2022's sales during the same time period.
Ford's sales numbers put it on track to come close to its sales figures of the first quarter of 2020, when the coronavirus pandemic before the semiconductor chip crisis and associated labor and materials shortages began taking hold. The brand is not likely to beat 2019's Q1 sales results of 565,274 units.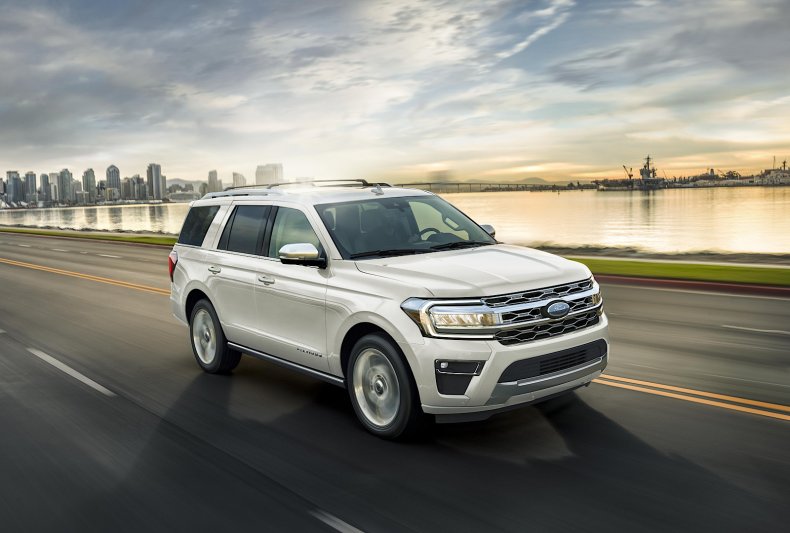 Year-to-date sales of the F-Series are up 14.8 percent to 109,996, besting the company's closest competitor by 34,000 trucks. Maverick is similarly hot, with Ford selling nearly as many of the compact trucks as it does Escape SUVs.
Ford has sold 3,600 F-150 Lightning electric trucks year-to-date. Most of those were in January. In February, Ford halted production and sale of the model due to a potential battery issue.
Ford's SUV sales so far in 2023 (119,427 units) have made it America's top-selling SUV brand. Explorer continues to be Ford's best-seller in that category, followed closely by the Bronco. Those model sales are up 34.7 and 61.3 percent, respectively, year over year, earning Explorer the title as America's best-selling three-row midsize SUV.
Expedition sales are up 124 percent during the first two months of 2023, compared to 2022's figures.
Ford also owns the title as the maker of America's best-selling electric van, with E-Transit sales numbering 761 through February.
Not all of the sales results were rosy. Mustang Mach-E electric crossover sales were down 10.9 percent year-over-year, reflective of seven weeks of facility downtown for capacity increase actions. Escape sales plummeted 42.3 percent and Edge sales are down 20.1 percent so far this year.
Buyers have purchased nearly 40 percent less Rangers in 2023 than they did during the first two months of 2022. That model is slated for a generational redo for North American customers this year.
Ford's sales have driven its market share up by 1.4 percentage points over the last year. In February, sales were up 21.9 percent, making its total share for the second month of 2023 13.3 percent.