Ford Boosting Production of Highly Sought After Electrified Trucks, SUVs
Ford's manufacturing plants are getting a production boost in response to strong customer demand for some of the company's newest products.
"We have had a strong start to 2023 and we are moving to fast-track quality production," said Kumar Galhotra, president, Ford Blue. "Increasing production benefits both our customers and our business."
Following seven weeks of downtime to scale up, Ford Mustang Mach-E production was ramped up this week. Changes to the assembly line will allow Ford to nearly double its hourly production of the electric vehicle (EV). The company hopes to meet a project annual run rate of 210,000 units by the end of 2023.
The Mustang Mach-E is one of the keys to Ford's future success. Two-thirds of its buyers are new to the Ford brand.
Bronco Sport and Maverick will have production boosts of more than 80,000 units each, with distribution of those models targeted for North and South America.
Production of the F-150 Lightning is set to get back on track mid-month. Then, the company will work to increase production to a run rate of 150,000 by the end of the year.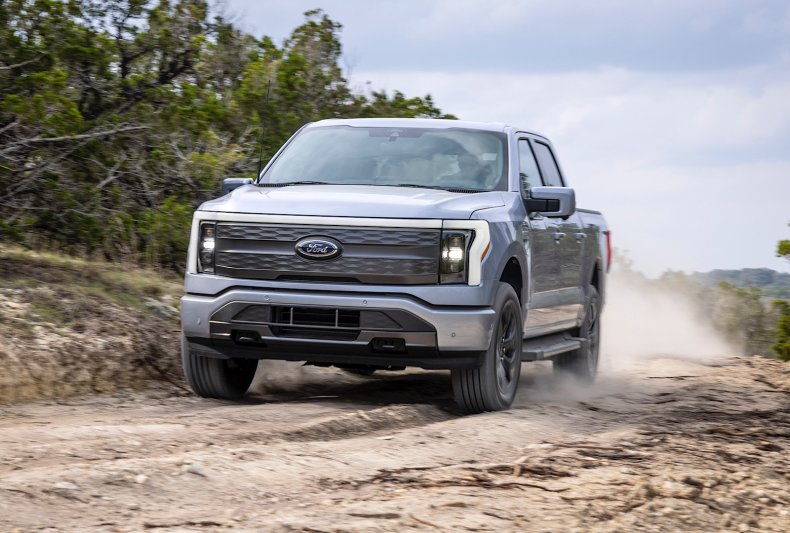 Lightning's ramp up is part of a $2 billion cash infusion into manufacturing across three plants. It will add 3,200 jobs to the Ford payroll.
Ford's Kansas City Assembly Plant crew will be added to this year to help meet Transit and E-Transit van production goals of a run rate of 38,000 annually. This effort will cost the company $95 million and add 1,100 jobs.
The automaker has not yet figured out a way to increase production of the F-150 truck, as it works to respond to strong demand for gas and hybrid models.
"Ford has recently launched some wildly popular nameplates but has struggled to meet demand due to supply chain and production-related issues. Ford promises increased production with streamlined quality control to fulfill the growing backlog of orders is in place," Paul Waatti, manager of industry analysis at AutoPacific, told Newsweek.
The automaker's planned increases come alongside its efforts to launch several new and revised model this year including the Super Duty trucks, Ranger midsize pickup, Mustang sports coupe, and Escape compact SUV.
"Ford must sort out its production issues before launching other vital products this year, including Super Duty, Ranger, Mustang, and Escape. These rollouts are critical for Ford to nail, which are all key to the bottom line and market share in popular segments," Waatti said.