Ford to Reveal New Bronco on O.J. Simpson's Birthday
On Friday, June 17, 1994, 95 million people tuned in to watch O.J. Simpson evade police in a white 1993 Ford Bronco SUV after the former football player and actor refused to turn himself into the police when charged with two counts of first-degree murder for the stabbing deaths of his ex-wife Nicole Brown Simpson and her friend Ron Goldman.
Sales of the large, two-door SUV briefly soared after the infamous low-speed chase. In 1994, Ford sold 37,000 Broncos according to USA Today, 7,000 more than the previous year. Still, the Bronco's days were numbered. Ford already had plans to discontinue the SUV in 1996, replacing it with the more family-friendly four-door Ford Expedition the following model year.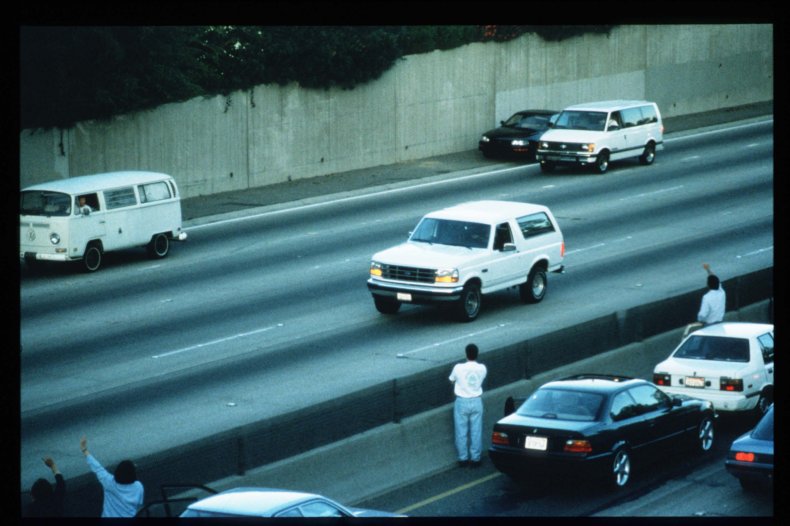 But in 2021 the Bronco will return. Ford has chosen July 9 to unveil the new version of the SUV, a date the announcement will share with the 73rd birthday of O.J. Simpson. Despite the overlap with the accused murderer (although acquited on the two murder counts, Simpson was later found responsible for the homicides in a civil action and was ordered to pay $33.5 million to the families of the victims) most associated with the vehicle, Ford plans to proceed with the July 9 reveal, which was announced on Twitter with the caption "The Wild Returns."
"We're going to reveal Bronco just like we said we would on July 9," Ford North American product communications manager Mike Levine told the Detroit Free Press, describing the O.J. Simpson birthday overlap as "purely coincidental."
Newsweek has reached out to Ford Motor Company for confirmation and additional context, but did not hear back in time for publication.
The 2021 Bronco is expected to be released in two-door and four-door versions and was first confirmed at the 2017 North American International Auto Show. Citing details released to dealers, Car and Driver described the 2021 Bronco as sporting "a boxy shape with retro styling," with a removable roof and doors.
A video released by Ford in 2019 emphasized the SUV's long legacy, stretching back to the 1960s, while making no apparent reference or allusion to the vehicle's role in the famous murder case:
Another video released by Ford highlighted the 2021 Bronco's off-road performance with a test drive in the Johnson Valley of the Mojave Desert in California.
"Saddle up, it's almost here," the Ford Motor Company tweeted Monday.
Newsweek has reached out to Simpson for comment on the birthday announcement and the 2021 Ford Bronco via Twitter direct message, but did not hear back in time for publication.