Ford CEO's Viral Video Shows F-150 Powering a Wedding in Michigan
This past weekend in Farmington Hills, Michigan, the wedding reception for Vetrivel Chandrasekaran and Rachna Nanda Kumar was going as planned until a storm caused a sudden power outage that threatened to cut the festivities short.
Luckily for them, among the guests were two engineers for Ford Motor Company, who had brought along their Ford F-150 PowerBoost truck equipped with Pro Power Onboard, a generator located in the bed of the model.
In a video tweeted by Ford CEO Jim Farley this morning, a man behind the camera explains that the power has gone out, showing a dark yard filled with guests. Then he pans to another man, seen plugging in various cords into the various outlets in the bed of the truck.
The man then flips a switch, restoring power to the reception and eliciting cheers from all in attendance.
Farley wrote, "Love seeing F-150 save the day."
The owner of the truck, Harish Thiruvengadam, is a mechanical engineer at Ford. He told the Detroit Free Press that the groom was ready to end the party after the power cut out.
"There was no other option," he said. "Then I remembered the PowerBoost. I backed the truck up onto the lawn, took the cords and stretched them across the lawn and, oh my god. No one could believe there were outlets in the pickup bed. They thought there was a generator, but there was no loud sound."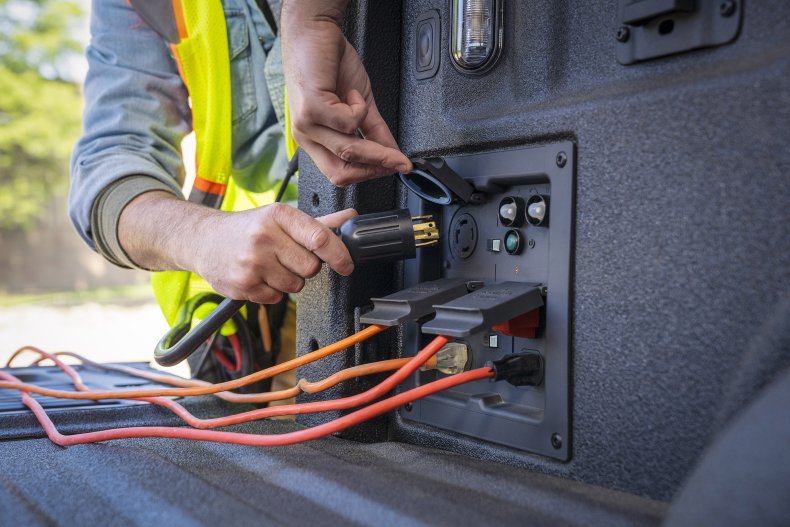 This isn't the first time that the company's F-150 PowerBoost generating capabilities have garnered worldwide attention. During the winter storm that knocked out the power for millions of Texas residents, some F-150 owners showed themselves using the onboard generator to power appliances and in-home generators on social media.
At the time, Farley tweeted, "The situation in the SW US is so difficult. Wish everyone in Texas had a new F150 with PowerBoost onboard generator...."
The Pro Power Onboard feature is available on new F-150s equipped with a 2.7-liter V6, a 3.5-liter V6, or 5.0-liter V8 engine. Three levels of electrical output are available on the truck: 2.0, 2.4, and 7.2 kilowatts (kW).
The 2.0-kW option supplies power to two 120-volt, three-prong outlets in the truck bed. The 2.4-kW choice provides 2,400 watts of electricity to the two 120-volt outlets. The higher end 7.2 kW version, which is exclusive to the hybrid line, powers four 120-volt outlets plus one 240-volt outlet.
The Pro Power Onboard system can be used while the truck is in motion or idling, with enough power to operate overnight. The system can also be managed on the FordPass app, though users need to be within 30 feet of the truck to be able to monitor the system or turn the power on and off.