Ford F-150 Lightning EV Pickup Officially Beats Its Own Range Estimates
The highly anticipated Ford F-150 Lightning has officially completed its final EPA testing.
Originally estimated to achieve 230 miles by Ford, the 98-kilowatt-hour standard range battery pack officially achieved an EPA-estimated range of 300 miles. The all-electric truck's XLT and Lariat trims with the extended-range battery achieve an EPA-estimated range of 320 miles, 20 more than originally estimated.
"We are laser focused on continually improving our energy consumption efficiency for Lightning and the team is really happy to deliver these results for our customers," said Linda Zhang, chief program engineer of the F-150 Lightning, in a press release.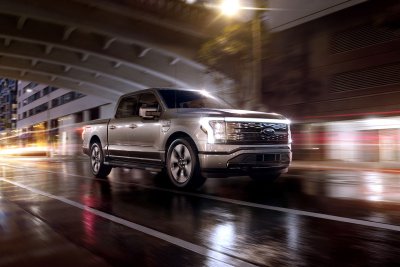 While the EPA estimate is higher than what Ford had originally predicted, it falls short of some other highly anticipated electric trucks on the horizon.
The Chevrolet Silverado EV, the first truck in the company fleet to go electric, has a manufacturer-estimated 400-mile range. The full-size truck will use General Motors' Ultium battery technology to create packs up to 200 kilowatt hours. The Silverado EV is expected to be available for the 2024 model year.
GMC has teased an all-electric Sierra Denali which is expected to run on the same platform as the Hummer EV pickup. Powered by a 200 kilowatt battery, the Hummer EV pickup achieves an EPA estimated 329 miles.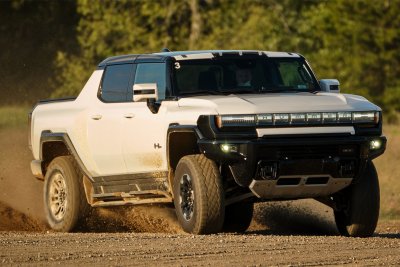 The ever-ambitious Tesla has estimated an incredible 500-mile range for the Cybertruck. The company has not revealed its battery size but stated that every model would be supercharger compatible. The more down-to-earth Ram is predicting the same range.
California EV manufacturer Rivian offers three battery packs for the R1T. The Standard Pack achieves an estimated 260 miles, while the Large Pack has an EPA estimated 314 mile range and the Max Pack achieves 400 miles.
The commitment to a wide selection of electric vehicles across the automotive industry is clear. Ford invested $22 billion in electrification through 2025 as part of its plan, which it kicked off with some of its most iconic names: Mustang, F-150 and Transit.
The all-electric Mustang Mach-E is currently available with a 305-mile range. The high-tech SUV is powered by a 70-kilowatt hour battery. The cargo van E-Transit debuted in late 2021 with a 126 mile range.
Customers can expect the first deliveries of the F-150 Lightning this spring. The truck will be available in four series (Pro, Platinum, XLT and Lariat) and with two battery options.