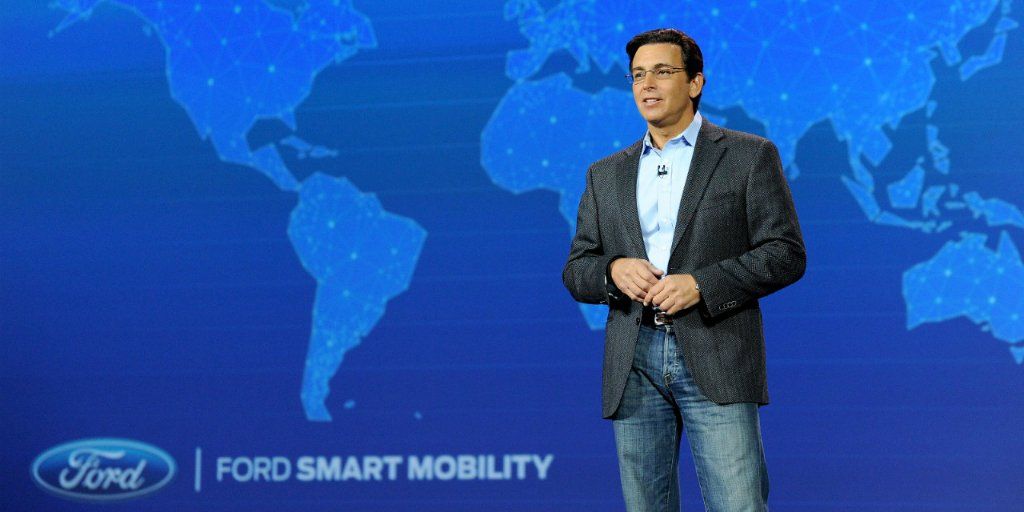 Ford Motor's presentation at this year's Consumer Electronics Show was hyped for a lot of reasons. Last year, CEO Mark Fields made waves by promising a self-driving car on the road in 10 years. And in the lead-up to CES 2016, rumors that Ford had locked down a deal with Google seemed to signal that the self-driving car was coming, maybe even sooner than Fields had predicted.
But the CEO left the stage without mentioning the search giant (if it's still fair to call the Alphabet/Google behemoth just that anymore).
Ford did, however, mention a deal with Amazon to develop technology that will allow Ford drivers to talk to Echo, Amazon's automated personal assistant, through their cars. They also mentioned a deal with drone maker DJI to build a rescue drone. Ford hopes the technology could help United Nations workers in disaster areas.
Fields clearly remains focused on automation. Ford will expand the size of its automated fleet of Ford Fusion sedans from 10 to 30. And at the CES event, Fields presented a small device the size of a couple hockey pucks—Ford's latest LiDAR sensor from Velodyne. LiDAR is the laser technology most carmakers are betting is the future of self-driving cars. Unlike LiDAR of the past, which required a bulky spinning rig, usually strapped to the roof of an automated car, the Velodyne sensors are solid-state and small enough to be mounted on rearview mirrors.
The presentation seemed to jab at the upstarts, who are making promises while Ford has almost a decade of testing and engineering cars that can drive themselves. Fields also took on self-driving and electric car companies that focus on expensive luxury vehicles. "When the first Ford autonomous vehicle comes out, it will not just be for folks who can buy luxury vehicles," he said.
And as for the deal with Google, was it ever real, did it die on the vine, or is Ford waiting for a bigger stage to reveal details? "I assure you we'll share more news," Fields said after promising to work with other companies on autonomous cars.