Ford Recalls Small Number of Workers in Preparation for Factory Reopenings
About six weeks after Ford Motor Company closed all manufacturing sites in North America, the international automaker has reportedly taken steps toward reopening factories at several undisclosed locations.
According to the Detroit Free Press, Ford confirmed it had reached out to employees in hopes they will return to work this week in preparation for upcoming operational relaunches. In a statement to the newspaper on Sunday, Ford's global manufacturing and communications manager Kelli Felker did not provide details regarding a reopening timeline.
"We are asking a small number of hourly and salaried workers to return to work this week in preparation for a restart at a future date, which has not yet been determined," Felker told the outlet. "These workers will begin putting safety protocols in place that we will use when we do reopen our facilities."
Ford suspended production in factories across the United States, Mexico and Canada, as well as several locations in Europe, on March 18 to safeguard employees against potential exposure to the new coronavirus. At the time, one person working at Ford's Michigan Assembly Plant near Detroit had recently tested positive for the disease, leading to that facility's closure as well.
Ford's initial order to pause operations at these sites anticipated that business would resume on March 30, but the company has since extended closure protocols in North America and around the world. In an updated statement on March 31, the company said it was partnering with autoworkers' unions—like the International Union, United Automobile, Aerospace and Agricultural Implement Workers of America (UAW)—to establish uniform safety procedures such as employee screenings and social distancing guidelines prior to reopening.
"Ford's top priority is the health and safety of our employees, dealers, customers, suppliers and other stakeholders," said Kumar Galhotra, the company's president of operations in North America, in a statement released one week before the factory shutdown's original reopening date. "In light of various governments' orders to stay and work from home, Ford is not planning to restart our plants in the U.S., Canada and Mexico on Monday, March 30 as originally hoped."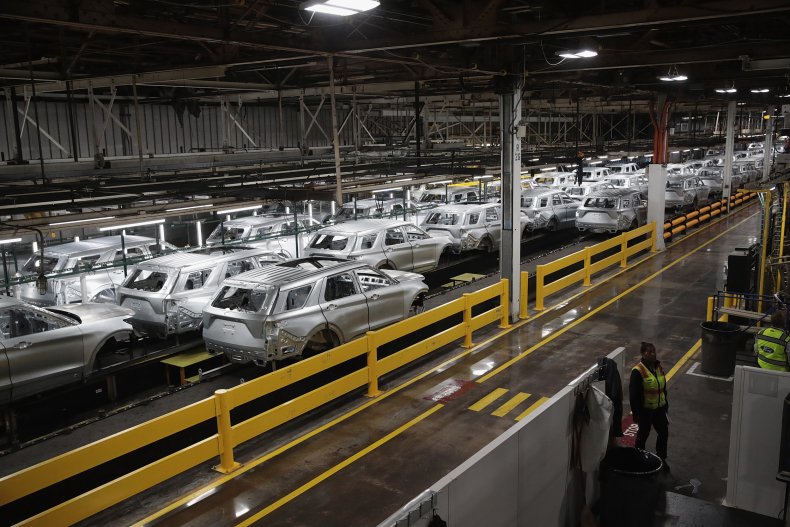 Ford applied similar mandates to close factories in dozens of countries, including South Africa, India, Thailand and Vietnam throughout March. Most of its European manufacturing sites will remain closed through at least May 4, the company announced at the beginning of April.
Two Ford employees and UAW members passed away from complications caused by the coronavirus, the union reported on March 28. Since March, UAW has reported at least a dozen deaths of workers employed by Ford, General Motors and Fiat Chrysler Automobiles, known as the automobile industry's "big three."
When Ford announced initial factory closures in mid-March, it introduced the formation of a Coronavirus Task Force between the three companies to initiate a coordinated response effort.
Neither Ford nor UAW replied to Newsweek's request for comment regarding this story by the time of publication.