Ford Reveals Mustang Dark Horse's Upgraded, 'Sinister' Style
A rich list of textures and styles makes the most powerful version of the Ford Mustang an instant attention getter, inside and out.
Already notable for its high-performance 5.0-liter V8 engine, the 2024 Ford Mustang Dark Horse style takes hold of the company's renewed focus on quality materials to deliver a sport-centric package. The collection of colors and materials were chosen to amplify the image set forth by the car's name.
"The sinister and track-hungry attitude of Mustang Dark Horse inspired us to curate colors and materials in a way that underscores the vehicle's athleticism," said Carrie Kennerly, Ford senior color and materials designer. "We spent extra time on the cockpit, ensuring the look, feel and function of everything a performance driver could want conveys the performance Mustang Dark Horse is capable of."
That intersection of the intentions meets at the car's anodized blue, lightweight titanium manual shift knob for buyers that opt for a six-speed. The hollow knob's treatment allows it to stay cool in warm weather.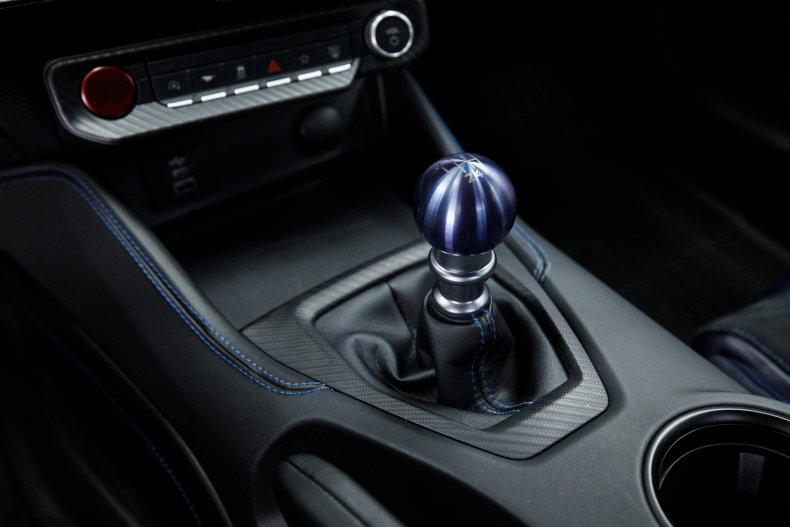 Dark Horse buyers who go for a 10-speed automatic transmission get anodized silver paddle shifters.
Ford has also evolved the look of the interior to include what it calls "tech-inspired 'white. noise' and carbon-fiber-inspired grains' in an effort to convey "a more technical feel and reduce the amount of glossy surfaces.
New Mustangs feature a cohesive design that wraps colors and textures from the dashboard and instrument panel to the door panels and steering wheel. These wrapped parts feature a grain texture
All leather and vinyl- wrapped parts feature a luxury grain texture that highlights their form and amplifies the vehicle's performance feel.
The car features Mustang's traditional D-shaped steering wheel, with suede inserts. Bright Indigo Blue stitching enhances steering wheel, instrument panel, door panels, seats, gear shift boot and center console trim and lid. The electronic drift brake is leather-wrapped as well.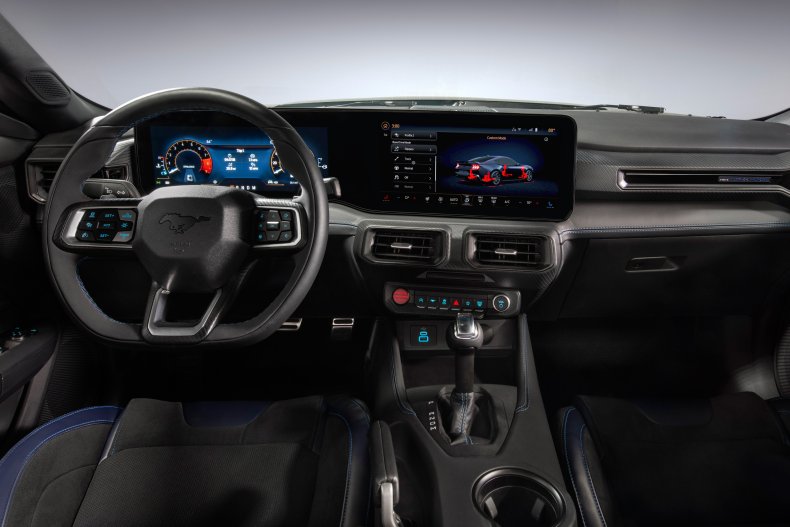 The available Mustang Dark Horse Appearance package adds to the offering with specially bolstered Recaro performance seats. The bolsters are wrapped in Deep Blue Indigo and trimmed in Bright Indigo Blue accent stitching.
"A weak point of the current Mustang is its interior, but it is among the most transformative aspects of the seventh-gen Mustang. A significant focus of the redesign was on modernizing the cabin and injecting exciting textures and more premium material choices, and it shows," Paul Waatti, industry insights manager at AutoPacific told Newsweek.
Customers who add the Mustang Dark Horse Appearance Package to their car get specially bolstered Recaro seats with Deep Indigo Blue bolsters trimmed in Bright Indigo Blue accent stitching complementing a Dinamica suede seat center. Deep Indigo Blue seatbelt.
Further, the package gives the car Black Alley colored bezels and vents, a new treatment for Ford. It's a dark metallic gloss that replaces the silver shades found in other parts of the Mustang lineup.
Each Mustang Dark Horse goes further with an instrument panel badge that includes that vehicle's chassis number.