Ford, SK Innovation Investing $11.4 Billion to Create New EV Plants in Tennessee, Kentucky
Ford Motor Company today announced its intent to partner with SK Innovation to create two new campuses for building electric vehicles and their components. These sites are the first from-scratch plants that Ford has built in over a generation.
The total cost of the endeavor is $11.4 billion, of which $7 billion will come from Ford. That money is part of the larger $30 billion promised sum that will be invested by the Dearborn, Mich.-based automaker through 2025 as part of the new BlueOvalSK join venture, which is pending regulatory approvals and other conditions.
"This is a transformative moment where Ford will lead America's transition to electric vehicles and usher in a new era of clean, carbon-neutral manufacturing," said Ford Executive Chair Bill Ford.
The two plant sites are in Stanton, Tenn. and Glendale, Kentucky. Locations were chosen based on their proximity to current Ford manufacturing sites and facilities. The Tennessee site runs adjacent to a rail line.
A swath of farmland in Stanton will become Blue Oval City. The $5.6 million build will result in a facility that covers 3,600 acres and employ approximately 6,000 people. The site will be home to a BlueOvalSK battery plant, areas for key suppliers and recycling facilities.
"Blue Oval City's assembly plant will harness Ford's global manufacturing expertise and cutting-edge technologies to deliver cost efficiencies and the quality that our customers expect," said Kumar Galhotra, Ford president, Americas and International Markets Group. "This will enable Ford to lead in the race to bring dependable, affordable and advanced electric vehicles to even more Americans."
The plant, a clean sheet design, is designed to be carbon neutral, vertically integrated ecosystem where Ford will be able to produce all-electric F-Series models. It will have zero waste to landfill, only use fresh water for human use and be home to recycling facilities including an on-site wastewater treatment plant.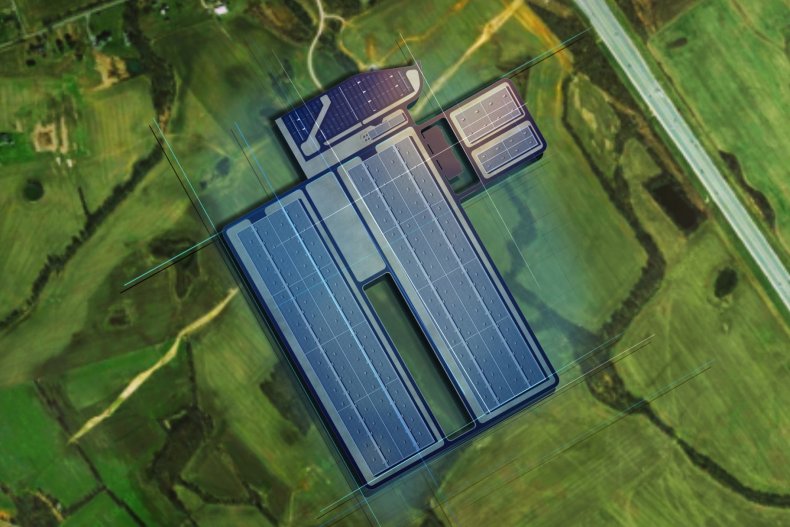 Redwood Materials, a battery materials company, will work with Ford to utilize local supply chains, creating recycling options for scrap and end-of-life vehicles, and ramping up lithium-ion recycling.
The Tennessee plant is expected to be open and running in the 2025 calendar year.
The central Kentucky facility, BlueOvalSK Battery Park, will create 5,000 jobs. The twin battery plants on the site will cost $5.8 billion to build out and are expected to supply Ford's North American assembly plants with batteries for next-generation Ford and Lincoln Motor Company vehicles.
The plants will be able to produce up to 43 gigawatt hours each, totaling 86 gigawatt hours annually.
The American-made batteries produced on-site will power next-generation electric Ford and Lincoln vehicles.
"We thank Ford Motor Company and SK Innovation for their investment in Team Kentucky," said Kentucky Gov. Andy Beshear. "This is the single largest investment in the history of our state and this project solidifies our leadership role in the future of the automotive manufacturing industry. It will transform our economy, creating a better Kentucky, with more opportunities, for our families for generations."
Ford expects the first of the Kentucky facilities to be open in 2025 with the other to follow in 2026.