Ford's Lower-cost EVs Play Into Biden's Infrastructure Reduction Act Plans
Ford is increasing its Mustang Mach-E electric vehicle (EV) production in 2023 and decreasing prices in response to the numerous business environment factors. Tesla recently reduced the prices of its models and the Inflation Reduction Act (IRA) Is changing the way incentives are offered on new EVs.
The Mustang Mach-E was the third best-selling EV in the U.S. last year, behind the Tesla Model 3 and Model Y. Its new pricing makes the Ford more competitive against Elon Musk's car brand.
A press release from Ford says that, "the updated pricing is part of Ford's plan to keep the SUV competitive in a rapidly changing market, while strengthening Ford's position." Increased production capacity will reduce customer wait times and streamline costs, the automaker relayed.
That rapidly changing market includes considerations for the upcoming IRA guidelines and regulations, though Ford officials have not come right out and said it. Newsweek approached the company for comment on this story but did not receive a reply.
Contrary to Ford marketing, which calls the Mustang Mach-E an SUV, the Environmental Protection Agency, which is responsible for the roll out of the plan, has categorized the Mustang Mach-E as a car. The Cadillac Lyriq is also categorized as such.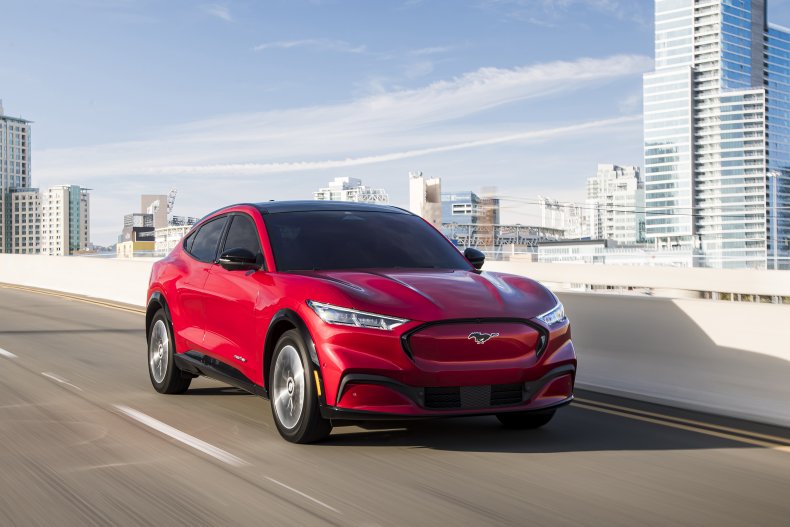 This determination means that Mustang Mach-E and Lyriq models priced over $55,000 will not be eligible for federal incentives that are part of the IRA.
"The [Mustang Mach-E] price cuts bring more variants under the threshold and, in turn, improve competitiveness net of Tesla's recent pricing actions, particularly on Model Y," Stewart Stropp, senior director of automotive retail and managing director of the Electric Vehicle Consideration Study at J.D. Power told Newsweek.
Ford's new pricing has the Mustang Mach-E starting at $45,995, a $900 reduction. The top-tier Mustang Mach-E GT Extended Range now has a price tag of $63,995, a $5,900 price decrease. It is the only version of the car that doesn't fall under the $55,000 IRA threshold.
The ability to predict the supply of parts and equipment to make the Mustang Mach-E, F-150 Lightning electric truck and E-Transit battery-electric van also factors into the price cuts. Ford says that it has, "secured the batteries and raw material to scale production of all these models."
Mustang Mach-E is a crucial part of the present and future of Ford. Two-thirds of Mustang Mach-E customers who purchase the model come from competitor brands.
Not all automakers are seeing similar results from their electric vehicle rollout. Audi, despite a robust electric product portfolio, is not having nearly the same level of conquest success, J.D. Power data has revealed.