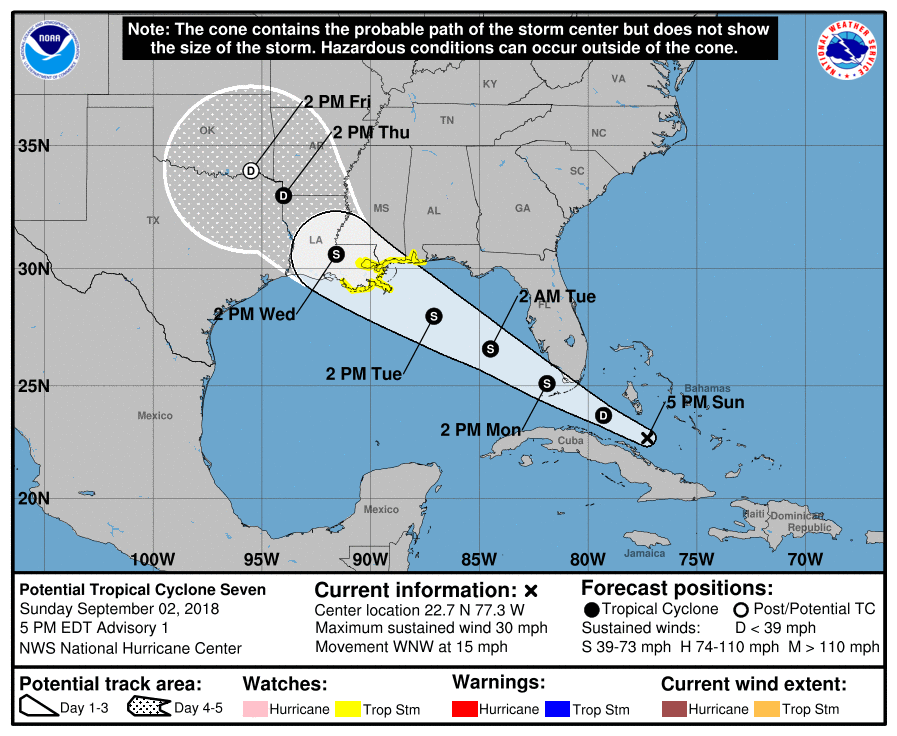 Odds that the northern Gulf Coast will get hit by potential Tropical Storm Gordon have increased to the point that the National Hurricane Center has issued a tropical storm warning for portions of the central Gulf Coast.
The tropical storm watch posted Sunday includes from the Alabama-Florida border westward to east of Morgan City, Louisiana, including Lake Pontchartrain and Lake Maurepas. It has now been upgraded to a tropical storm warning. New Orleans is in the watch area and appears in the target area of the storm, currently making a bee-line there in forecast models.
"Interests in the Florida Keys and the southern Florida peninsula should monitor the progress of this system." the National Hurricane Center said.
Current forecast models do not suggest that a Tropical Storm Gordon would become Hurricane Gordon. The current tropical wave, named 91L, could intensify into a tropical storm in the coming days, but it may run out of room to further develop before it can become a hurricane.
"The 91L system is expected to continue on a west-northwesterly track through Wednesday, which would bring it ashore along the coast between Alabama and Louisiana on Tuesday night or Wednesday morning," Weather Underground reported. "This does not give the system much time for intensification, and it is unlikely that 91L will become Hurricane Gordon."
One weather expert said models show a "weak tropical storm" may impact the New Orleans area next week, but even a weak storm could threaten with heavy rainfall. Current National Weather Service rainfall prediction models suggest the New Orleans area and south Mississippi could get up to five inches or more of rain.
"Our experimental Deep Thunder model (from IBM) is indicating (amongst other models) a weak Tropical Storm to impact the New Orleans + vicinity area later this week," tweeted Michael Ventrice, a Meteorological Scientist & Software Engineer at The Weather Company. "Note this model continues to develop this storm over land, which suggests the 'Brown Ocean' phenomena."
Brown Ocean phenomena occur when a tropical storm defies typical pattern and intensifies over land since most tropical systems dissipate over land. Tropical Storm Erin did this in 2007, making landfall in Texas and intensifying on a run up through Oklahoma.
Currently named tropical system 91L by the National Hurricane Center, conditions have changed so that it's now more likely for tropical storm organization in the next five days. The National Hurricane Center gives the storm, currently located near the central Bahamas, a 90 percent chance of development. Indications are pointing more toward development as Tropical Storm Gordon, with a forecast path and track leading to the northern Gulf Coast by early to mid-next week.
"Thunderstorm activity associated with a tropical wave located between north-central Cuba and the central Bahamas is gradually becoming better organized, and upper-level winds are also becoming more favorable," the National Hurricane Center said today. "A tropical depression is likely to form during the next day or so while the system moves west-northwestward across the northwestern Bahamas, southern Florida, and the Florida Keys.
"The system is forecast to emerge over the southeastern Gulf of Mexico Monday afternoon and move toward the north-central Gulf Coast Tuesday night and Wednesday."
The tropical wave 91L is already developing more thunderstorms in the Bahamas region while also developing more "spin."
"Satellite images on Sunday showed that 91L was generating a moderate amount of heavy thunderstorms, and had developed a modest amount of spin," Weather Underground reported. "There was plenty of moisture associated with the system, with Cuban radar showing heavy rains affecting much of the north-central coast of Cuba and adjacent waters on Sunday afternoon."
Water temperatures in the Gulf of Mexico are very warm and conducive to storm development, forecasters said.