Thousands of foreign nationals have reportedly responded to President Volodymyr Zelensky's calls to join Ukraine in its fight against Moscow's forces and are currently battling the Russian offensive in the war-torn country.
On February 27, Zelensky issued a call to foreign volunteers, "friends of peace and democracy," to join the fight in Ukraine. According to Ukrainian authorities, some 20,000 volunteers from 52 countries responded and joined the International Legion, the special unit created by Kyiv for foreign fighters.
But in a brutal conflict that has already killed thousands of Russian and Ukrainian troops and civilians, the likelihood of dying on the front line is high.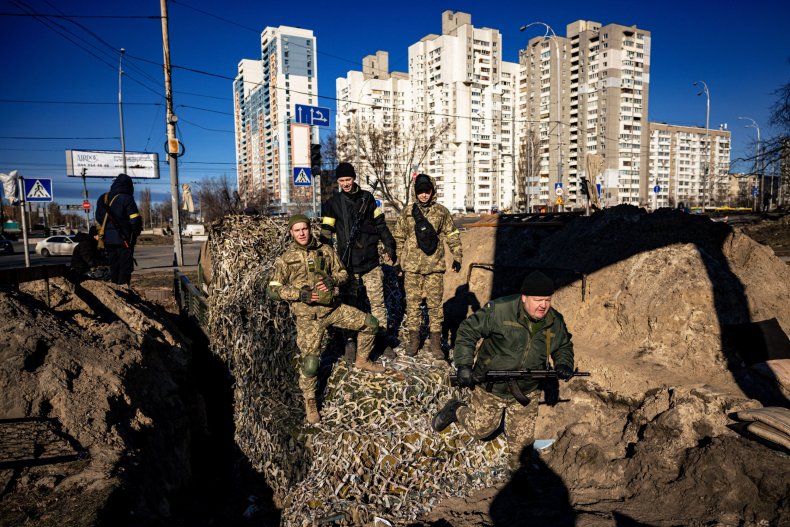 The first reports of foreign fighters being killed during combat in Ukraine have started to come in, including a U.S. citizen, two British nationals and four Georgian volunteers.
Here's a breakdown of everything we know so far.
Willy Joseph Cancel—U.S.
Willy Joseph Cancel, a 22-year-old American citizen and former U.S. marine, was killed in Ukraine on Monday, according to family members speaking to CNN.
Cancel, originally from Orange County, New York, lived with his wife and 7-month-old baby in Tennessee, where he worked full-time as a corrections officer. After the war in Ukraine broke out, Cancel signed up to work for a private military company which then sent him to fight in Ukraine.
Cancel's mother Rebecca Cabrera told CNN that her son "wanted to go over" because he believed in what the Ukrainians were fighting for and "wanted to be a part of it."
His body has not been found, according to Cabrera.
Scott Sibley—U.K.
Scott Sibley, 36, a former British soldier who had served in Afghanistan, was killed in Ukraine last weekend, according to Britain's Foreign Office.
Sibley, who went to Ukraine as a volunteer, is the first British citizen confirmed to have been killed in the conflict. The British Foreign Office reported that a second unnamed citizen, who had also gone to fight in Ukraine as a volunteer, is currently missing.
Defense reporter for The Kyiv Independent Illia Ponomarenko shared a photo of Sibley on Twitter thanking him for his service. "You fought for the most just cause this world knows so far," the journalist wrote.
Two other British citizens—Aiden Aslin, 28, and Shaun Pinner, 48, have reportedly been captured by Russian troops in Mariupol at an unknown location. They're both believed to still be alive.
Sky News reports that Aslin joined Ukraine's armed forces as a marine in 2018 and has applied for Ukrainian citizenship.
Since his capture, he has appeared handcuffed in a video broadcast by Russian state media and uploaded to YouTube (later removed for breaking the Geneva Convention), and had been able to get in touch with his mother via FaceTime last week, according to i News.
Pinner had moved to Ukraine four years ago, according to The Independent, and lived with his wife in Donbas. He appeared in a video aired by Russian media on April 17, where he said he was part of the 36 Brigade First Battalion Ukrainian Marines and was captured in Mariupol.
A spokesperson for the U.K. Foreign Office said: "We are aware of the detention of two British nationals and are in touch with their families to support them."
According to information provided to Newsweek by the Foreign Office, Ukraine has confirmed that both individuals are members of the Ukrainian armed forces and their families have indicated they were both legally resident in Ukraine prior to Russia's invasion.
Davit Ratiani, Gia Beriashvili, Bakhva Chikobava and Davit Gobejishvili—Georgia
On March 19, the chairman of the Georgian parliament Shalva Papuashvili said that three Georgian volunteer fighters had been killed in Ukraine, according to Turkey's state-run Anadolu Agency.
"Unfortunately, the war continues and the casualties are increasing. The Russian aggression killed three Georgian fighters in Ukraine," Papuashvili said, naming the fighters as Davit Ratiani, Gia Beriashvili, and Bakhva Chikobava.
A fourth Georgian volunteer, Davit Gobejishvili, died in combat near Irpin on March 26, the Georgian Foreign Ministry told Radio Liberty.
The Ukrainian embassy in Tbilisi paid tribute to the fallen volunteers, writing on Facebook: "Heroes never die. Ukraine will always remember its heroes-defenders."
The bodies of the volunteers were repatriated and buried with military honors, according to local media.
Newsweek has contacted Georgia's Foreign Office for comment.
How Many More?
It's hard to get accurate, verified information on the number of foreign fighters who have lost their lives in Ukraine since the beginning of the war.
Contradictory reports have emerged, with Moscow claiming to have killed almost two hundred foreign volunteers and Ukraine strongly denying these claims.
On Sunday March 13, Russia launched a deadly strike on the Yavoriv military base in western Ukraine, where hundreds of foreign volunteers were receiving training before being sent to combat. The training base is located 20 miles northwest of Lviv, the city considered a safe have for millions of internally displaced people in Ukraine, and 12.5 miles from the Polish border.
Ukrainian authorities said that at least 35 people were killed in the strike and 134 injured. Russian authorities claimed to have killed 180 foreign volunteers, with Russian Defense Ministry representative Major General Igor Konashenkov saying that "as a result of the strike, up to 180 foreign mercenaries and a large consignment of foreign weapons were destroyed," as reported by independent Russian news agency Interfax.
"The destruction of foreign mercenaries who arrived on the territory of Ukraine will continue," Konashenkov added, according to Russian state news agency RIA Novosti.
But Ukrainian Defense Ministry spokesperson Markiyan Lubkivsky told CNN that no foreign volunteer had died and the claims were "pure Russian propaganda."
The number of fallen foreign fighters in Ukraine could increase in the coming days, as South Korea is investigating the veracity of reports that say that at least one South Korean national fighting as a volunteer in Ukraine has died.
According to South Korea's Foreign Ministry, as quoted by The Korea Herald, four South Korean nationals are known to have traveled to Ukraine to fight as volunteers against the Russian invaders. Turkey's Anadolu Agency set the number at nine volunteer fighters.
Newsweek has contacted South Korea's Foreign Office for comment.
On The Russian Side
On March 11, Russia's President Vladimir Putin threw his support behind a call for foreign volunteer fighters to join Russian troops fighting in Donbas for the "complete liberation" of the region, as reported by Al Jazeera.
According to Russia's Defense Minister Sergei Shoigu, more than 16,000 people expressed their desire to join the Russian forces in Ukraine. Most were from countries in the Middle East.
According to Al Jazeera, Putin told the National Security Council that those were people "who want to come on a voluntary basis, especially not for money."
Western officials reported that Russia was sending up to 20,000 mercenaries into the Donbas, recruited from the infamous Russian mercenary company, the Wagner group, as reported by The Guardian.
Russia denies any involvement with the Wagner group.
Newsweek has contacted the Russian Ministry of Defense for comment on the number of foreign volunteers and mercenaries involved in the conflict in Ukraine.
Update 4/29/22, 10:42 a.m. EDT: This article has been updated to include comment from the U.K. Foreign Office and further details on the British nationals captured by Russian forces.