Foreign Officials Who Spend Money at Trump Properties are Helping Him Violate the Constitution, Democrat Says
A top House Democrat has a warning for foreign officials who spend money at properties owned by President Donald Trump: Stop, because your government is "facilitating" his ability to violate the U.S. Constitution.
The cautionary message came from Representative Eliot Engel, a New York Democrat and chairman of the House Foreign Affairs Committee, in the form of a memo to his staff on Monday but which was released publicly on Tuesday.
"When meeting with officials from a foreign government, please inform them that by providing any form of payment or benefit to a Trump-owned property their government is facilitating the President's apparent violation of the Foreign Emoluments Clause," the memo stated. "Please urge those foreign officials to transmit to their governments that the House Foreign Affairs Committee requests that they cease and desist payments to the Trump Organization unless and until Congress approves the emolument, as provided in the Constitution."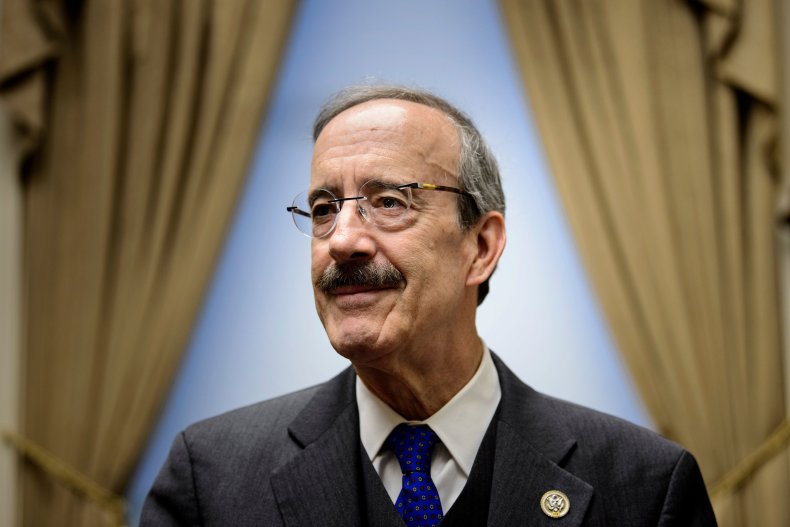 Democrats have long accused Trump of violating the Emoluments Clause, a provision of the constitution that states no sitting U.S. president "shall, without the Consent of the Congress, accept" gifts or benefits from foreign governments. Although he's relinquished the day-to-day operations of his companies to his eldest sons, Trump has not placed his businesses in a blind trust, meaning he continues to profit from them while in office.
In addition to Democrats, government watchdogs have pointed to Trump's practice of hanging onto his luxurious properties and high-end businesses around the world as a conflict of interest.
"There are serious concerns that these payments to hotels, businesses, condominiums, or other Trump-owned properties by foreign governments are in violation of the Constitution," Engel added in his memo.
In 2017, Engel and nearly 200 congressional lawmakers—including 166 representatives and 30 senators—sued Trump, alleging he was violating the Emoluments Clause. In April, the court denied his motion to dismiss, and it continues to move through the legal process. A separate Emoluments Clause lawsuit brought by Maryland and the District of Columbia, however, was tossed out last month by a federal appeals court.
The release of Engel's memo telling staffers to warn foreign officials against patronizing Trump businesses came at nearly the same time the president visited the Shell Pennsylvania Petrochemicals Complex in Monaco, Pennsylvania, and gave a speech, where he touched on the same topic.
"I got sued on a thing called emoluments. Emoluments. You ever hear of the word? Nobody ever heard of it before," Trump said. "And what it is, is presidential harassment, because this thing is costing me a fortune, and I love it. I love it because I'm making the lives of other people much, much better."
He continued: "Somebody said, 'oh he might have rented a room to a man from Saudi Arabia for $500.' What about the $5 billion I'll lose?"
While there is no concrete evidence to support the president's claim that being the nation's leader has lost him billions of dollars in revenue, Trump's 2018 financial disclosure form, published in May of this year, showed he earned more than $100 million from various Trump Organization properties.