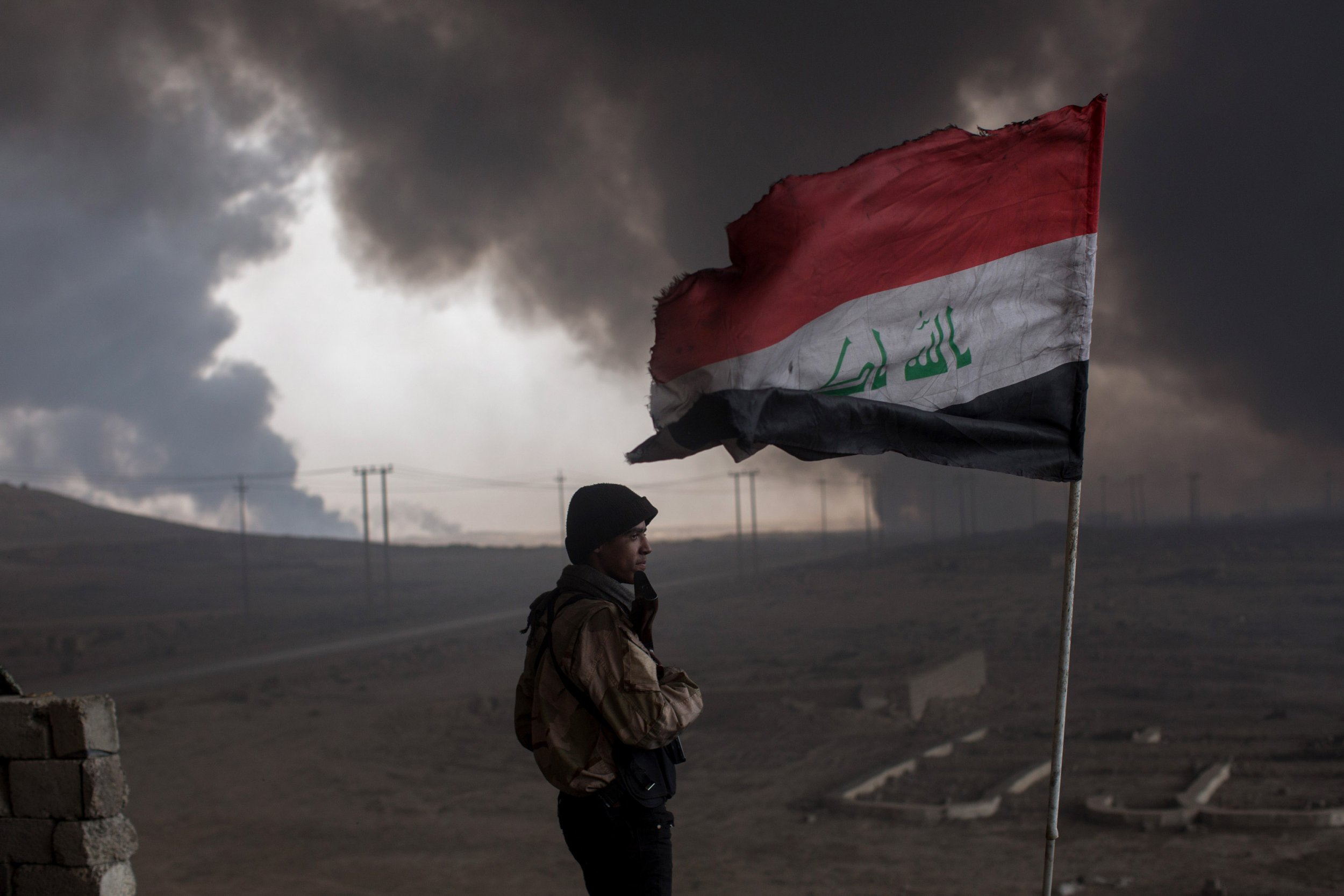 A lot of people are hoping for good news in 2017. We didn't have to look far this year to find gloom, and lots of it. The worst mass shooting in U.S. history; Brussels, the epicenter of the European Union, struck by three suicide bombings ; revelers in Nice mowed down ; failed ceasefires in Syria; Philippine President Rodrigo Duterte's death squads; the ongoing refugee crisis; the surge in fake news; and rock legends David Bowie and Prince laid to rest.
As the year draws to a close, the news cycle shows no sign of letting up. This is not how we expected 2016 to end: with Syrian President Bashar al-Assad taking Aleppo and Donald Trump selecting the final members of his cabinet. How will the world deal with the fallout from 2016? Here, Newsweek staffers outline the foreign stories they plan to look out for during the year ahead.
1) Immigration and Refugees Under Trump​ — Lucy Westcott
If his campaign is anything to go by, President-elect Donald Trump will bring huge changes to America's immigration policies. The U.S. is one of the world's top resettlement countries for refugees, but in the days after the election, refugee advocates told Newsweek that they were "terrified" of what's to come and described nightmare scenarios under Trump.
During his campaign, Trump said he would shut down the U.S. Syrian refugee program, called for "a total and complete shutdown of Muslims entering the United States"—a pledge that remains on his website —and, on the morning of Election Day, erroneously blamed refugees for the September 11, 2001 attacks. As for another group, the DREAMers—undocumented migrants who were brought to the U.S. as children—there's now a bipartisan effort underway to protect them in case Trump reverses President Barack Obama's 2014 executive action to prevent their deportation. Fears were hardly soothed when Trump tweeted that the suspect in November's Ohio State University attack, a Somali refugee and legal U.S. permanent resident, "should not have been in our country." With just weeks to go before he's sworn in, advocates and immigrants are preparing themselves for an uncertain four years.
2) The Refugee Crisis: What Next for Europe's Migrants? — Mirren Gidda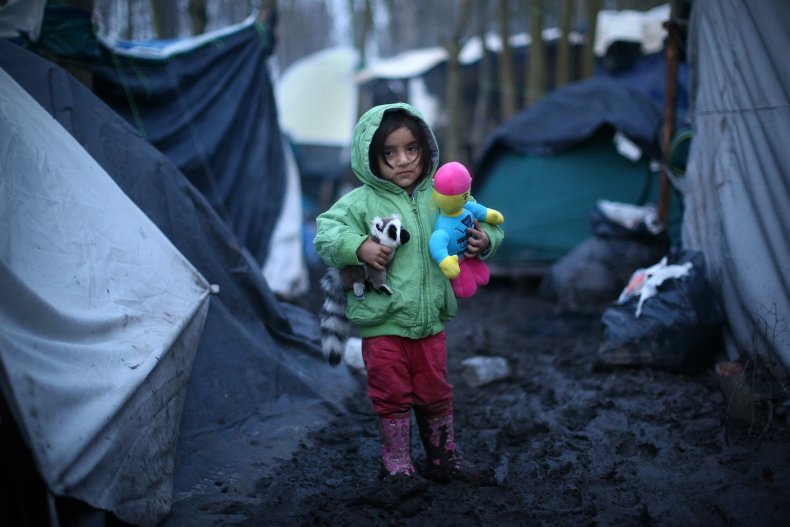 When it comes to the European migration crisis : If 2016 was bad, 2017 is likely to be worse.
The push factors that caused more than 350,000 migrants to make the dangerous sea crossing to Europe are not likely to abate. The war in Syria rages on; the Islamic State militant group (ISIS) continues to fight in Iraq; Afghanistan remains fractured; and economic hardship and political repression persists in Pakistan and Eritrea.
Fleeing violence and deprivation, many of next year's arrivals will find themselves in a continent unwilling or unable to shelter them.
Across Europe, anti-immigration sentiment is growing. In Germany, support has swelled for the right-wing Alternativ Für Deutschland party, ahead of the country's elections in 2017. Faced with the prospect of heavy losses, German Chancellor Angela Merkel—once so welcoming to migrants—has had to abandon her generous stance.
The rest of the EU is perhaps even more reluctant to take in more migrants. The bloc has established two deportation deals with Turkey and Afghanistan—and is looking to make more, particularly with African countries. (On December 12, the EU signed a similar deal with the Malian government, the first of its kind in Africa.) After risking their lives to reach Europe, many migrants may find themselves swiftly sent back.
3) France's Turn to Russia — Josh Lowe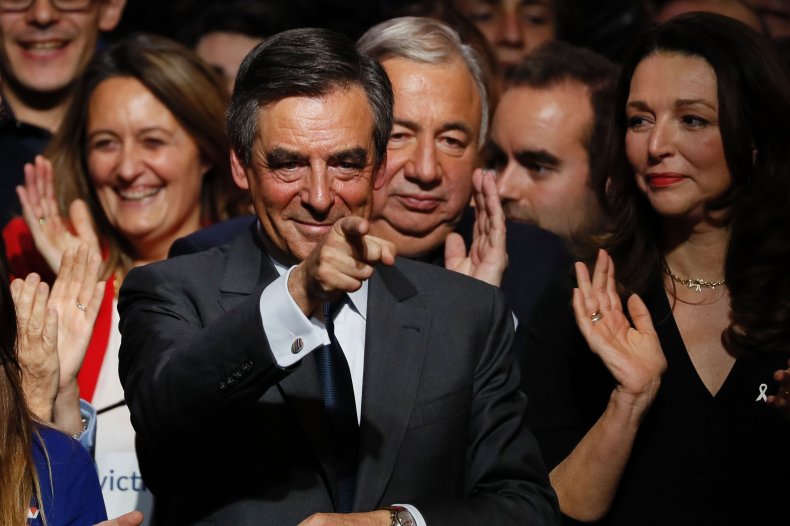 Trump's shock victory in the U.S. Presidential election has everyone looking to France where another hard-right candidate, the National Front's Marine Le Pen, hopes to ape Trump's populist revolt in the presidential election in the spring. (You can read more about her plans in a Newsweek cover story here.)
But if Le Pen doesn't win, the center-right candidate Francois Fillon is likely to take the Elysée palace. A victory for Fillon, a former prime minister and economic liberal, would be seen as a boost for the political mainstream. But he and Le Pen have something in common: a decidedly sympathetic view of Russian President Vladimir Putin.
While Le Pen has promised to usher in a new "multipolar" era where France pivots away from the U.S. and pursues closer ties with Russia, Fillon has called for a "frank and solid renewal of relations" with Putin. He has opposed Europe's economic sanctions on Russia, and has called for more co-operation with Moscow in Syria.
France is one of the EU's most powerful countries, and a pro-Kremlin turn in Paris could throw into question the future of the bloc's current hawkish stance on Russia. Putin is already hoping for more influence in Eastern Europe with the election of Moscow-friendly presidents in Bulgaria and Moldova—but 2017 could see him winning a better hearing in the West, too.
4) Putin, Trump and Crimea — Damien Sharkov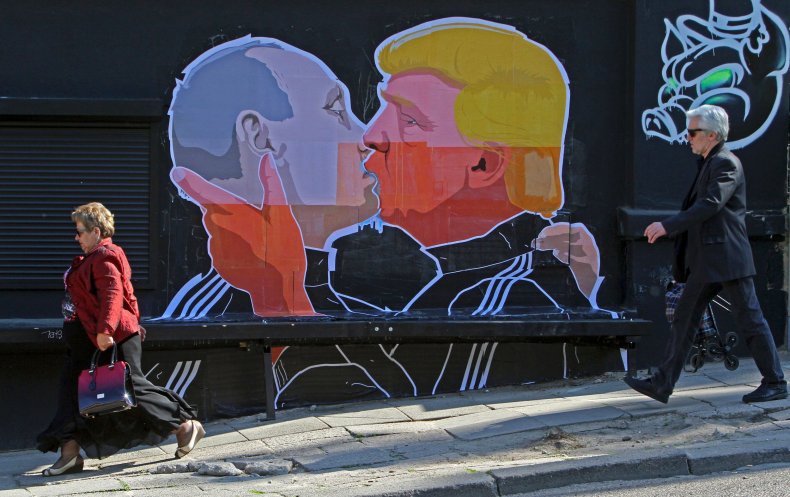 Russia and its leader are at a crossroads. On the one hand, Vladimir Putin does not look vulnerable, polling high since the annexation of Crimea in 2014 and feeling emboldened by military success in Syria.
On the other hand, Russia is still in recession, and its citizens continue to complain of increasing prices, dropping real income, and stagnant economy.
With the next presidential election approaching in early 2018, Putin has 12 months to ensure either an easy transition to the next leader or, should he decide to run (as most analysts predict), give himself a good start to an unprecedented fourth term. Support will come either from a boost to public morale or to the economy. There is one way to get both: end Western sanctions imposed on Russia after the annexation of Crimea.
Putin likely feels 2017 is his best chance yet of getting what he wants.
Whether U.S. President-elect Donald Trump truly intends to "look at" recognizing the annexation of Crimea, as he has indicated, remains to be seen. However, the war in Syria now feels more urgent to many Western leaders that the situation in Ukraine. And with a tide of Kremlin-friendly groups and politicians, for instance Marine Le Pen's National Front, gathering support in Europe, it's no surprise that Putin will believe 2017 could be a turning point for sanctions. Much will depend on whether more evidence for Russian interference in the U.S. election emerges—which could change the tide of Western popular opinion strongly against Putin.
If sanctions are lifted, Putin would be able to claim victory in what the Kremlin has long claimed is economic bullying by the West, while also opening the borders to lucrative EU imports, whose absence has increased Russians' grocery bills and reduced consumer choice. This would also give the Kremlin a sign of confirmation that the West was wrong not to recognize Crimea and Putin would be able to capitalize on the patriotic fervor that gave him his record approval rating in 2014.
5) The Taliban Insurgency in Afghanistan — Mirren Gidda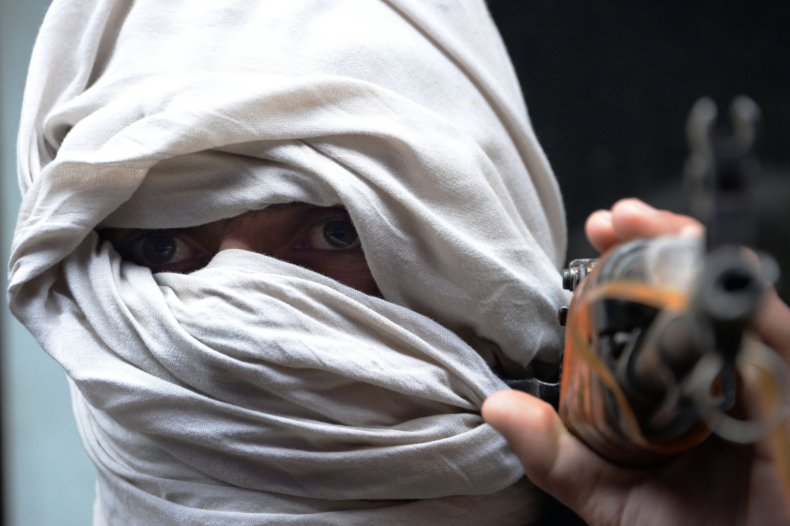 Members of the Afghan Taliban know that the kind of year they're going to have depends a lot on the U.S., their long-standing enemy. Before the U.S.presidential election, things were looking good. Despite the 8,448 American troops stationed in Afghanistan, the militants held more territory than any time since 2001.
That might explain why the group felt emboldened enough to call on Trump to withdraw all U.S. troops from Afghanistan when he takes office on January 20, 2017.
That looks unlikely. Trump's pick for Secretary of Defense, General James "Mad Dog" Mattis—who served in Afghanistan in 2001—has been critical of Washington's declining military presence in the troubled country. (In 2005, he said: "You go into Afghanistan, you got guys who slap women around for five years because they didn't wear a veil. It's a hell of a lot of fun to shoot them.")
Should Mattis persuade Trump to put more boots on the ground then the Taliban may find itself on the defensive. It won't help either that the group's coffers are emptier now, after some of the Taliban's wealthy backers refused to continue funding its insurgency following scores of civilian deaths throughout 2016.
This doesn't mean the end of the Taliban. Afghanistan's security situation is still precarious and the militants have proven their tenacity. But 2017 could be a more difficult year for the insurgents than the last.
6) The End of the Caliphate, Not the End of ISIS — Jack Moore
Do not be fooled by attacks, whether inspired and directed by ISIS, in Europe and around the world. The group's self-styled caliphate is falling apart. After two years of growth and consolidation, the group's violent hub straddling the Iraqi-Syrian border is now effectively split in two. Its attempt at securing land further afield have failed, and, heading into 2017, it has lost the only city it controlled outside of the caliphate: Libya's Sirte. Pentagon chief Ash Carter has said Iraqi forces, backed by the U.S.-led coalition, could liberate Mosul before Trump takes office. But the group retains control of at least three-quarters of the northern Iraqi city after two months so the city will likely fall on Trump's watch.
After Mosul's fall, an acceleration of the campaign to liberate ISIS's de-facto capital, the Syrian city of Raqqa, would take shape. Without these two cities, the group's grand prizes, ISIS will no longer have a city under its control, diminishing its claim to be a functioning state that could welcome Muslims from around the world. But that will not mean the end of ISIS. Even if the entire caliphate collapsed, the group has already begun to change tactics, focusing more on attacks abroad—something that would only increase if thousands more jihadis returned home. ISIS is not going away. Even as it transitions from state entity to insurgent group, the group's ability to inspire and mobilize supporters means the threat will last for years to come.
7) Iranians Head To the Polls — Jack Moore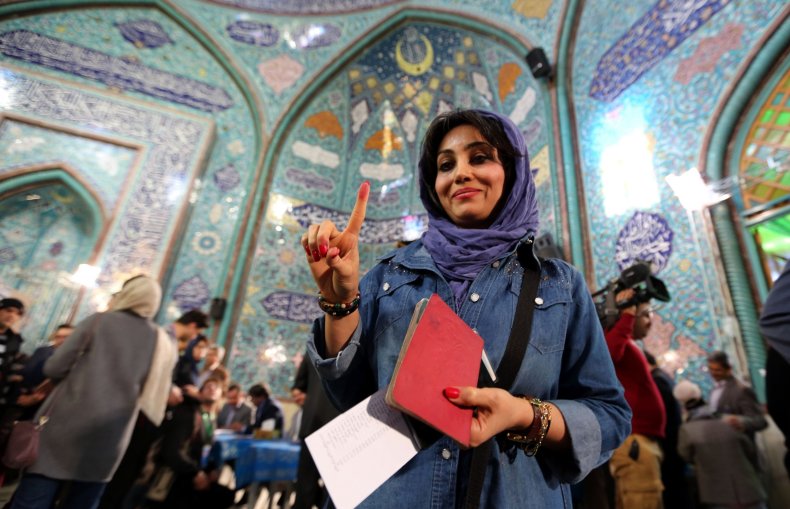 Political tides in the West are shifting to the right, they could soon too in the East. Iran's presidential vote in May pits reformist leader Hassan Rouhani, under pressure to deliver on his pledge to improve the living standards of everyday Iranians, against the more conservative camp, once led by hardline President Mahmoud Ahmadinejad. Rouhani's election rivals are yet to agree on their candidate to challenge him, with Supreme Leader Ayatollah Ali Khamenei effectively ordering Ahmadinejad not to run, but this belies the troubles that the leader of the Islamic Republic is facing.
Victory for Trump threatens to undermine Rouhani's promise to lift Iranians' prosperity through a nuclear agreement that alleviated crippling sanctions on the country's economy. The U.S. President-elect has pledged to rip up the landmark nuclear deal signed between Tehran and world powers in 2015, a move that would throw the country's finances back into disarray. But Iranians feel they have seen little benefit from the deal anyway. Almost three-quarters of Iranians say there has been no improvement since the deal, agreed in July 2015, was signed. Poverty and inequality has increased since the deal despite improved growth forecasts.
The conservative strand of Iran's political elite will likely capitalize on this in the election campaign. Despite Iranians' vote of confidence in Rouhani in February's parliamentary elections, economic disenfranchisement could put his rule in jeopardy. That means next year Rouhani could become a one-term leader and the Shiite powerhouse could become even more assertive in the Middle East, where it is already supporting proxy groups in conflicts across the region.
8) Syria After Assad's Victory in Aleppo — Owen Matthews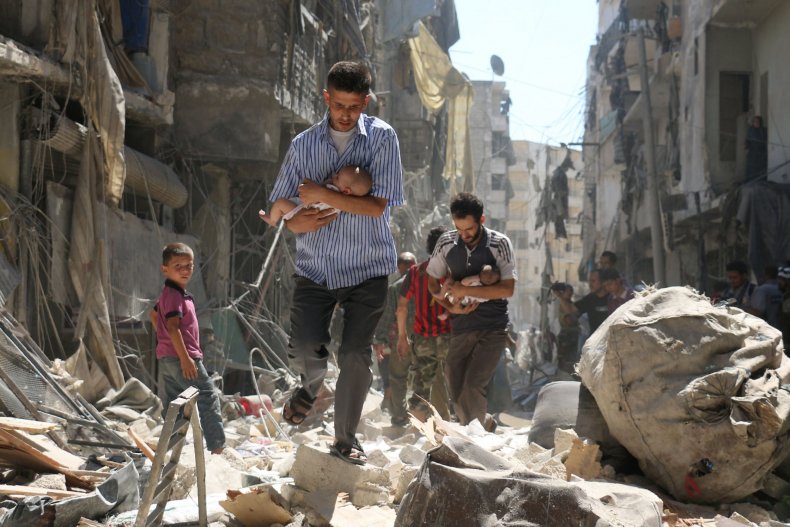 President Bashar al-Assad has seized victory in Aleppo. It was only a year ago that the rebels seemed on the verge of taking the city, once Syria's bustling commercial capital. But due to a massive Russian bombing campaign, the ophthalmologist turned strongman has held on to power—and reduced the city to rubble.
Even with Aleppo under the regime's control, the Syrian Civil War is still far from over, and the conflict promises to be as much of a nightmare for U.S. President-elect Donald Trump as it has been for his predecessor, Barack Obama.
This is not how the U.S. had hoped the war would end—Washington once hoped that moderate rebels would take over a democratic, post-Assad Syria. That didn't happen, and much of the Sunni-dominated opposition has largely morphed into a bewildering array of radical jihadi groups. Now, the White House has run out of options to challenge Assad, and for all its condemnation of the regime's assault on Aleppo, the Obama administration has also done nothing to stop it.
Trump's Syria policy is far from clear. But the Syrian problem might not be any easier for him to solve than it was for Obama. Even if ISIS can be destroyed on the ground and Assad fights the remaining rebels in Syria to a standstill, military victory will not bring any simple political solution.
9) Endgame for Robert Mugabe in Zimbabwe? — Conor Gaffey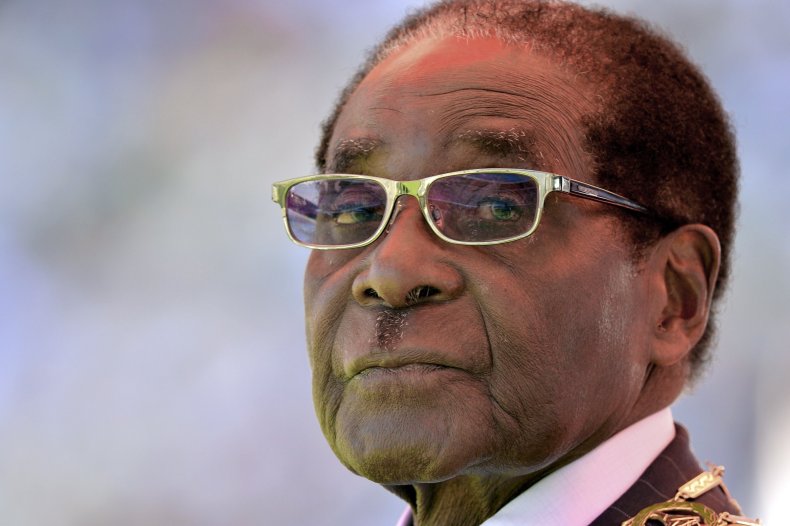 The world's oldest head of state may finally be on his way out. Since Zimbabwe gained independence from British rule in 1980, Robert Mugabe is the only leader the country has known. But the 92-year-old president has faced an unprecedented wave of civil unrest in 2016. Social media activists, such as Harare pastor Evan Mawarire and his #ThisFlag movement, have capitalized on discontent with an ailing economy and high unemployment to organize massive stay-at-home protests. The situation was exacerbated in November when Zimbabwe's central bank introduced a pseudo-currency, known as bond notes. The reality of Zimbabwean banks printing money has raised the specter of a return to the hyperinflation of 2007-08, when a loaf of bread cost over 1 billion Zimbabwean dollars.
Should Mugabe retire in 2017, a power struggle between his deputy, Emmerson Mnangagwa, and his wife Grace Mugabe would likely spill into public view. Opposition figures are anticipating the 2018 election to try and unseat the dominant ZANU-PF. Zimbabwe has been a free country for 36 years, but the idea of Uncle Bob finally letting go of the reins is the greatest liberty that many Zimbabweans could imagine.
10) Rohingya Crackdown in Myanmar — Lucy Westcott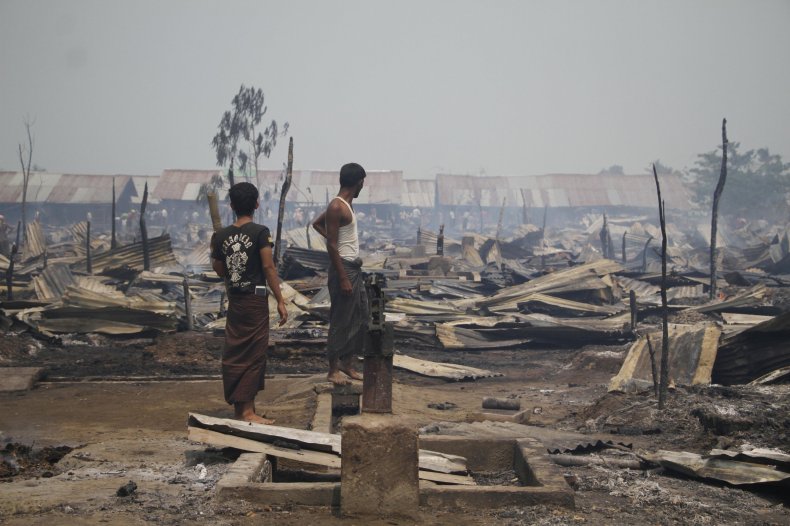 The plight of Myanmar's Rohingya Muslim community continues to be an underreported international news story, but that could change in 2017. A recent uptick in violence in Rakhine State, home to the country's estimated 1 million Rohingya, has led to allegations of sexual violence and extrajudicial killings; there has also been a rise in hate speech from the public, which the U.N.'s human rights office called "inflammatory—potentially very dangerous—rhetoric."
Hundreds of thousands of Rohingya have faced a severe lack of food, water and medical care since at least 2012, according to Amnesty International. Amid all this, Aung Sang Suu Kyi and her National League of Democracy party have remained noticeably silent. Particularly troubling is the fact that Suu Kyi, a Nobel Peace Prize winner who is considered a global champion for human rights, said earlier this year that her government will not use the term "Rohingya," further casting them as an alien group unwelcome in Myanmar more than three decades after they were denied citizenship. She now stands accused of being complicit in a " genocide " and "ethnic cleansing" of the Rohingya. Growing pressure prompted Suu Kyi to call for "national reconciliation and peace" last month, her strongest statement yet. The Rohingya population are hoping actions will follow words.
11) The Taiwan Question — Laurie Chen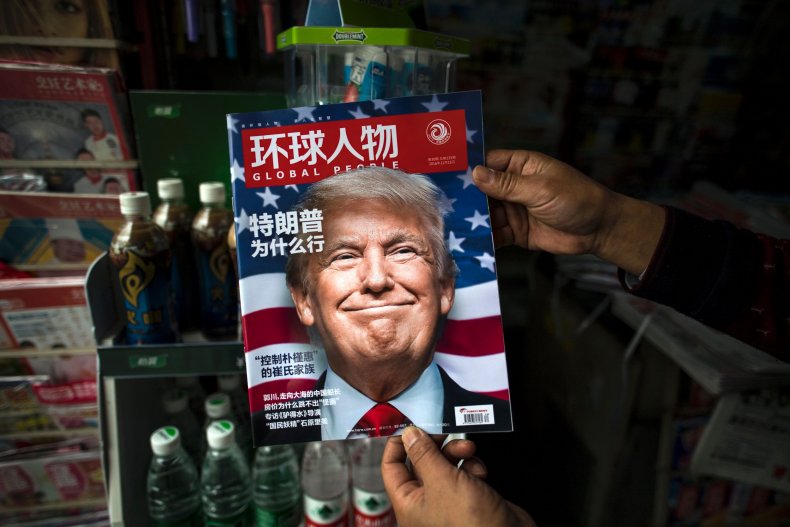 A seven minute-long phone call is still sending shockwaves between some of the world's biggest powers. The brief conversation between U.S. President-elect Donald Trump and Taiwanese President Tsai Ing-wen — the first of its kind in over 40 years — risks undermining nearly half a century of carefully built diplomatic ties between China and the U.S.
Why? Because, in China's view, it violates the long-established "One China" policy—the equivalent of a sacred touchstone in the U.S.-China relationship, which looks set to become increasingly precarious in 2017. The policy effectively forbids countries from forming official diplomatic relations with Beijing and Taiwan at the same time, which is why Trump's surprise acceptance of the call marks a major shift.
Trump is intent on building political bridges with Russia, for whom China is an important strategic ally. This will thrust the thorny issue of Taiwanese independence back in the spotlight. China views the island, separated from the mainland by a narrow strait, as its own territory.
In the slowly escalating war of words between Trump and Beijing, state-run media has branded him as "ignorant as a child," and the Chinese foreign minister has cautioned that " they are lifting a rock only to drop it on their feet." If the two leaders ever meet in person, this simmering dispute will break out into the open, which experts fear may trigger a trade war. Will this small island nation become a critical flashpoint for future U.S.-China relations? In the high-stakes geopolitical game between these world powers, neither side can afford to lose.
Read more at Newsweek.com:
— Was 2016 really the worst year ever?
— Why nostalgia dominated the politics of 2016
— The top science and health stories of 2016