A Foreigner's Guide to the Hungarian Elections | Opinion
On April 3, Hungary will hold parliamentary elections that will determine the composition of its next government. The outcome carries a weight beyond what one might expect from a country of just under 10 million. A win for the current ruling coalition will embolden critics of Brussels federalism; a win for the opposition will leave Poland isolated and discourage Euroskeptic and populist forces globally. The two most recent U.S. administrations have praised and vilified the Central European country, in turn; Russia and China also have long jockeyed for influence there.
Much has been written with preconceived political notions in English-language media, but relatively little of it comes from a position of local knowledge. Here are the key points for foreigners who would like to know more about this critical election.
First, some important background: the Hungarian parliament includes 199 representatives, 106 of whom represent the country's local constituencies through a first-past-the-post process. The remaining 93 seats are awarded proportionally among the parties that win at least five percent of the vote. If a recognized minority group (most likely ethnic Germans) garners an adequate percentage, those proportionally distributed votes decrease in favor of the ethnic-minority representative(s).
In next month's election, the ruling Fidesz party, led by Prime Minister Viktor Orbán, is seeking to maintain its parliamentary majority. If reelected, Orbán will serve his fifth term as prime minister, and his fourth consecutive. He has frequently butted heads with the European Union and has even taken criticism from politicians in the United States. Rejoining Fidesz's party-list coalition is the KDNP, a Christian Democratic party. The Fidesz-KDNP coalition currently holds 133 seats in parliament.
Frustrated by failures in recent elections, six opposition parties have joined the United for Hungary grand coalition in a bid to unseat Fidesz-KDNP. Five of them previously allied in the 2019 local elections, to great effect—they gained control of Budapest city government, as well as numerous other municipalities. Among the surprise winners was Péter Márki-Zay, who won a mayoral race in a Fidesz stronghold. He went on to win the nationwide opposition primary to represent United for Hungary as its prime ministerial candidate. The coalition hopes his status as a relative outsider and nominal political independent will yield the same result as his mayoral victory.
What's most notable about United for Hungary is its broad array of ideological positions. Joining the socialists, greens and other left-of-center parties is Jobbik, a party with a neo-Nazi past and a history of sordid behavior among its members—this has included a parliamentarian spitting at Budapest's Holocaust Shoe Memorial and activists spray-painting swastikas on headstones at a Jewish cemetery. In an effort to achieve more legitimacy and oust Fidesz, Jobbik has attempted to moderate its image and has teamed up with leftist and centrist parties in recent years. The number of parties in the grand coalition and the ideological differences between even its left-leaning member groups have made compromise difficult, as Orbán frequently notes. United for Hungary only released its party list of national candidates last week.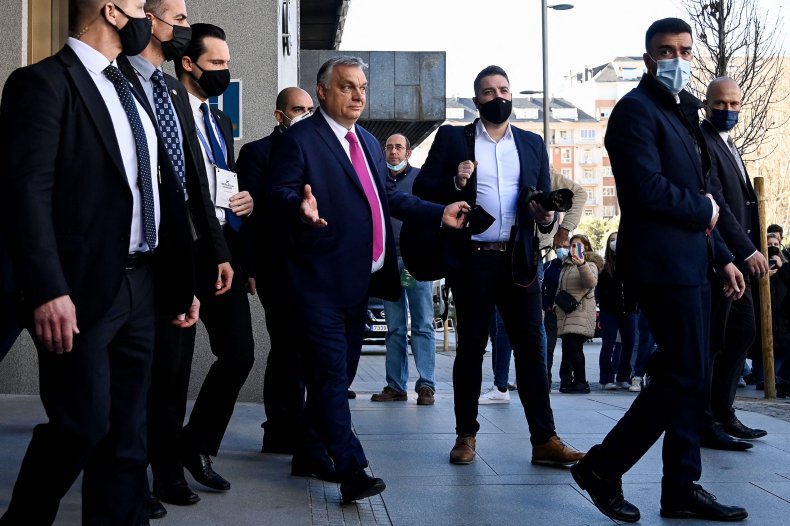 Two other parties have a realistic chance to meet the five-percent parliamentary threshold. As in the United States, this is significant because these outsider parties could siphon enough votes from one of the two major coalitions to affect the outcome. First is the Hungarian Two-Tailed Dog Party, a joke party aimed at disaffected voters who dislike both major coalitions. Its stated policies include free beer for Hungarians and introduction of a mandatory siesta. Next is the Our Homeland Party, which consists of breakaway Jobbik voters dismayed at the party's move away from the fringes. It is the only party that holds an official anti-vaccine stance, which could be a relevant factor for some voters.
Hungary has enjoyed fewer pandemic restrictions than neighboring countries throughout the campaign season, perhaps because of candidates' unwillingness to call for politically unpopular lockdowns. As a result, campaigns have been operating at full strength. Canvassers are a common presence at major metro stops and intersections; contrary to the impression created in many Western media outlets, opposition groups are highly visible in electorally critical Budapest. Advertisements for both coalitions dominate street signs and television and internet ads.
Orbán and his allies are highlighting Hungary's sovereignty and increased relevance on the world stage, infrastructure development and popular Fidesz-KDNP policies related to migration, family benefits and price ceilings for key utilities. Márki-Zay and allies accuse Orbán of being a kleptocrat and promise closer ties to the European Union and a free-market approach to utility prices, a move that will be more popular with businesses than with blue-collar Hungarians.
Negative media coverage of Hungary in the West might paradoxically help Fidesz; some voters who don't necessarily like the ruling party may respond negatively to a perception of foreign meddling from those who know little about the country. The EU Court of Justice's recent ruling against Hungary and Poland could similarly have mixed effects. Business-minded Hungarians likely will be frustrated by conflict with Brussels, while many other Hungarians have lost patience with a federal body that pushes unpopular policies on migration and national sovereignty.
Márki-Zay himself has arguably been Fidesz's greatest gift in recent weeks. The opposition candidate has made numerous inflammatory statements in his frequent Facebook Live videos. He compared Fidesz voters to mushrooms, for example, saying they live in the dark and feed on fecal matter. On other occasions, he questioned the number of Jews in Fidesz, told Hungarians who don't like higher gas prices to drive smaller cars and claimed to have secret knowledge of closeted homosexual Fidesz politicians. Most recently, he doubted the ability of women to spell and complete crossword puzzles. Even coalition allies have expressed dismay at these missteps.
Hungary has developed a robust polling system in the 30-plus years since the fall of communism. The major polls are often aligned with one of the parties, which creates some disparities in their results. In the latest February polls, left-leaning IDEA and ZRI-Závecz show a lead of 3-4 points for Fidesz; right-leaning Nézőpont showed a 7-point lead in its December-January poll aggregates. All pollsters report that undecided voters range from 5-7 percent. These numbers represent an improvement for Fidesz since the fall, likely in part due to Márki-Zay's comments. Barring some major development, the race will be close, and Hungarians will wake up on April 3 without knowing what the outcome will be.
Observers in Brussels, Washington, Moscow and Beijing will be watching closely.
Michael O'Shea is a visiting fellow at the Danube Institute. He is part of the Budapest Fellowship Program, sponsored by the Hungary Foundation and the Mathias Corvinus Collegium. Special thanks to András Hajdú for his indispensable help in researching this article.
The views expressed in this article are the writer's own.