Foodies demand farm-to-table ingredients, and one Brooklyn eatery has locavores buzzing with excitement: Two beehives on the roof of the New York Marriott at the Brooklyn Bridge are home to some 2,000 bees, and their "Rooftop Honey" is used in unique dishes and cocktails at the Great Room, the hotel's in-house restaurant.
Dominick DiNapoli, senior sous chef at the Great Room, worked with Brooklyn beekeeper Andrew Cote to obtain the hotel's hives in 2017. Since then, they've harvested gallons of honey for use in the restaurant—in everything from honey Sriracha sauce for house wings to white honey peach sangria.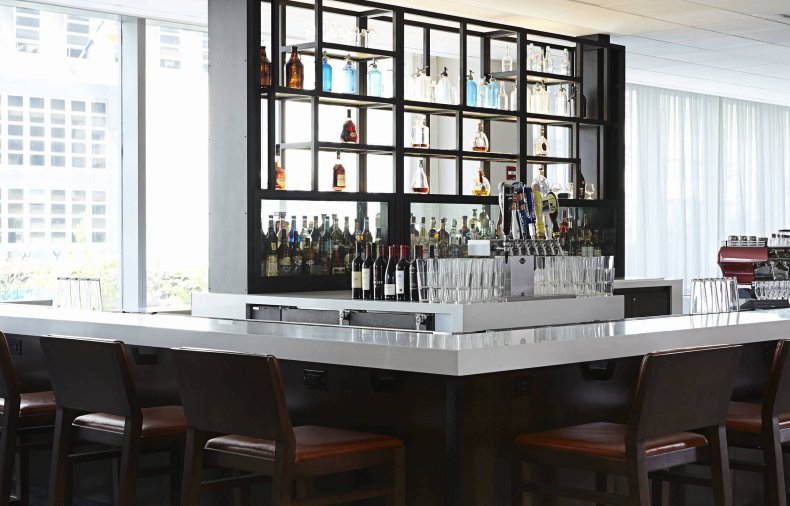 Pure honey, like the kind used in the Great Room, has numerous health benefits—it's known to contain antioxidants and lower bad cholesterol, triglycerides and inflammation. There's also research suggesting honey can lower blood pressure and risk factors for heart disease.
Currently, the Great Room is offering Orange Rooftop Honey Cake, with a caramelized honey orange topping, as well as Rooftop Honey-Glazed Chicken on a Brick, and a Rooftop Honey Crisp Salad. There are also several honey-themed cocktails—including a classic Brown Derby and a Bee's Knees, made with Beefeater gin, lemon juice and honey syrup right from the hive.
The hotel also produces honey jars for sale in the pantry.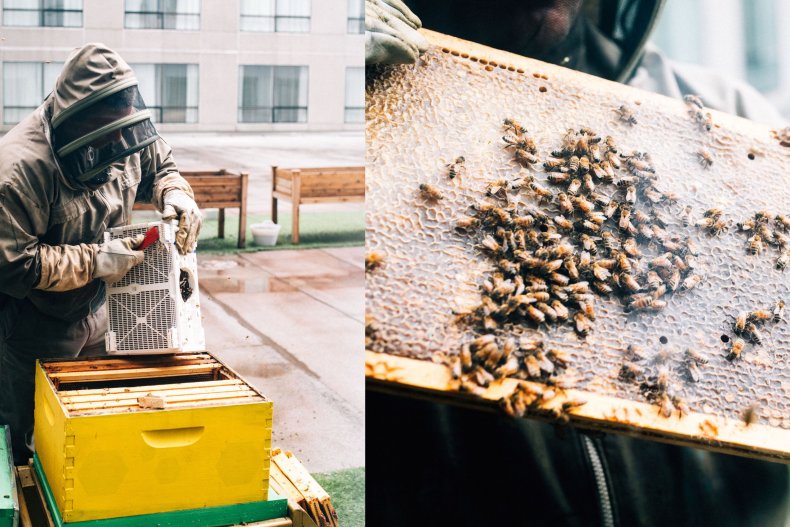 Dinapoli, who had a beehive set up at the Waldorf Astoria when he worked there, calls bees "true contributors to sustainability." he wanted to do his part to both fight colony collapse and sustain the pollination process.
"It's always our intention to give back to the community in which we do business, and it doesn't get more local than this," he tells Newsweek. "From the honey syrup in our featured cocktails, to our honey-glazed roasted chicken, we have found creative ways to use this fresh golden and natural ingredient in our menus."
A viewing station on the fourth floor allows guests to view the bees at work—from behind the safety of a glass partition, of course.
General manager Sam Ibrahim says beehive is part of the hotel's effort to celebrate the borough's unique character. "We are immersed in our neighborhood, bringing our guests the best Brooklyn has to offer," Ibrahim tells Newsweek. What could be more local than making our own Brooklyn honey?"
Rooftop apiaries are definitely on-trend in Brooklyn: Brooklyn Grange, one of country's largest rooftop farming collectives, operates more than 30 hives on roofs in Long Island City, Greenpoint and at the Brooklyn Navy Yard.
Uncommon Knowledge
Newsweek is committed to challenging conventional wisdom and finding connections in the search for common ground.
Newsweek is committed to challenging conventional wisdom and finding connections in the search for common ground.