Forget Snail Mail: Here Comes Turtle Mail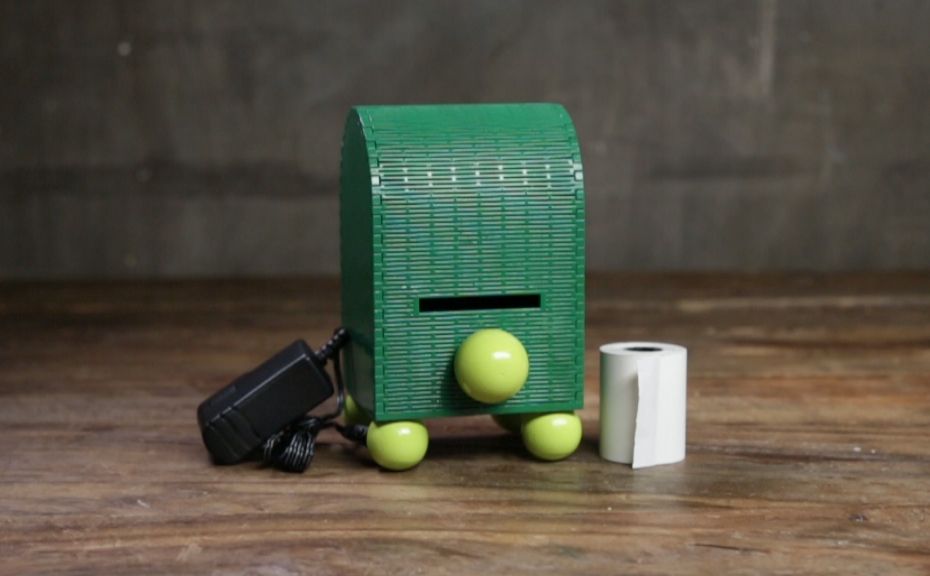 I got off the train Tuesday morning and silently groaned as I walked crosstown to the Javits Center—a New York City convention center that hugs the Hudson. The sky was gray, the rain made commuters more hostile than usual, and a taxi sped through a puddle, spraying city muck all over me. But inside the massive exhibition hall there was an explosion of color, a sea of warm, smiling faces, and more than enough toys to distract from the grime on my dress.
Displayed in the seemingly endless aisles at the annual New York Toy Fair, each item had a unique way of demanding attention. A remote-controlled car whizzed in circles next to a barking, robotic dog. An educational puzzle lit up during assembly, while someone danced on a floor piano across the way.
Amid the chaos of flashing lights and sing-song animatronics sat one of the fair's few unassuming gadgets: Turtle Mail.
What appears to be a small, wooden mailbox actually houses a Wi-Fi-connected thermal printer. It churns out messages sent by parents from an associated web application or a daily activity curated by its creator—the AE Dreams team.
"Our daughter was a little over 1, and she was getting more and more exposed to electronic toys," explains Alysia Finger, founder and CEO of AE Dreams and one of Turtle Mail's creators. "I was getting frustrated at all these flashing toys, screaming at her all at once...and thought, 'Technology can do better than this.'" So Finger and her partner Albert Niko Triulzi set out to make something new.
As the couple tested their various toy ideas with parents, they learned that guardians were reluctant to place their children in front of yet another screen. These encourage solitary play, which had them feeling disconnected from their kids.
"Smart toys today are just flashy and distracting; they're not focused on the experience for the child. More like, how can I keep them engaged and fixed in front of me for the longest period of time," adds Finger. "We don't want our child to miss out on that basic piece of how you entertain yourself without something providing all the content for you."
Turtle Mail uses technology to give kids technological relief. Using the app, parents (and whomever else the parents allow) can send children messages, including words and pictures, almost like a one-way fax machine. Parents can also select a daily activity among a library of options, ranging from puzzles and partner games to coloring sheets and scavenger hunts. The creators hope such activities will encourage children to write, create and explore.
Not only can the activities be customized based on ability, such as reading level, but parents can choose to have dogs appear more often in their child's activity queue if, for instance, their child happens to be a passionate animal lover.
Turtle Mail, which starts at $99.99, uses a thermal printer, meaning it only requires receipt paper rolls, not ink. And the company has a plan for making sure parents aren't running to the store too often for replacement paper and children aren't glued to their mailbox: Parents can set a limit on how many messages and activities are printed each day. "It's a digital experience that encourages interaction with the [physical] world," Finger says, and leaves children with tangible reminders of their special experiences.
For those interested in snail-mail with a twist: the first 100, already pre-ordered units are being delivered in April, says Finger. Pre-orders are now open for the Christmas season.