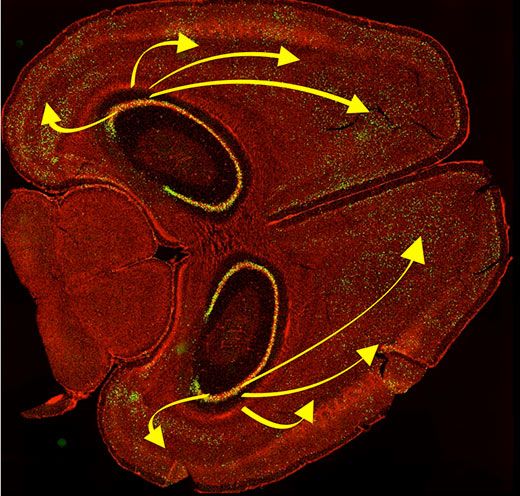 In the future, it's possible you could avoid the forks and obstacles in your trips down memory lane. Researchers at the University of California, Davis's Center for Neuroscience and Department of Psychology have successfully eradicated particular memories within mice's brains by using controlled light beams, suggesting that memory zapping is possible when certain areas of the brain are stimulated.
On Thursday, the university released a statement detailing researchers' pioneering studies in optogenetics, a technique for analyzing and controlling nerve cells using light technology. Optogenetics, which was developed and pioneered by Stanford University's Karl Diesseroth, has evolved into the standard approach for brain research because it allows people to manipulate nerve cells just with light, according to Andy Fell, a UC Davis spokesman.
Neuroscientists previously hypothesized that episodic memories—that is, cognizance of specific place and events—involved the interplay between the cerebral cortex and the hippocampus, a structure in the brain connected with memory recall and learning. Using this knowledge, researchers labeled and then manipulated the cells involved with mice's specific memories.
For the study, researchers used genetically modified mice whose hippocampus and cortexes glowed green and released a protein when their nerve cells were stimulated by the light. Then, researchers trained the mice to develop memories of fear by administering a mild electric shock when they were placed in a cage. Instead of roaming freely, the mice would freeze in place due to a "fear response" from the shocks. Then the team attempted to erase those frightening memories by stimulating brain cells involved in learning processes.
Scientists projected light into the mice's brains by using a fiber-optic cable, which allowed them to shine it in specific areas of the brain without disrupting others. By doing so, researchers were able to successfully shut off the nerve cells associated with the memory of the electric shock. The mice were placed back in the cage after the test and scurried around carefree; their brains had "erased" the memory of the shock.
The recent discovery will help researchers further investigate how parts of the brain communicate with each other to restore and forget memories, although this particular research remains to be explored within human brains. Future discoveries in memory manipulation could have enormous implications for neuroscience, however. In an interview with Newsweek, Fell said that research down the line could possibly "mitigate memory loss in the damaged parts of the brain" with patients suffering from disorders like Alzheimer's and post-traumatic stress disorder.
It seems like flicks like Total Recall and Men in Black might have actually predicted future movements in memory-zapping technology, but whether or not it'll be called a "neuralyzer" remains to be seen.