Forget Travel Bans to Fight Omicron Variant, Focus on Vaccinating Africans: Doctor
A prominent U.S. expert said Saturday that instead of implementing travel restrictions to stop new COVID-19 variants, world leaders should help vaccinate the African population. The comments came after scientists in South Africa detected the new Omicron variant of the COVID-19 virus, which could be far more contagious than the Delta variant.
Speaking on CNN Saturday, Dr. Peter Hotez, dean of the National School of Tropical Medicine at Baylor College of Medicine, said that travel bans "have not been very effective" during the COVID-19 pandemic.
"Remember in the very beginning...back in early 2020, we talked about travel bans from China. In the meantime, this virus entered into the United States from Southern Europe to ignite that horrible epidemic in New York City that started in March and April," Hotez said.
"I think much more productive than travel bans would be refocusing our energies on trying to vaccinate Southern Africa because that's how these new variants emerge—they emerge out of large unvaccinated populations," he added.
"If the G7 leaders are serious about stopping new variants, forget about the travel bans, let's go vaccinate the African people."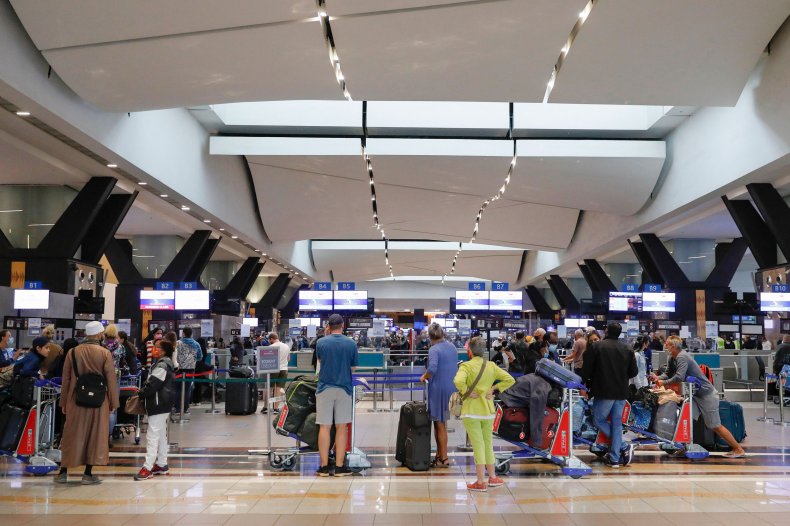 An analysis by National World released Friday suggested that just 7 percent of African people have been fully vaccinated against COVID-19. South Africa has seen a higher vaccination rate, with 24 percent of its population fully vaccinated, according to data from the New York Times.
President Joe Biden on Friday announced the U.S. will ban travel from South Africa, Eswatini, Mozambique, Malawi, Lesotho, Namibia, Zimbabwe and Botswana starting on November 29.
The U.S. wasn't the only country to restrict travel from the region.
Japan, Israel, the U.K. and the European Union have restricted travel from Southern Africa in the wake of the discovery of the new variant.
The South African government has blasted the decisions to issue the travel bans. On Saturday, its Department of International Relations and Cooperation said the "latest round of travel bans is akin to punishing South Africa for its advanced genomic sequencing and the ability to detect new variants quicker...Excellent science should be applauded and not punished."
On Friday, Scott Gottlieb, the the former commissioner of the Food and Drug Administration (FDA), also criticized the travel bans. In a tweet on Friday, Gottlieb wrote that it's good that the world is "taking new variant seriously," but noted that it's "counterproductive in short and long run, however, to impose harsh travel restrictions on affected countries; hurting current containment efforts, discouraging future sharing."
Officials in Germany, the U.K. and Italy reported their first cases of the Omicron variant on Saturday.