Forget U.S. Military Aid, Putin Eyes Threat from Turkish Drones in Ukraine
While Russian President Vladimir Putin has condemned the ongoing flow of U.S. military assistance to Ukraine as the Eastern European nation faces off with pro-Moscow separatists, a fleet of deadly drones acquired from another NATO member threatens to turn the tide of the war in Kyiv's favor.
Neither Turkey nor Ukraine has disclosed the exact number of Turkish Bayraktar TB2 unmanned aerial vehicles, or UAVs, sold to the latter, but reports suggest that the figure is larger than previously thought.
That has drawn the ire of Moscow. Putin has specifically warned his Turkish counterpart Recep Tayyip Erdogan of the drone's presence in the conflict.
In a phone call with Erdogan earlier this month, the Kremlin said that the Russian leader "stressed that Kiev has continued its destructive efforts to sabotage the Minsk agreements, such as provocative activities of the Armed Forces of Ukraine in the conflict zone, including the use of Bayraktar attack drones."
The Bayraktar has already demonstrated an impressive track record in taking out Russia-aligned forces in Libya, Syria and the Nagorno-Karabakh conflict, where the weapon proved especially decisive in the hands of Azerbaijan against Armenia and its Artsakh allies.
And while the UAV's lethality is now well known, a direct Russian intervention in Ukraine would prove a new test for the weapon now at the center of mounting tensions on the border between the two rivals. A miscalculation on its effectiveness, both on the battlefield and in the psychological realm, could also open a new avenue for escalation.
"Turkish drones have proven themselves effective, particularly cost-effective, compared to the use of manned aviation in these conflicts," Michael Kofman, who serves as Research Program Director at the CNA think tank's Russia Studies Program and a fellow at the Woodrow Wilson International Center's Kennan Institute, told Newsweek.
"That said," he added, "they have been operating in environments where opponents lacked a functional air force and possessed unsophisticated or dated air defense."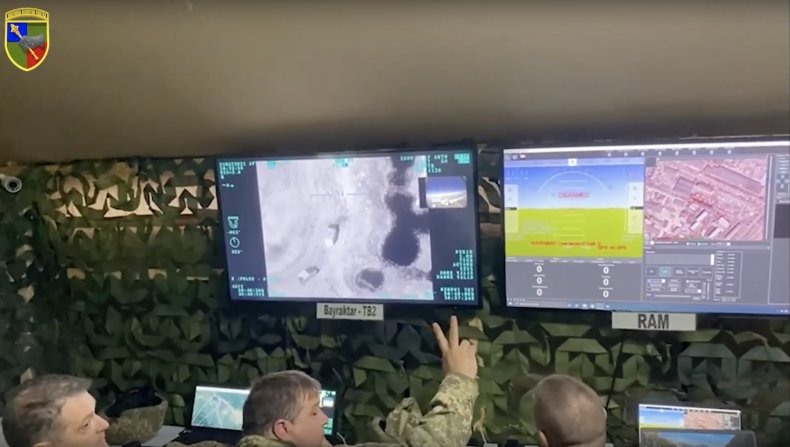 The Bayraktar is among the prized products that have come about as a result of an intensive campaign launched by Turkey in the 1980s to establish the country as a major defense power through substantial state investments. Erdogan has expanded on this effort as part of his Vision 2023 project announced a decade ago to boost his nation's economic prestige, including through defense industry initiatives.
The Bayraktar has a personal connection to the Turkish leader as well. The chief technology officer of the company that produces the drone, Baykar, is Selcuk Bayraktar, who is not only widely seen as the architect of Turkey's UAV industry but is also Erdogan's son-in-law.
Today, nearly a dozen countries have purchased or expressed interest in the Bayraktar. It is seen as not only a powerful weapon of war but also a lethal advertisement for Ankara's global arms sales aspirations.
"Today, there are many Turkish private companies and public enterprises working on producing high-tech military equipment," the Turkish embassy in Washington told Newsweek. "We now have the national technologies that enable us to successfully eliminate many external threats by means of domestic and national production and put us among the growing exporters of military equipment."
"These highly advanced systems, particularly UAVs," the embassy added, "have proven their performance and efficiency in different operational theaters."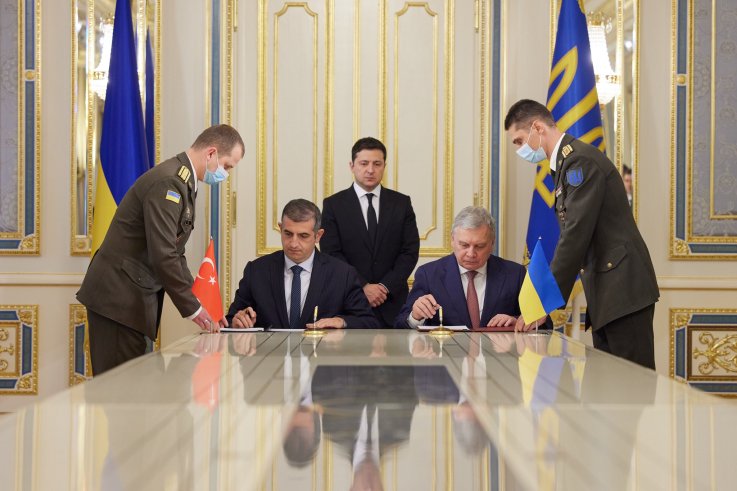 In the presence of Ukrainian President Volodymyr Zelensky, Turkish defense company Baykar CEO Haluk Bayraktar and Ukrainian Defense Minister Andriy Taran sign a memorandum of cooperation to jointly establish and maintain a training and testing center for maintenance, repair, modernization of UAVs and training of personnel related to the use of Bayraktar unmanned aerial vehicles on September 29. "It's a big real step forward. I am grateful to President Erdoğan. This is a real support for the sovereignty and independence of Ukraine," Zelensky said.
Presidency of Ukraine
In Libya, Turkish drones helped reverse an offensive launched in 2019 by the forces of Field Marshall Khalifa Haftar against the internationally recognized Turkey-backed government in Tripoli.
Haftar's self-styled Libyan National Army and its allies, which included Russian private military contractors, initially made rapid gains toward the capital but were halted with the help of the Bayraktar.
Turkey also found itself protecting its own partners against those of Russia in Syria, where Bayraktars inflicted casualties both human and material against the Syrian military as it advanced in the rebel-held province of Idlib early last year. Erdogan and Putin ultimately came together that March to reach a ceasefire to avoid further escalation.
Bayraktars also saw extensive action in September 2020 during an explosive conflict over the disputed Nagorno-Karabakh region, an area internationally recognized as part of Azerbaijan but largely governed by ethnic Armenians under the banner of the self-proclaimed Artsakh Republic. Azerbaijan's use of Bayraktars devastated Artsakh and Armenian formations, whose leaders ultimately called for a truce with the deployment of Russian peacekeepers.
And in October of this year, the same month that Baykar CEO Ozdemir Bayraktar died, passing leadership of the company to his eldest son, Haluk Bayraktar, the weapon made its debut in eastern Ukraine, where footage showed the drone taking out what appeared to be artillery fielded by separatist forces in the Donbas region. The following month, reports emerged of a Russian military buildup along the Ukrainian border, sparking an international crisis that remains ongoing to this day.
With temperatures running high, the Turkish embassy defended its sales of advanced UAVs abroad.
"Sharing these systems with friendly and allied countries contributes to the strengthening of regional peace and stability, as well as to the defense and security of these friendly countries, thanks to the additional deterrence they provide," the embassy said.
"These systems are essentially defensive systems," the embassy added. "Our defense industry cooperation and sales to a particular country do not target any other country. The countries to be supplied with these kinds of systems are also determined meticulously."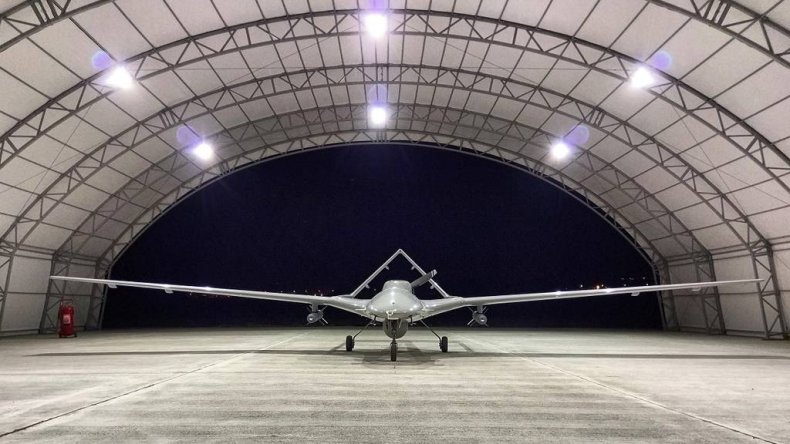 Rita Konaev, an adjunct senior fellow at the Center for a New American Security think tank's Technology and National Security Program and a research fellow at Georgetown University's Center for Security and Emerging Technology, cited the conflicts in Libya, Syria and Nagorno-Karabakh as examples of how "Turkish combat UAVs/drones have both showcased innovation and had a real impact on modern battlefields."
"In Libya and Nagorno-Karabakh, they were used effectively for intelligence collection, persistent surveillance and reconnaissance, eventually helping the forces on the ground gain an advantage against the adversary," Konaev told Newsweek. "In one major counterattack in Syria, the Turkish forces destroyed Syrian regime tanks, armored personnel carriers and other equipment in a sophisticated high-tempo attack that coordinated drone strikes with rocket and artillery fire."
But she noted that, given the importance of the Bayraktar to Turkey's broader strategic goals, "what we're also seeing is a media-savvy marketing propaganda campaign by the Turkish government and affiliated media where high-quality footage captured by the drone's camera as it hits air defense systems and combat vehicles on the ground is being shared widely across social media."
"This is an intentional strategy to shore up interests in Turkey's arms sales, portray it as a major regional power, and strengthen Erdogan's position at home," she added.
Anton Mardasov, an expert at the Russian International Affairs Council and scholar at the Middle East Institute's Syria Program, explained the strategic edge such a tool brings to the arsenal of a foreign military.
"The popularity of Turkish drones is due to the balanced ratio of quality and price," Mardasov told Newsweek. "This allows you to use lots of UAV complexes at once in one operation."
Doing so has potentially altered the course of military history.
"It would not be an exaggeration to say that, for example, in Syria in 2020, Turkey was indeed the first country to use drones as a key operational element of fire support, surveillance and reconnaissance in offensive and defensive operations," Mardasov said.
He argued this was "the first time in military history" that "a UAV was assigned the role of a means of direct air support for an operation of this scale and with such efficiency." Doing so," he explained, "made it possible to completely replace combat and reconnaissance aircraft."
He said that at one time there were up to 20 Turkish attack and reconnaissance drones in the skies over Idlib, operating in what he called "wolf packs." Such a tactic may prove a nightmare scenario for the Russia-aligned insurgents in Donbas if Ukraine had the inventory and expertise to mount such an operation.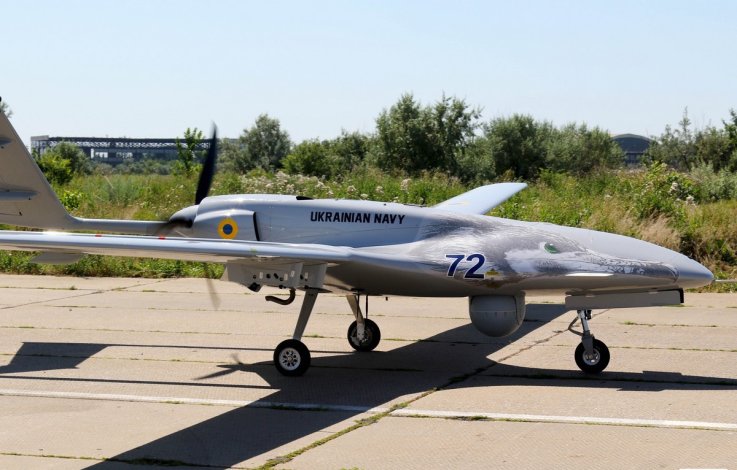 A Bayraktar TB2 drone is seen in the service of the Ukrainian Navy in this photo published July 15 shortly after the first batch of UAVs was delivered to the Eastern European country. Its operational range covers the distance of the frontline in Donbas to the Russian border.
Information Agency of the Ministry of Defense of Ukraine
But, like Kofman, Mardasov notes that the introduction of regular Russian forces could fundamentally change the equation.
"The effectiveness of Turkish drones should not be overestimated," Mardasov said. "In all conflicts, drones were used against an enemy with a poorly organized air defense system."
Echoing Konaev, Mardasov said that Bayraktar's effectiveness was amplified by a coordinated media campaign, and noted how the publication of videos showing the destruction of military equipment sewed panic among virtually defenseless enemy columns.
That psychological campaign may backfire if Russia doubles down on its defenses, albeit at a high price for Moscow.
"In the case of Ukraine, the PR effect of the use of drones and their impact on poorly organized separatist forces pose a threat to Russia," he said. "To stop the threat, Moscow will have to build up its electronic warfare and air defense capabilities, which entails material costs."
Should the use of UAVs in Ukraine intensify, Mardasov predicted that "Russia will be forced to become even more involved in the conflict and, at least, to build up means of electronic warfare to form an echeloned defense."
"Given the 'holes' between the separatist positions," he added, "this is not an easy task, that requires time and significant resources, including to protect the deployed equipment."
Konaev too pointed out how "electronic warfare has been a major area of priority for Russian military modernization and it plays a key role in how they think about counter-drone tactics and training." She said Russia "is generally well prepared for any potential use of Turkish drones in Ukraine."
Kofman, for his part, foresaw Moscow's more kinetic reaction should a wider war break out between Russia and Ukraine.
"In a hypothetical conflict with Russia, Ukraine has few drones available and they are likely to be either destroyed on the ground, or in the air," Kofman said. "These systems are not survivable in an environment where the opposing force has complete air superiority and a thicket of integrated air defense that's layered and resilient. It's quite possible Russia would strike Ukrainian air assets with surface-surface precision-guided weapons during the opening phase of the conflict."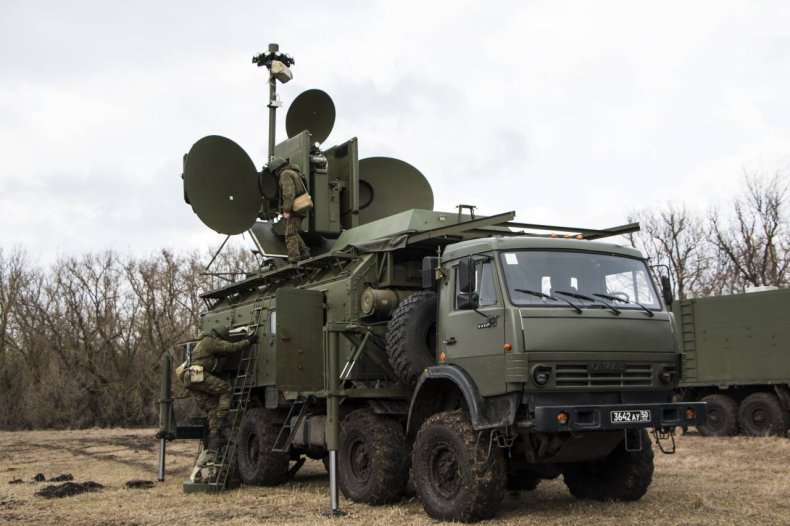 Turkey's drone sales to Ukraine have undoubtedly proven to be a sticking point in the relationship between Ankara and Moscow, but the complexity of these bilateral ties paints the picture of a broader geopolitical tug-of-war between East and West, with Ankara at the center.
Turkey, which remained neutral throughout most of World War II, was among the earliest countries to join NATO after the alliance had been established in 1949, a decision prompted by Moscow's pressure to allow Soviet ships to sail freely through the Turkish Straits. After the collapse of the Soviet Union in the 1990s, NATO steadily expanded eastward to include a number of former Soviet states now bordering the Russian Federation.
Since first coming to power in the final hours of the 20th century, nearly four years before Erdogan would take the helm in his own country in 2003, Putin has condemned this expansion. When the 2014 uprising in Ukraine brought a government supportive of the West, the Russian leader drew a red line that is now at the core of his demands: the West must reverse course and not allow Ukraine to join NATO.
"The course has been chosen of drawing Ukraine into NATO, which is fraught with the deployment of strike missile systems there with a minimal flight time to Central Russia, and other destabilising weapons," the Russian Foreign Ministry said in a statement shared with Newsweek by Moscow's embassy in Washington. "Such irresponsible behaviour creates grave military risks for all parties involved, up to and including a large-scale conflict in Europe."
Though President Joe Biden has so far indicated he would not send in U.S. troops to defend Ukraine from Russia, the U.S. has sent military assistance such as Javelin anti-tank missiles, and has indicated more aid is on the way.
"As we have made clear, the United States is committed to Ukraine's sovereignty, independence, and territorial integrity," a State Department spokesperson told Newsweek.
"While we don't have anything to announce or preview, we are continuing to deliver defensive military assistance to Ukraine," the spokesperson said. "We are providing more than $400 million this year to support Ukraine's sovereignty, including more than $60 million in security assistance announced in connection with President Zelensky's visit to the U.S. this fall."
As ties between the West and Moscow soured in the wake of the conflict in Ukraine, however, relations between Russia and Turkey have somewhat stabilized in recent years, save for occasional flare-ups.
In perhaps the most notable demonstration of their partnership, Turkey responded to a U.S. refusal to a request to purchase Patriot surface-to-air missile systems by instead buying Russia's state-of-the-art S-400 complex, drawing U.S. sanctions against Ankara pursuant to the Countering America's Adversaries Through Sanctions Act (CAATSA).
"Turkey was forced to procure the S-400 systems in the absence of feasible alternative offers from its allies, including the U.S.," the Turkish embassy in Washington said. "Unilateral CAATSA sanctions against Turkey are unacceptable and unjust. These sanctions continue to hurt our relations. Allies should not resort to sanctions when they disagree. Instead, we should privilege dialogue and diplomacy."
Konaev pointed to the S-400 purchase as a sign that, despite Ankara and Moscow competing in different camps in a number of conflicts, they continue to cooperate.
"The fact that Russia and Turkey often find themselves at the opposite end of these conflicts has not stopped Turkey from buying the Russian made S-400 air and missile defense system, which has soured its relationship with Washington," Konaev said, "and the two countries have been quite effective in managing escalation and avoiding directly hitting each other's forces."
Kofman described the relationship between the two countries as one of "compartmentalized competition, which requires regular hand-holding to deconflict."
As for the S-400, he said this issue is "one where Turkish desire to 'defect' from a common defense policy with NATO allies overlaps with a Russian desire to increasingly wedge Turkey out of the alliance, making it an independent actor, and encouraging Ankara to pursue its own arrangements with Moscow."
"That has clear benefits, but also visible risks for Russia," he added. "The history of Russo-Turkish relations does not fill one with optimism as to the future of this balancing act."
Mardasov, however, saw a mutual interest in Russia and Turkey's power play.
"Ankara and the Kremlin have many contradictions," Mardasov said. "However, in bilateral relations this is not only a minus, but also a plus: these contradictions in one way or another affect other countries that have to conduct anti-crisis negotiations."
"All this allows Russia and Turkey to increase their importance in the eyes of their opponents and allies," he added.