Forgiven Student Loans Could Become Tax-Free Under Biden's COVID Relief Bill
Student loan borrowers could save thousands of dollars thanks to a provision in President Joe Biden's $1.9 trillion coronavirus relief package.
Last week, Senate Democrats tucked into the sprawling bill the Student Loan Tax Relief Act to make forgiven student debt tax-free. The provision says that anyone whose loans, private or institutional, are discharged through 2025 will not face tax consequences.
Most forms of forgiven student loan debt are considered taxable income under the Internal Revenue Code.
If passed, the policy would help many borrowers enrolled in income-driven repayment plans. These federal plans set monthly student loan payments at an affordable amount based on income and family size, with the government canceling any remaining debt after 20 or 25 years.
Senators Bob Mendez (D-N.J.) and Elizabeth Warren (D-Mass.), who championed the act, celebrated its passage in the upper chamber's relief bill and said it puts additional pressure on Biden to cancel student debt.
"Now, when student loan borrowers get relief, they will not be burdened with thousands of dollars in unexpected taxes," Warren said in a statement. "This change clears the way for President Biden to use his authority to cancel $50,000 in student debt to provide a massive stimulus to our economy, help narrow the racial wealth gap, and lift this impossible burden off of tens of millions of families."
Menendez said he's "hopeful this will pave the way for President Biden to provide real debt relief so many student borrowers need and give a boost to our economy that benefits everyone."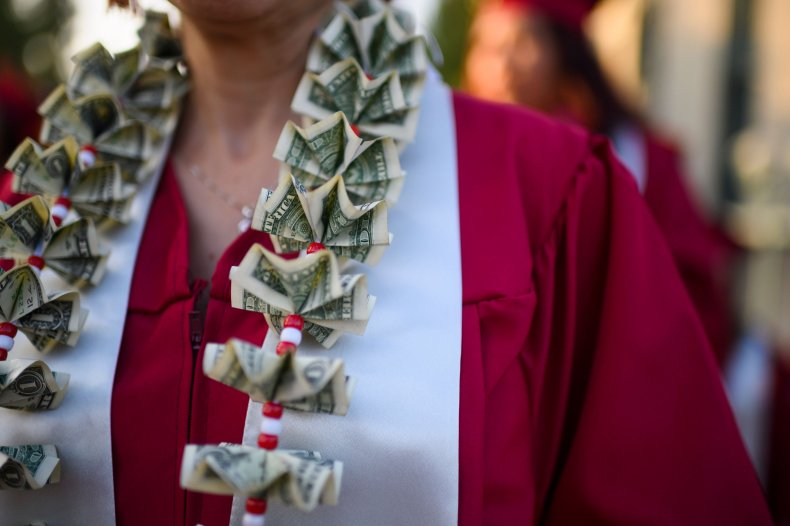 Biden pledged to forgive $10,000 in student loan debt per person but has rejected calls from Democrats and progressives to increase the amount to $50,000.
At a CNN town hall last month, Biden said he didn't believe he had the authority to wipe out that much student debt without congressional action. He also said that he doesn't want to forgive debts of borrowers from elite schools such as Harvard and that the federal funds would be better spent on early-childhood education.
"I understand the impact of debt, and it can be debilitating," Biden said during the event. "But I do think that, in this moment of economic pain and strain, that we should be eliminating interest on the debts that are accumulated, number one. And number two, I'm prepared to write off a $10,000 debt but not $50,000. Because I don't think I have the authority to do it by signing the pen."
Polling has also shown that Biden's scaled-back plan to tackle the debt crisis is much more popular. According to a recent Monmouth University survey, the president's pitch to eliminate $10,000 in college debt for anyone with an outstanding federal loan has 61 percent support among U.S. adults. Thirty-seven percent of those surveyed opposed the idea.
When the amount was increased to $50,000 of debt cancelation, public support dropped to 45 percent and a majority of those polled opposed the proposition.
Newsweek reached out to the White House for comment on a tax break for forgiven student loans but did not hear back before publication.