The Forgotten Warriors: NBA Champs in…uh…Don't Tell Me…1975?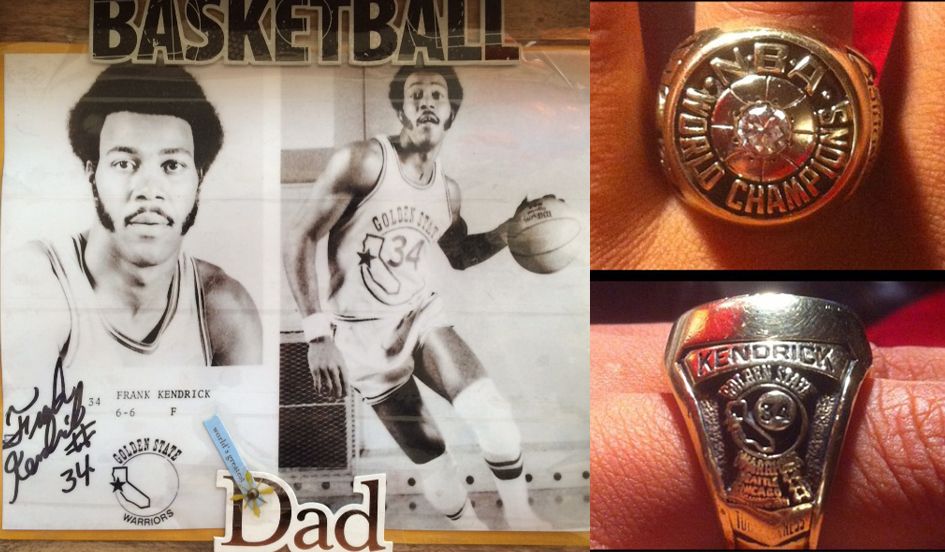 During its inaugural 1978-79 season, the NBC sitcom Diff'rent Strokes aired an episode in which Willis, the older of the two orphaned Jackson brothers, experiences a mental block for the year 1975 ("What you talkin' about?").
A tutor tests a theory that Willis cannot recall anything from that year because it coincides with the painful memory of his father dying. The tutor asks Willis, an avid basketball fan, to name NBA champions from each year in the '70s.
"Nineteen seventy-three?"
"New York Knicks."
"Nineteen seventy-four?"
"Boston Celtics."
"Nineteen seventy-five?"
Silence.
"Nineteen seventy-six?"
"Celtics."
And so on.
In the years since that episode aired (and possibly before), innumerable hordes of sports fans have, like Willis Jackson, drawn a blank when asked to name the 1975 NBA champions. And in almost every case that failure of retention had naught to do with childhood trauma.
"Out of sight, out of mind," says Frank Kendrick, perhaps the least-remembered member of the least-remembered NBA championship roster of the past half-century. "Forty years is a long time between Finals appearances."
Before Wednesday night the Golden State Warriors had not appeared in an NBA championship game in 40 years and 11 days. Only two other NBA franchises that existed then and are now in the same city, the Atlanta Hawks and Milwaukee Bucks, have experienced longer droughts (the Hawks have never advanced to the NBA Finals since arriving in the Peachtree City). Although the Warrior franchise has existed since the inception of the NBA—the Philadelphia Warriors won the inaugural championship in 1947, back when the league was known as the Basketball Association of America—its tenure in Oakland, dating back to 1971, largely failed to make a splash until the advent of the Splash Brothers.
"You have to be flamboyant or really good to get people to stay up and watch," says Kendrick, who was one of three rookies on that '75 Warrior championship squad. "Most of the past four decades, the Warriors haven't been. And for much of that time, too, the [Los Angeles] Lakers always had something better going on."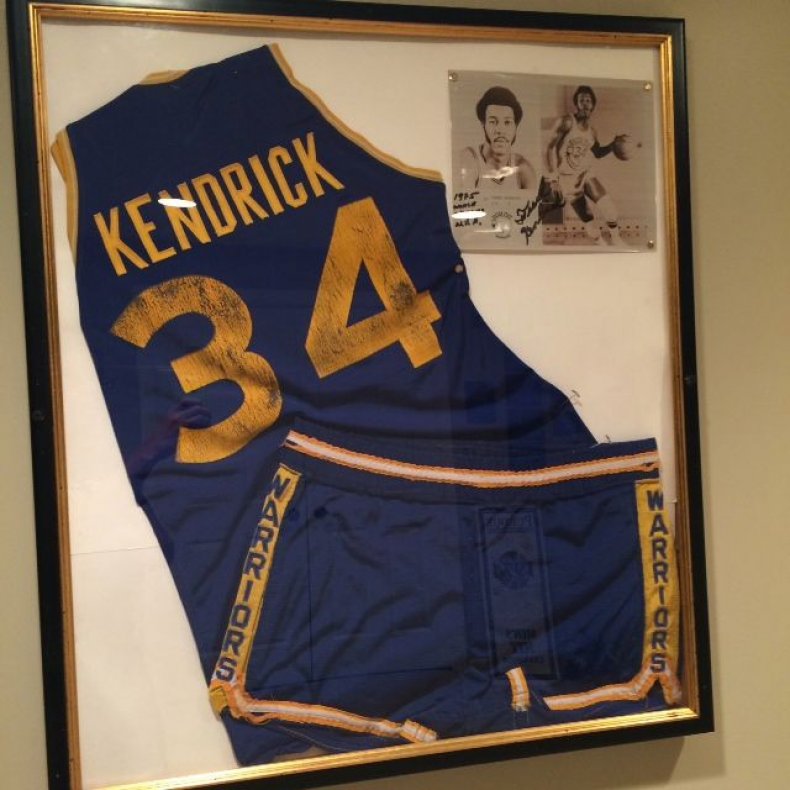 The 1974-75 Golden State Warriors were very much a one-hit wonder, a term that itself originated in the Me Decade. As was Kendrick, a third-round pick out of Purdue who earned a roster spot in training camp and would play 24 games before being waived just before the playoffs began. "We had such a wonderful group of guys," says the 6-foot-6 Kendrick, who is now a school administrator in his hometown of Indianapolis. "[Coach] Al Attles knew we had something special even from the beginning of the season."
The Warriors were led by one of the all-time great shooters in NBA history, forward Rick Barry, a future Hall of Famer who average 30.6 points per game that season (without the benefit of the three-point arc). "Everybody on the team knew that Rick was the man," says Kendrick, who often drew the task of guarding him in practice. "Nobody challenged it. He was a great leader. Extremely intelligent, and you weren't going to outwork him."
In 1974 the Warriors selected Kendrick, who had averaged 18.5 points per game in each of his final two seasons at Purdue, with the 47th overall pick. He arrived for training camp at Laney College in Oakland well aware that the Warriors had two more-heralded rookies, forward Keith (later Jamaal) Wilkes and guard Phil Smith. "Coach Attles was a tough man," says Kendrick. "He'd run guys 'til we dropped. He would run us and run us and run us, doing suicides. But when I'd ran past him I'd tell him, 'You'll drop before I do.'"
On the first day of camp, as Warrior players gasped for air following an extended set of suicides, Kendrick lined up and did three more on his own. "I've never wanted to be another face in the crowd," he explains. "You know what? The next day there was Phil Smith and Wilkes lining up to do extra suicides with me."
All three would make the Warrior roster, and Smith and Wilkes would start. Wilkes, who would convert to Islam and be known as Jamaal Wilkes after that season, would be named the league's Rookie of the Year.
The Warriors' run to the championship was an interregnum within an interregnum. First, it would be sandwiched by a pair of Boston Celtic championships, in 1974 and '76.
On a broader scale, the mid-'70s were a relatively fallow period for the league. The Celtics dynasty that had extended from Bob Cousy and Bill Russell in the early '60s to John Havlicek and Dave Cowens in the mid-'70s was in its final throes. Wilt Chamberlain, Jerry West and Oscar Robertson had recently retired. The trio who would resurrect the league, Magic Johnson, Larry Bird and Michael Jordan, had not even entered college yet.
The NBA was in limbo, as was the nation. The man occupying the Oval Office, President Gerald Ford, had not been elected and would not win re-election the following year. The Vietnam conflict would officially end on the final day of April. The lugubrious schlock that was Feelings actually climbed to No. 6 on the pop charts. Both the country and the NBA were sorely in need of ballast.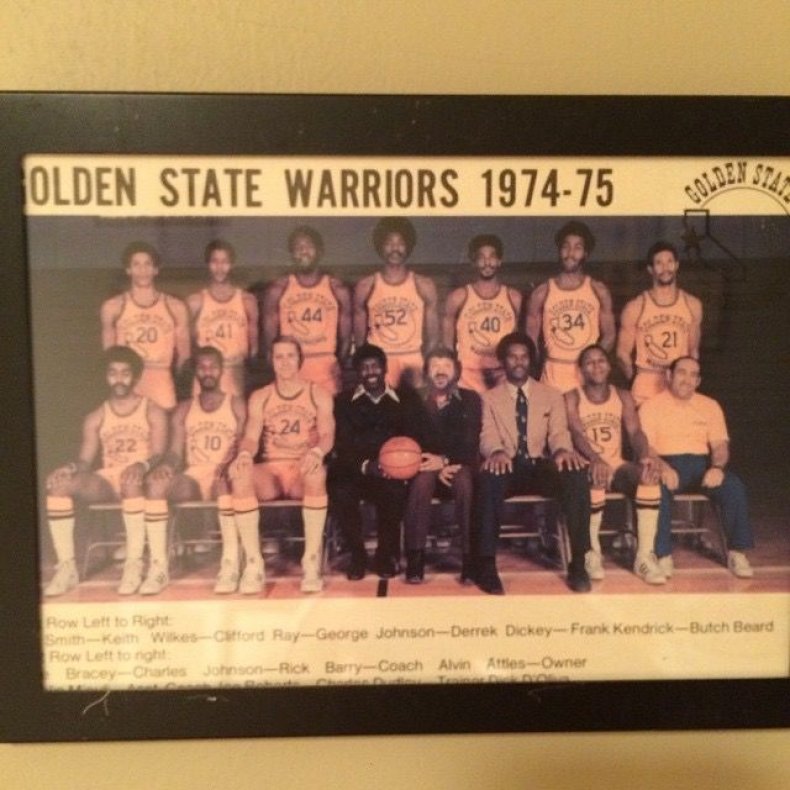 The Warriors had it, personified by Barry, who would record 15 40-point games that season. The man who shot free throws underhanded was masterful. "Rick had a reputation for being difficult and people would say to me, 'That guy's an asshole, isn't he?" says Kendrick. "'Maybe to you, but not to his teammates.'"
The 82-game season felt longer then—teams still flew on commercial flights—and players wore down more easily. Barry, Kendrick recalls, picked his spots. "We were playing at Boston early in the season and Rick was tired of hearing about what a great defensive player Havlicek was and how he was not." With Havlicek guarding him, Barry scored 42 points, while holding Hondo to 23.
In mid-February, on the first night of a back-to-back, Barry twisted his ankle in Cleveland. Attles met with Kendrick and told him that Barry would be unlikely to go against Chicago the next night and that he should be ready to start.
The following morning, before shootaround, Barry was in civilian clothes when someone read him a quote from the Bulls' Bob Love in which he said that teammate Chet Walker was a "shooter" and Rick Barry was a "scorer." At that, Barry found a trainer and insisted to have his ankle taped. He would play.
"I used to sit on the third seat to the end of the bench, but that night Coach Attles told me to sit next to him," says Kendrick. "He wanted me to be ready to go in if Rick's ankle was bothering him."
Barry made his first shot. And his second. And his third. The eight-time NBA (and four-time ABA) All-Star made the first 11 shots he attempted. "After a half dozen or so," laughs Kendrick, "my teammates at the end of the bench started waving me over. Rick wasn't coming out."
Barry afterward asked reporters, "So am I a shooter or a scorer?"
As for Kendrick, he would see action in 24 games, putting up a career-high of 10 points against the New York Knicks. On March 1 the Warriors waived him to create room for veteran Bill Bridges. Kendrick practiced with the team throughout the playoffs, however, and sat behind the bench for home games.
"No one picked us to beat the Washington Bullets in the Finals," Kendrick recalls. Of course, Golden State swept the Bullets four straight. The Warriors played Games 2 and 3 not at their home, the Oakland Coliseum (now known as Oracle Arena), but across the San Francisco Bay at the Cow Palace in Daly City—the Coliseum had already been booked for an ice skating show.
And Attles was every bit as tough as Kendrick remembers: The Warriors coach was ejected from the series-clincher for going after the Bullets' Mike Riordan after he committed a hard foul on Barry.
Kendrick would never again play in the NBA, migrating to Europe for a 10-year career, where he would meet his wife of 33 years, Mieke (they have three children). And the Warriors would not return to the NBA Finals for 40 years, until Wednesday night.
"I did receive a championship ring," says Kendrick. "And I still have it. I'm wearing it right now."