Former Abu Ghraib Coordinator Praises 'Paradise' In Border Migrant Detention Centers
A U.S. Army veteran who claims to have coordinated detention services at the infamous Abu Ghraib prison in Iraq has dismissed concerns over conditions at U.S. migrant detention centers, saying they are "paradise" compared the U.S. Army facilities where captured Iraqis were tortured, raped and murdered.
Retired U.S. Army Reserve Major Montgomery Granger made the comment in response to New York Representative Alexandria Ocasio-Cortez's much-debated claim that migrant detention centers at the southern border were effectively "concentration camps."
"Having worked at Abu Ghraib prison after the scandal there, I can tell you that the conditions for those detained at our southern border is paradise in comparison," Granger wrote.
"You have ZERO experience or knowledge about what you're saying. How about you HELP the problem instead of CRITICIZE?" he added.
Get your unlimited Newsweek trial >
According to an account on Granger's website, the U.S. Army veteran spent 14 months on a tour to Iraq from October 2004 to December 2005, where he found himself "coordinating services for detention operations there, in Baghdad, at Camp Victory, in Abu Ghraib."
"After the scandal there, my unit was sent to help clean it up," he said, adding that he also coordinated services in Al Basra, at Camp Bucca and in Ashraf at Forward Operating Base Spartan.
Prior to that, Granger claims he also served at Guantanamo Bay in Cuba as a U.S. Army Medical Department Officer with the Joint Detainee Operations Group Joint Task Force 160, where he was "in charge of coordinating medical, preventive medical and environmental services for detainees and the guard force."
Get your unlimited Newsweek trial >
Many social media users were left flabbergasted by the veteran's apparent dismissal of concerns over conditions and treatment migrants face by comparing the situation at the border to one of the biggest human rights scandals in U.S. history. One person, Paul Lomax, wrote: "Not as bad as the [worst] prison in the world. High bar."
After another social media user wrote: "'Yeah, I worked at the torture jail. For some reason I believe it gives me moral high ground instead of a Nazi resume'," mocking Granger. The U.S. Army veteran appeared to deny that any "torture" took place at the Abu Ghraib prison, despite the reality of torture at the prison being well-documented.
"LOL! There was abuse at Abu Ghraib, but no torture," Granger said.
He later clarified that he was referring to the "conditions" at Abu Ghraib and migrant detention centers in his comparison, not the treatment of detainees.
"I was referring to the conditions. Once in tents and exposed to the elements, the conditions at Abu Ghraib became more, not less, difficult after the scandal," he said. "We struggled to provide basic necessities in a hostile environment."
"That scandal was about torture," another social media user countered. "If you don't have a problem with any of that, I guess that explains why you were stationed there," they said.
Graphic photographic and video evidence, as well as detailed witness statements, revealed to the public more than a decade ago, have long put any question of whether torture and physical, sexual and psychological abuse took place at Abu Ghraib to rest.
A 2004 report from Maj. Gen. Antonio Taguba on the abuses suffered by detainees at the hands of U.S. troops detailed how prisoners endured being punched, slapped and kicked, sexually assaulted by guards, forced to engage in sexual acts while being photographed and videotaped among other abuses. In other cases, troops were found to have taken photographs of dead Iraqi detainees.
Days after Taguba's report was released, then-Secretary of Defense Donald Rumsfeld testified before the Senate and House Armed Services Committees accepting "full responsibility" for the abuses that took place under his watch.
"These events occurred on my watch... As Secretary of Defense, I am accountable for them and I take full responsibility," he said.
The acts he saw depicted in photographs and videos of the abuses carried out in Abu Ghraib, he said, could "only be described as blatantly sadistic, cruel, and inhuman."
In an interview with Newsweek Granger said that has faced significant backlash after his social media posts, with the veteran saying he was left "hurt" by some of the personal attacks.
"I try really hard not to insult people. I try to challenge people I disagree with, rather than insult them, people like Ilhan [Omar] and AOC," he said.
Granger said that his tweets were not meant to dismiss the abuses that took place at Abu Ghraib, but were meant to send the message that the two should not be compared.
"My unit went in [to Abu Ghraib] after the scandal. We were all embarrassed and we were all humiliated, believe me," he said.
"Still, I had a visceral reaction to the comparison [of migrant child detention centers] to concentration camps," he said. "I'm not Jewish, but I have a lot of friends that are and I think it's an inappropriate comparison."
Granger said he believed that it was important for more funds to be dedicated to improving conditions at detention centers housing migrant children. "It's our moral, ethical and probably legal obligation to care for these people and that is a huge concern of mine," he said.
However, he said he hoped that Congress would also push "reasonable immigration laws" that would prevent migrants from making it to the U.S. border in the first place.
While migrants detained in U.S. immigration detention centers may not face the same abuses as prisoners faced at Abu Ghraib, rights groups have condemned the treatment and conditions they have been forced to endure.
On Friday, immigrant rights group the Border Network for Human Rights issued a report warning of deteriorating conditions at detention and holding facilities near the border, asserting that "the state of human rights in the U.S.-Mexico borderlands is grave and only getting worse.
"People are dying because of what is happening," it said, with at least six migrant children having died since late last year after being apprehended by Border Patrol agents.
The U.S. Customs and Border Protection agency responded to the report by saying: "Allegations are not facts."
"If there is an issue it is best to contact CBP directly," the agency said. "In many cases the matter can be resolved immediately."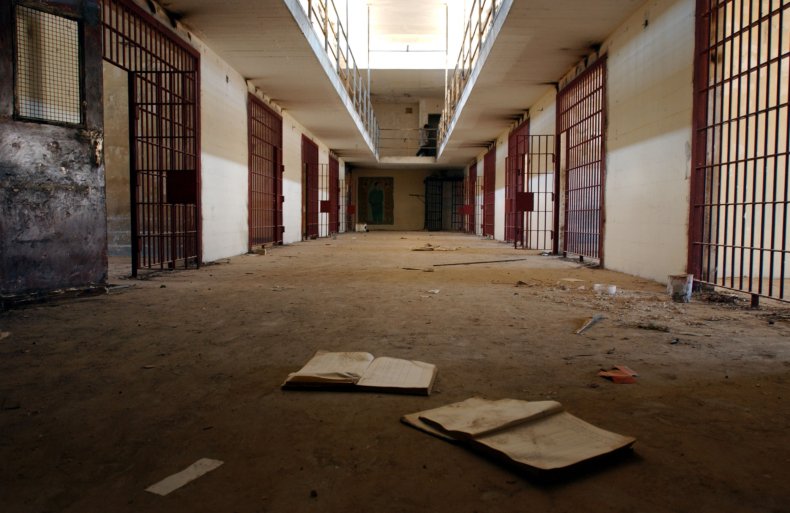 This article has been updated with statements from U.S. Army Reserve Major Montgomery Granger.
Former Abu Ghraib Coordinator Praises 'Paradise' In Border Migrant Detention Centers | U.S.