Former Adult Actress Mia Khalifa Sets the Record Straight on Earning 'Millions From Porn'
Former adult actress Mia Khalifa may have been one of the most popular people on PornHub, but she says that she received far less in compensation than most of her fans think—on Twitter, Khalifa explained she only made $12,000 during her porn career.
In a tweet posted this morning, Khalifa—also known as Mia Callista—wrote "People think I'm racking in millions from porn. Completely untrue. I made a TOTAL of around $12,000 in the industry and never saw a penny again after that. Difficulty finding a normal job after quitting porn was... scary."
"To clarify, I was never promised 'millions', nor do I expect it. I'm just clarifying common misconceptions about me, and in turn, about the industry. I was involved in porn so briefly, but my actions spread like wildfire, and I continue to be ranked (truly baffles me) 5 years after leaving the industry. This is why people think I still perform," she added in an additional two tweets.
Khalifa's first tweet links to an 80-minute interview with Megan Abbott. The two discuss a number of topics, including the time Khalifa received death threats from ISIS after wearing a hijab in an adult film and her life after leaving the porn industry.
Though Khalifa only spent three months as an adult actress, leaving the industry in early 2015, she continues to be one of the most popular actresses. According to xHamster, she was the most searched-for adult actress in 2016, more than a year after she left the industry.
Her breakout was when she appeared in a scene in which she performed sexual acts while wearing a hijab. The scene was popular, though it also proved controversial.
"When I did the hijab scene... that is when the ISIS death threats came in. All the news broke out—globally, not just in America. ... I was banned from a handful of countries," she told Abbott.
"What I actually said when they proposed the scene to me, and this is verbatim, was 'You motherf*ckers are going to get me killed," she added, though clarified that she meant it tongue-in-cheek.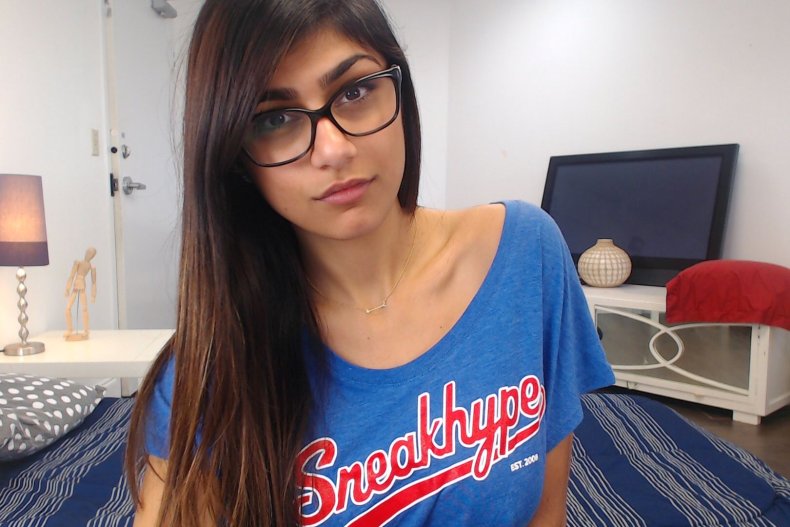 She says that after the scene came out, her social media profile grew exponentially.
"I think I went from 400 followers on Instagram to like 200,000 in the span of three days. And then it just kept snowballing until I was at like 2 million, like six months later. This was after I quit porn; it just kept growing and growing and growing. And then my Instagram was hacked by ISIS," she said.
After porn, Khalifa says that though she kept up her social media profile as a source of income, she was looking for a more traditional job. She told Abbott she worked as a paralegal and bookkeeper, before parlaying her social media following into a career as a sports commentator.