Former Afghan Ambassador to U.S. Says 'Forces Were Willing to Fight' Despite Biden Remarks
Roya Rahmani, who served as Afghanistan's first female ambassador to the U.S., is disputing President Joe Biden's remarks that it was the Afghan forces' unwillingness to fight that led to the Taliban's swift takeover of the country.
Addressing the nation for the first time on the U.S.' hasty evacuation out of Afghanistan, Biden shifted blame onto Afghan leaders for giving up as the Taliban took control.
"The truth is: This did unfold more quickly than we had anticipated," Biden said in his speech on Monday afternoon. "So what's happened? Afghanistan political leaders gave up and fled the country. The Afghan military collapsed, sometimes without trying to fight."
"American troops cannot and should not be fighting in a war and dying in a war that Afghan forces are not willing to fight for themselves," the president added, as he defended his decision to withdraw U.S. troops from Afghanistan.
While Afghan President Ashraf Ghani quickly fled the country over the weekend as the Taliban closed in on Kabul, Rahmani argued that his actions did not reflect those of the Afghan people, who she said did not want to give up the country to the Taliban.
"I understand if [Biden] says that, it would resonate with a lot of people. Yes, if Afghans do not want it, why should Americans fight for it? It's a logical thing to say," Rahmani told CNN on Tuesday. "However, I have to say to all fairness, the Afghan forces were willing to fight."
"Afghan people did not want this to be their fate and destination," she added. "However, what the leadership did is a different question."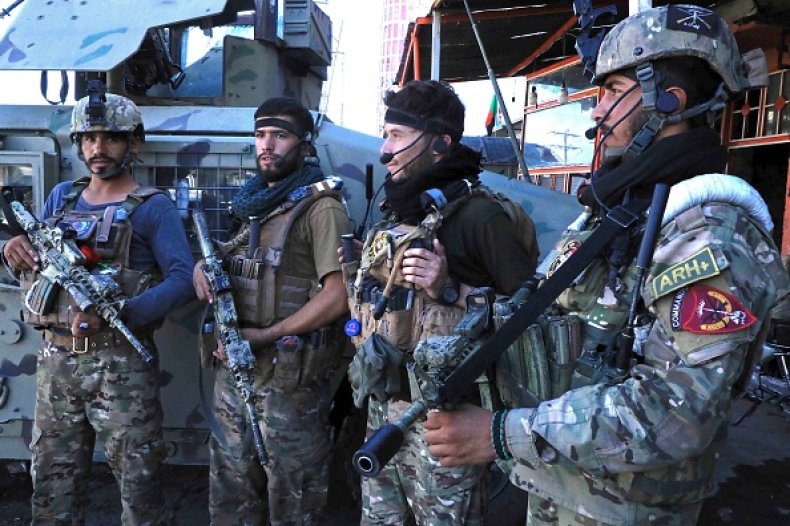 Rahmani called the scenes at Kabul's international airport "disheartening" and added that she couldn't understand why the U.S. couldn't "pull it together" as they tried to evacuate the remaining diplomatic personnel out of Afghanistan.
Footage from Afghanistan showed thousand of people flooding the tarmac on Monday morning and hanging from U.S. military planes in a desperate effort to flee the country. The last-minute scramble has caused many to criticize the administration for not being better prepared for a Taliban takeover.
Despite the current chaos, Rahmani said her biggest concern is what will happen to the people of Afghanistan once the withdrawal is complete.
"There will be a lot of people in my country who need to get out that will not get out because there are millions of people who need to get out," the former ambassador said. "What happens to them is they will be destined to a very difficult and unknown fate. Who knows what happens to them? I'm not sure there will even be reporters to tell you what is going to happen to them."
"[The Taliban] is a group that are only subscribing to a very specific and narrow worldview, which is not the same thing that the Afghan people can tolerate," Rahmani added. "They do not want to live under the kind of regime [where] they're told what to do."