Former Ambassador Says Trump Repeating ISIS Talking Point With 'Talk About Taking Oil From Other Nations'
Former U.S. Ambassador Nancy Soderberg criticized President Donald Trump for publicly arguing in favor of keeping Middle Eastern oil in Syria and Iraq, saying that the president was playing into the narrative of the extremist militant group the Islamic State (ISIS).
"The last thing we want to do is talk about taking oil from other nations. That's the talking point of ISIS, that we're there to take their natural resources," Soderberg, who served as a diplomat under former President Bill Clinton, said during a segment of MSNBC Live on Monday. The former ambassador explained, however, that she didn't believe the U.S. would end up keeping the Syrian oil.
"We have taken it and secured it," Trump said on Sunday, during a press conference in which he confirmed that the U.S. had carried out a successful operation that had led to the death of ISIS leader Abu Bakr al-Baghdadi the day before. The president also lamented to reporters that the U.S. had not kept Iraq's oil following the 2003 invasion of the country and subsequent overthrow of the government of Saddam Hussein.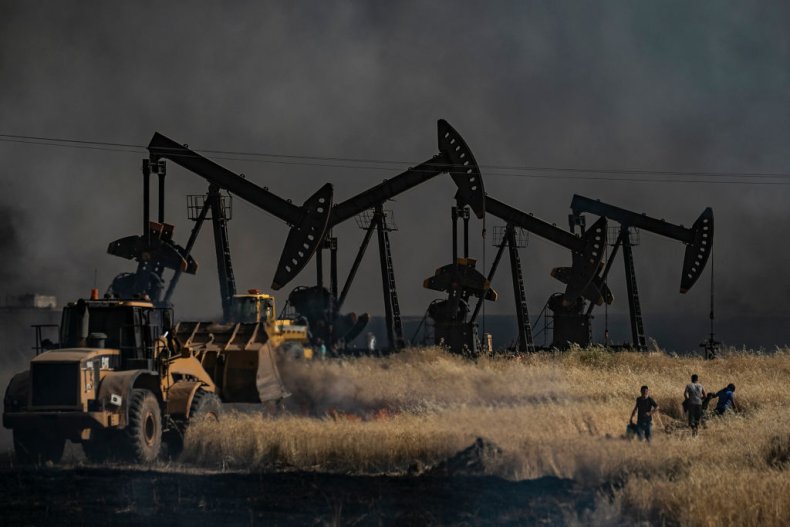 "I said keep the oil," Trump recounted he had said at the time. "If they are going into Iraq, keep the oil. They never did. They never did."
Soderberg cautioned that people should pay "less" attention to Trump's words and see what actions will actually be taken moving forward in Syria. "We don't know exactly how many troops are gonna stay there, we don't know what's gonna be the relationship with us and the Turks and the Russians, the Iranians are increasing influence there," she explained.
Other prominent Americans have criticized Trump's decision to deploy U.S. military forces to take control of Syrian oil fields as well.
"WHAT ARE WE BECOMING.... PIRATES?" retired four-star General Barry McCaffrey posted to Twitter on Monday. "If ISIS is defeated we lack Congressional authority to stay. The oil belongs to Syria."
Bruce Riedel, a former CIA official who served as a Middle East adviser under several presidents, told The New York Times that Trump was re-hashing a campaign pledge from the 2016 election.
"He has a short notebook of old pledges, and this was one of the most frequently repeated pledges during the campaign: that we were going to take the oil," he said. "And now he actually is in a position where he can quote, take some oil."
Russian General Igor Konashenkov also blasted the U.S. for attempting to seize the region's oil. "This, what Washington is doing now—capturing and maintaining control through the use of arms over oil fields in eastern Syria—that is, to put it simply, international, state-sponsored banditry," he argued, according to German broadcaster Deutsche Welle.
Former Ambassador Says Trump Repeating ISIS Talking Point With 'Talk About Taking Oil From Other Nations' | U.S.