President Donald Trump's ex-envoy to the U.S.-led coalition against the Islamic State militant group (ISIS) has officially left his post, but not without a message for his former colleagues.
Brett McGurk, who was appointed as the special presidential envoy to the Global Coalition to Counter ISIS by President Barack Obama in 2015, informed the White House he was resigning last week, in the fallout of Trump's sudden decision to withdraw U.S. troops from Syria, where ISIS has been largely defeated but retains pockets of influence. McGurk was already reportedly set to leave in February 2019. Trump responded to the news on Twitter by saying he "did not know" McGurk, accusing him of being a "grandstander."
McGurk did not officially reply to Trump's remarks but left a social media note of his own addressed to those still working for the administration.
"Today was my last day at the State Department. I wish my former civilian and military colleagues well as they work under extremely difficult circumstances to protect the interests of our great country. It was a privilege to serve alongside them," McGurk tweeted Monday.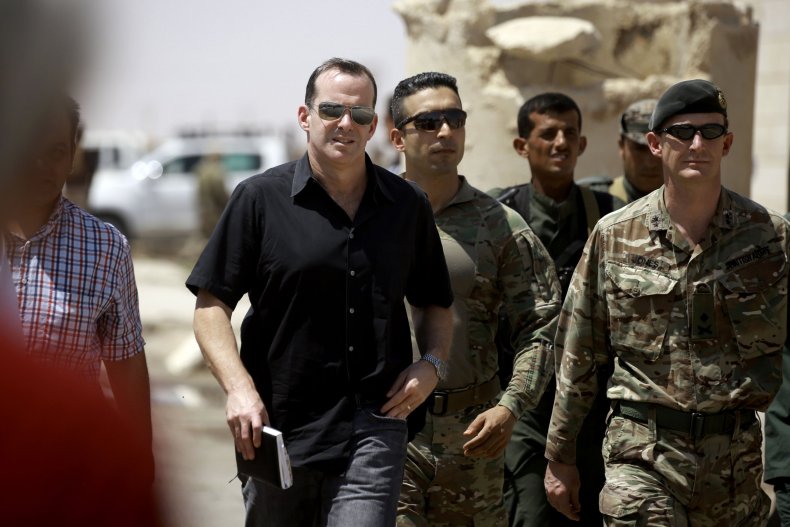 McGurk's resignation closely followed that of Defense Secretary James Mattis on December 20. Mattis told Trump that he had "the right to a secretary of defense whose views are better aligned" with his own in a resignation letter sent just a day after Trump's Syria withdrawal decision. The two are only the latest in a series of high-level departures that have occurred throughout Trump's tenure in office.
Trump inherited the most intense phases of the anti-ISIS battle as he came to office in early 2017, just as the U.S.-led coalition and local allies were gearing up for major showdowns in the militants' biggest city of Mosul in Iraq, and at their de facto capital of Raqqa in Syria. Still, Trump always contended that he was opposed to long-term commitments abroad, and previously flirted with withdrawals from Syria, where the government considers the Pentagon's presence to be illegal.
The president's apparently abrupt decision, which he made after a phone call with Turkish President Recep Tayyip Erdogan, caught a number of his officials off guard, as they geared up to expand the anti-ISIS mission to include expelling forces said to be under Iranian command and ousting Syrian President Bashar al-Assad, who has largely overcome the West-backed 2011 rebel and jihadi uprising but has been accused of war crimes. Also surprised by Trump's move were the mostly Kurdish forces fighting alongside U.S. troops in Syria, who now fear a Turkish assault may be imminent without a direct U.S. presence.
"The recent decision by the president came as a shock and was a complete reversal of policy that was articulated to us," McGurk said in an email sent to his colleagues and published last week by The New York Times. "It left our coalition partners confused and our fighting partners bewildered.
"I worked this week to help manage some of the fallout but—as many of you heard in my meetings and phone calls—I ultimately concluded that I could not carry out these new instructions and maintain my integrity," continnued McGurk.
After a meeting with Trump on Sunday, Senator Lindsey Graham of South Carolina claimed that the president had slowed down what was supposed to be a timely removal of troops from Syria. Russia and Iran, supporters of Assad's rival anti-ISIS campaign, had called on the U.S. to exit immediately.