Former Arizona GOP Senator Flake Urges Conservatives to Join Him in Endorsing Biden in New Video
A former Republican senator from Arizona urged fellow conservatives to join him in voting for Democratic nominee Joe Biden in a new video ad recorded for the Biden campaign.
Jeff Flake, 57, has represented Arizona in both the U.S. House and Senate. He served as a senator from 2013 until 2019 and has gathered a reputation for being an outspoken critic of Trump.
Flake's official endorsement of Biden came on August 24, shortly before the Republican National Convention. He joined more than two dozen former Republican members of Congress in expressing support for the Democratic candidate, citing the need to elect "someone who will stop the chaos and reverse the damage."
But in the one-minute video he tweeted on Wednesday, Flake revealed that the 2020 election would be the first time he has ever cast a ballot for a Democratic presidential nominee.
"This year, principle and conscience require me to do just that. I'm voting for Joe Biden," Flake said. "When you fill out your own ballot, ask yourself, 'Who will best restore decency and civility to the White House? Who can I be proud to tell my children and grandchildren I voted for?'"
The traditionally conservative Republican appealed to like-minded voters in the video, acknowledging the difficulties of going against the head of the party. Flake understands this particularly well, as he published a book in 2017, Conscience of a Conservative: A Rejection of Destructive Politics and a Return to Principle, that expanded upon his anti-Trump views.
Flake hit back at Trump's untraditional approach to the White House—something celebrated by politicians and Trump's supporters alike—writing his "volatile unpredictability is not a virtue."
"We have quite enough volatile actors to deal with internationally as it is without becoming one of them," Flake wrote.
Flake announced in 2017 that he would finish out the rest of his term but would not seek re-election, citing in a now-famous speech the state of Republican politics in the Trump era as his reasoning.
Flake took multiple digs at the president, telling his fellow senators that "we must never adjust to the present coarseness of our national dialogue, with the tone set at the top."
"We must never meekly accept the daily sundering of our country," he continued in his retirement speech, delivered on the Senate floor. "The personal attacks, the threats against principles, freedoms and institution, the flagrant disregard for truth and decency, the reckless provocations."
In his video recorded for Biden's campaign, Flake dismissed the notion that voting for the Democratic candidate is "somehow not being conservative."
"This year, the most conservative thing you can do is to put country over party," Flake said. "That's what I'm doing, I hope you'll join me."
Flake is one of several Republican politicians reportedly under consideration for roles in a possible Biden administration, Politico reported. Others include former Ohio Governor John Kasich and Massachusetts Governor Charlie Baker, with the Biden campaign telling Politico that a "diversity of ideology and background is a core value of the transition."
Trump, for his part, has repeatedly criticized Flake on Twitter, calling him a "Flake" who was "humiliatingly forced out of his own Senate seat without event a fight."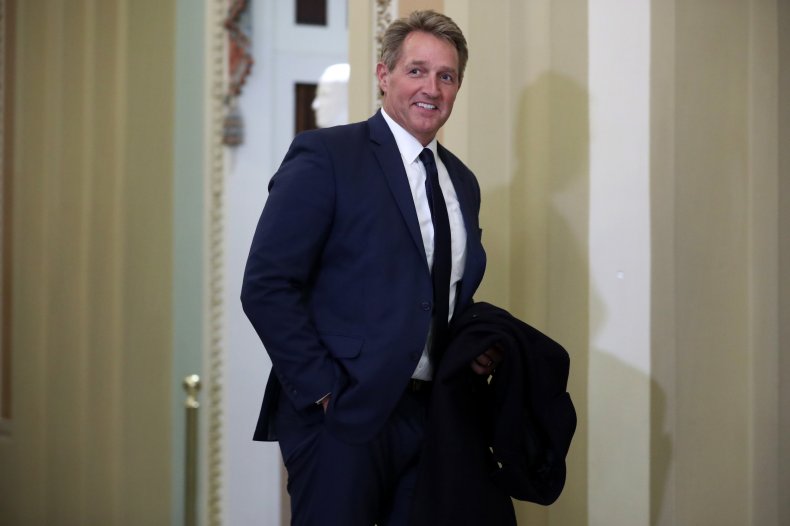 Flake's video comes the same day both campaigns made stops in Arizona, with five days remaining until the November 3 election.
Senator Kamala Harris, who is Biden's running mate, visited Phoenix and Tucson to encourage people to vote. Trump is also holding two rallies in Arizona. The first will be directed at Nevada voters but conducted in Bullhead City, Arizona, while the second will be held at an airfield in Phoenix.
Recent polls conducted across Arizona still predict a tight race in the historically red state, which Trump won by less than 3 percentage points in 2016. This year, polling website FiveThirtyEight placed Biden ahead of Trump by 3.5 percentage points as of October 28.
A recent Gravis Marketing survey found Biden with 48 percent of voters' support, compared to Trump's 44 percent. But a Morning Consult poll conducted from October 11 and October 20 had Trump in the lead, receiving 48 percent of the vote share compared to Biden's 47 percent.