Former Army Member Caught on Video Refusing to Leave Store, Saying 'Black Lives Don't Matter'
A video circulating on social media captured a South Carolina man refusing to leave a grocery store and railing against the Black Lives Matter movement.
"Guess what—all lives f***ing matter. Black lives don't f***ing matter," the man says in the clip.
He then points to the person filming the incident and states: "Black Lives Matter is the most racist f***ing thing we've ever f***ing seen. All lives matter. All lives f***ing matter. That's how it is."
Local news station ABC15 reported Thursday that John Walter Miles, 27, turned himself in to police after the incident.
According to a statement released by the Sumter Police Department, Miles was shopping with his girlfriend when the incident happened shortly after 10:00 p.m. on April 9 at a Food Lion grocery store. He allegedly became angry after a clerk refused to sell them alcohol.
"Miles is charged with aggravated breach of peace and trespassing. He was booked at the Sumter County Sheriff's Office Detention Center," the department said. "An investigation is continuing."
According to an incident report, an employee told authorities Miles called "all his employees the N-word" and caused a scene at the store. When the responding officer, who is Black, made contact with Miles, he allegedly admitted to using the slur and continued to do so. The officer escorted Miles to his car and he left with his girlfriend and her mother. Officers claimed Miles was under the influence of alcohol.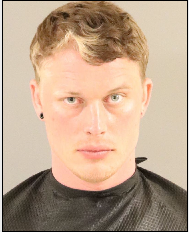 John Walter Miles, 27, turned himself into police on April 16. A viral video captured Miles involved in a racially charged, profanity-laced disturbance at a local grocery store in South Carolina.
Sumter Police Department
In the video, which was posted to Twitter and TikTok, Miles can be seen repeatedly pushing open the exit door and refusing to leave the store. As of noon Thursday, the video had more than 50,000 views on Twitter.
"What about goddamn brown lives matter? What about white lives matter? How about everybody else? Guess what—all you Black f***s are goddamn racist motherf***ers," he can be heard saying.
Later on, the man says he "has a goddamn Black kid in goddamn Georgia. I'm not a racist motherf***er."
Social media users connected Miles to the U.S. Army, stating he was a training officer.
Leslie Ann Sully, a media relations officer at Fort Jackson in South Carolina, told Newsweek that they were "aware of the video on TikTok and the person in question is no longer in the Army. He was already out of the Army at the time of this incident."
According to the Sumter Item, a local newspaper, Miles' LinkedIn profile said he was a drill sergeant leader at the U.S. Army Drill Sergeant Association. The profile appears to have been taken down.