Former Auschwitz Guard, Charged With 170,000 Counts of Accessory to Murder, Apologizes at Trial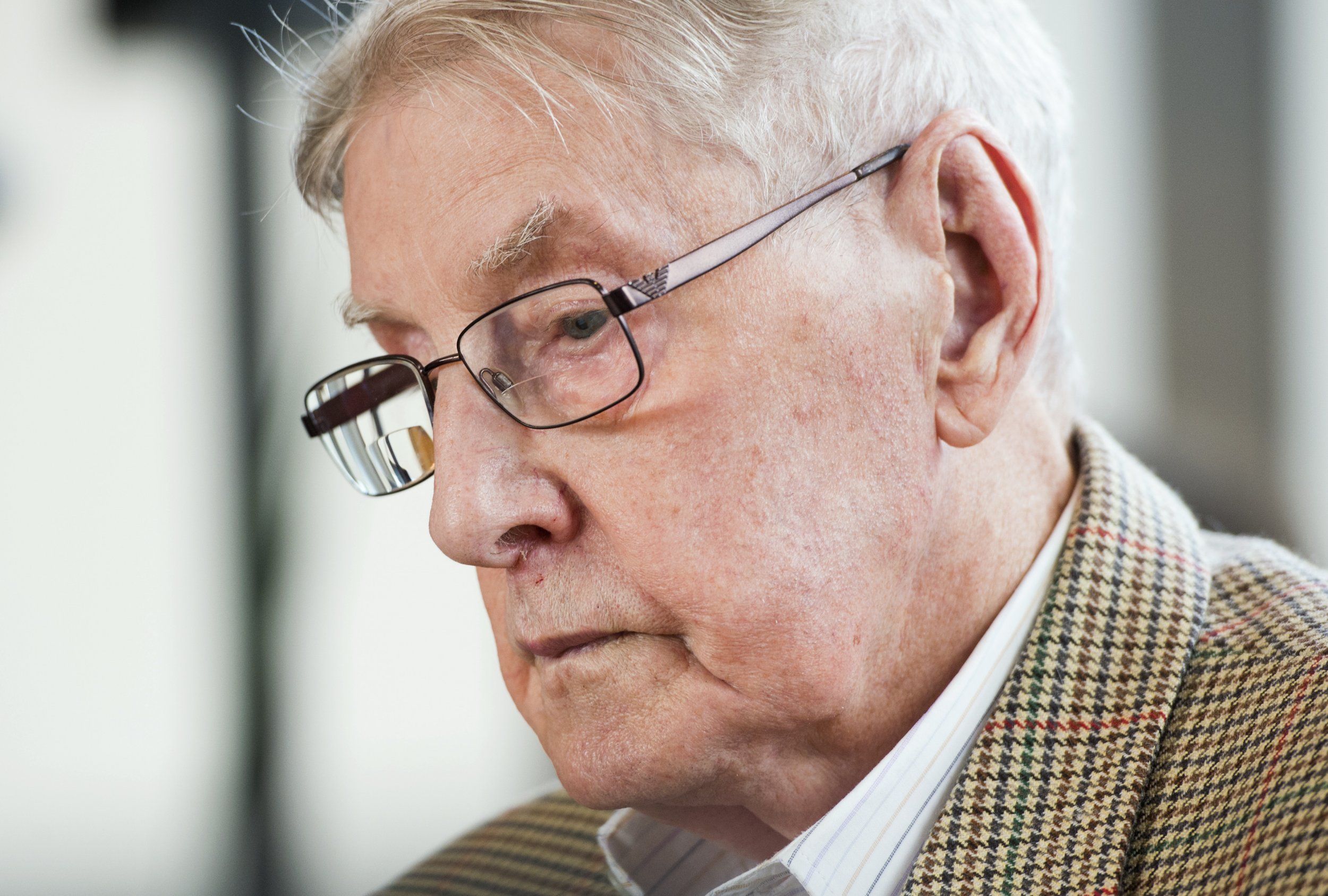 A 94-year-old former Auschwitz guard on trial for 170,000 counts of accessory to murder apologized in court Friday.
"I want to say that it disturbs me deeply that I was part of such a criminal organization that is responsible for the death of many innocent people; for the destruction of countless families; for misery, torment and suffering on the side of the victims and their relatives," Reinhold Hanning said into a microphone during a hearing in Detmold, Germany. He spoke in the presence of two out of roughly 40 Holocaust survivors who joined the Dortmund prosecutor's office as co-plaintiffs.
"I am ashamed that I saw injustice and never did anything about it," he said, "and I apologize for my actions. I am very, very sorry."
Hanning, a former SS officer, served at the infamous concentration camp complex from January 1942 to June 1944 after he was wounded in combat and his requests to return to the front lines were denied. He worked for a time at the front gate, registering patrols and work details as they came and went, and was later assigned to a guard tower.
Though Hanning is not on trial for direct involvement in killings at the camp, he is charged with accessory to murder because of his role helping the killing apparatus function. The legal logic stems from a precedent set in 2011 with the conviction of John Demjanjuk, who was found guilty of accessory to the murder of the 28,060 people killed at the Sobibor camp while he was a guard there. Prosecutors in that case did not produce evidence that Demjanjuk was personally involved in any specific killings but argued that simply by working at a camp whose sole purpose was extermination, he was guilty of participating in the crimes.
The Demjanjuk precedent paved the way for trials including that of Oskar Groening—the "accountant of Auschwitz" who was convicted last year of 300,000 counts of accessory to murder—and the trials of an Auschwitz paramedic and a woman who worked at the camp as a radio operator.
Hanning had been silent over the course of a dozen previous hearings since his trial began in February, speaking aloud in court only once to say "fine" when the judge asked how he was doing. Before Hanning spoke, his lawyer, Johannes Salmen, read a much longer statement describing his life story, from joining the Hitler Youth and the Waffen SS at ages 13 and 18, respectively, to his time at Auschwitz.
"Nobody talked to us about it in the first days there, but if someone, like me, was there for a long time, then one learned what was going on," he said in the statement. "People were shot, gassed and burned. I could see how corpses were taken back and forth or moved out. I could smell the burning bodies; I knew corpses were being burned."
He added, "I've tried my whole life to forget about this time. Auschwitz was a nightmare."
Leon Schwarzbaum, a 95-year-old Auschwitz survivor who lost 35 family members, is one of the co-plaintiffs in the case and heard Hanning give his statements Friday. "I accept his apology, but I can't forgive him," he said, adding, "I am not angry. I don't want him to go to prison, but he should say more for the sake of the young generation today, because the historical truth is important."
Historical truth and an attempt to counter those who deny the Holocaust brought the recently convicted Groening to speak about his time at Auschwitz in Laurence Rees's 2005 television documentary series Auschwitz: The Nazis & "The Final Solution," which aired nearly a decade before he was charged. During his own trial, Groening expressed "humility and guilt," saying he bore "shared guilt for the Holocaust, although my part was small" but not going quite so far as Hanning with an apology.
Prosecutor Andreas Brendel told the Associated Press that Friday's statements could help secure a conviction against Hanning. "Today's statement contributed a little more to establish that he was there, because he admitted that," he said, "and more importantly to the fact that he knew about the killings in the main camp—that also is a crucial fact."
A verdict in Hanning's case is expected at the end of May.