Former Australian Prime Minister Volunteers to Help Fight Wildfires As More Than 100 Continue to Burn in New South Wales
Thousands of firefighters are battling devastating infernos in Australia, and among the volunteers who have come to assist is one most wouldn't expect: former Australian Prime Minister Tony Abbott.
Abbott, who served as prime minister from 2013 to 2015, volunteers with the Ingleside Rural Fire Brigade in New South Wales (NSW). One of the states hit hardest by the flames Abbott worked on Saturday with a team on two structure fires to help save residents' homes.
The Ingleside Rural Fire Brigade praised the former prime minister for "working hard as he always does" while he volunteered and shared a video of him on Facebook.
Members of the Ingleside Rural Fire Brigade posted on Facebook that Abbott wore a breathing apparatus and ran into a burning home as they fought fires in Bendalong and Manyana, three hours south of Sydney. A separate video of Curvers Drive in Manyana, about five miles from Bendalong, showed an orange haze and heavy smoke as fires ravaged a neighborhood.
"You need to send at least three of your trucks to Manyana, they're about to get smashed over the side," the strike team leader tells another over the radio.
The Ingleside Rural Fire Brigade strike team, including Abbott, were the first into the street and all houses were saved, they said.
Newsweek reached out to the Ingleside Rural Fire Brigade through email and Facebook but did not receive a response in time for publication.
Hot temperatures and long drought conditions have made for a devastating fire season for large swaths of Australia. Rain brought much-needed relief on Monday, but it wasn't expected to be enough to extinguish the blazes.
Shane Fitzsimmons, commissioner of the NSW RFS told the Associated Press that favorable weather conditions were welcomed, but the rain also created challenges for implementing the back-burns firefighters were hoping to complete before higher temperatures hit later in the week.
On Monday morning, 136 fires burned across the Australian state and 69 were uncontained, according to the NSW Rural Fire Service. Since September, more than 2,000 homes have been destroyed, the Associated Press reported, and at least 25 people lost their lives.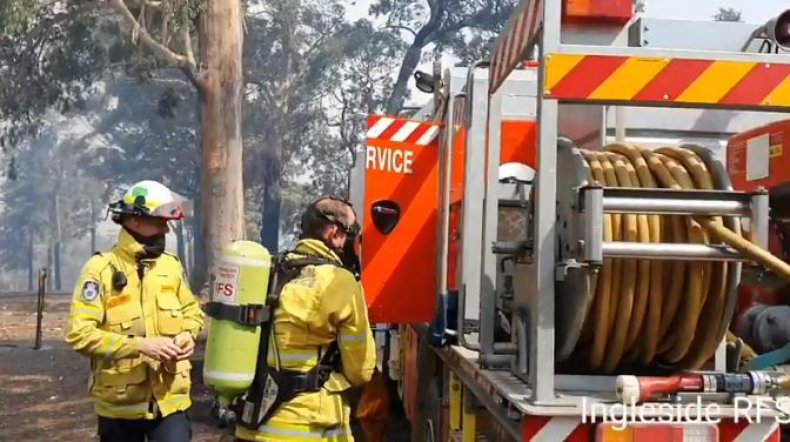 While Abbott was praised for his efforts, the current prime minister, Scott Morrison, has faced heavy criticism for his response to the wildfires. He was lambasted for going to Hawaii for vacation as flames destroyed the country and failing to implement policies to effectively combat climate change.
On Saturday, the prime minister released a video on his Twitter and Facebook pages that highlighted the government's actions to mobilize the Australian Defence Force. It explained the government was calling out up to 3,000 Defence Force Reservists to help with the wildfires and leasing additional firefighting planes.
The Australian Defence Association, a non-partisan public-interest watchdog organization, criticized the video, and its leader, Neil James, told The Guardian using the Defence Force for "party political advantage," was "plain wrong."
Morrison defended the ad, saying it was important to communicate what the government was doing directly with the Australian people. On Monday, he said his government would commit an extra $2 billion dollars, equivalent to $1.4 billion in American dollars, and would provide more if it was needed.
"The fires are still burning. And they'll be burning for months to come," Morrison told the Associated Press.
Former Australian Prime Minister Volunteers to Help Fight Wildfires As More Than 100 Continue to Burn in New South Wales | U.S.