Former Bachelorette Rachel Lindsay Isn't a 'Huge Fan' On Caelynn On 'Bachelor In Paradise'
Caelynn Miller-Keyes has had her fair share of drama on Bachelor In Paradise. While some have taken her side, others aren't so sure of their opinion of her.
Former Bachelorette Rachel Lindsay isn't among Miller-Keyes' fans.
Lindsay, who starred on The Bachelorette in 2017, aired her feelings about Miller-Keyes on PeopleTV's Reality Check Monday. They weren't all positive.
The former Bachelorette commented on Miller-Keyes' back-and-forth between Connor Saeli and Dean Unglert. Throughout the Bachelor In Paradise season, Miller-Keyes seemed swept up in a relationship with Unglert. When Saeli walked onto the beach, though, she changed her tune. Miller-Keyes claimed she'd wanted to meet Saeli on the show.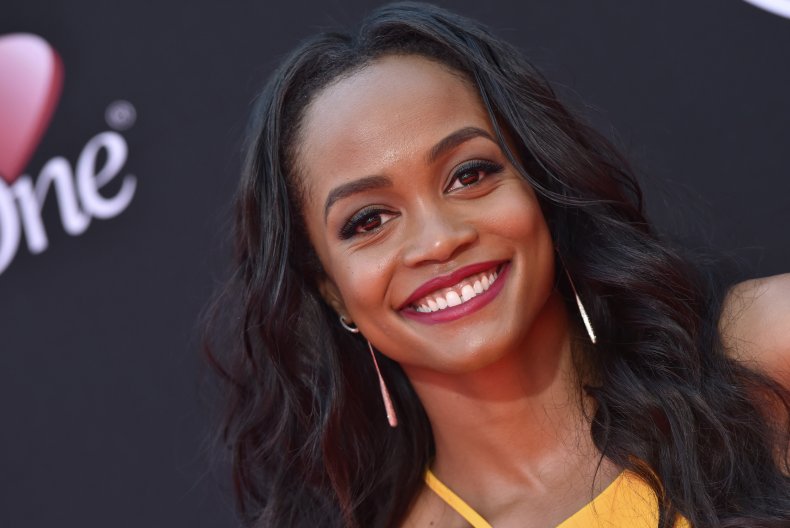 To Lindsay, Miller-Keyes' lack of commitment, or of clarity, was obvious. "Connor and Caelynn are weird to me. I don't get Caelynn and I'm not a huge fan, I'm just going to be honest," Lindsay explained. "I don't get her, she seems to flip flop more than any other person I've ever seen."
She also noted Miller-Keyes' emotions. "She was head over heels for Dean. Connor walks in, she's flipping her hair and she's like, 'Connor is who I wanted to meet the entire time,'" Lindsay said. "She apparently was crying over Dean at the wedding but then sees Connor and completely changes — which one is it?
The format of Bachelor In Paradise allows relationships to shift. Each week, new men or women enter the show. The additions can put established relationships in jeopardy. Miller-Keyes relationship with Unglert may have come first, but it wasn't necessarily stable. Unglert left Miller-Keyes in Paradise and claimed he didn't see a future with her. He later returned to win her back.
Lindsay claimed Miller-Keyes' choice between Unglert and Saeli should be obvious. "So I feel like you better pick Connor at this point, because, you know, you went all in with him," Lindsay explained. "He could have been able to choose somebody else at this point. I don't know, I'm not confident in them just because I'm not confident in Caelynn's decisions because she seems to just go with the whim."
Miller-Keyes chose Unglert in the end. The pair left the beach together. There may still be hope for Saeli, though, as Whitney Fransway showed up. The pair seemed to hit it off.
The controversial contestant was also in the heat of the drama when Bachelor In Paradise began. Miller-Keyes was one of two women who slept with contestant Blake Horstmann before filming. Miller-Keyes was upset because of the back-to-back nights with two Paradise women and claimed Horstmann told her to keep their intimacy quiet on the reality show.