Former Baylor Fraternity President Jacob Anderson Avoids Jail Time in Sexual Assault Case, Accuser Tells Court She is 'Devastated'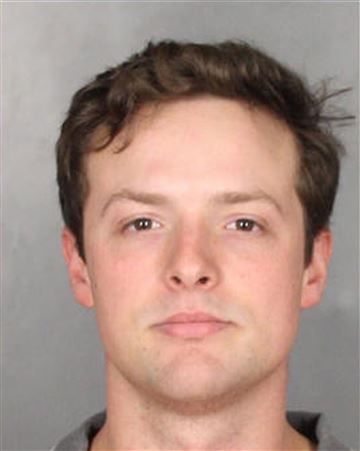 A former Baylor University student will avoid jail time after being indicted for four counts of sexual assault related to an alleged rape at a fraternity party in 2016.
Jacob Walter Anderson reached a plea agreement after pleading no contest to the charges, sparking outrage from his accuser.
After the ruling, the accuser, known as Donna Doe in court documents, issued a statement to Judge Ralph Strother, the judge who accepted the plea.
"I am devastated by your decision to let my rapist Jacob Walter Anderson go free without any punishment ...He stole my body, virginity, and power over my body and you let him keep it all for eternity," Doe said.
Anderson will serve three years probation and, once completed, will not have to register as a sex offender. However, he will retain a record of arrest for sexual assault if the case is not expunged from his record, KWTX reports.
Not registering as a sex offender is tied to the plea agreement in which Anderson pled guilty to a lesser charge of felony restraint. With the guilty plea, the McLennan County District Attorney's Office dismissed the sexual assault charges that Anderson was indicted on in June.
In addition to three years probation, the plea agreement includes psychological, alcohol and substance abuse counseling, and a $400 fine, The Star-Telegram reports.
According to Doe, Anderson repeatedly assaulted her during a Phi Delta Theta party in 2016. At the time, Doe was a sophomore at Baylor while Anderson was the fraternity's president. After Anderson was accused, he was expelled from Baylor.
Doe said that she took a cup of punch at the party and, after drinking, began to feel woozy. Anderson later led her behind a tent and assaulted her, Doe said. She also told police that she blacked out and woke up lying face down in her own vomit.
The plea deal blindsided Doe and her family when it was presented by prosecuting attorney Hillary LaBorde in October, The Star-Telegram said.
LaBorde said in a statement from the district attorney's office that she thinks Strother made the best ruling possible given the evidence available.
"Conflicting evidence and statements exist in this case making the original allegation difficult to prove beyond a reasonable doubt. As a prosecutor, my goal is no more victims. I believe that is best accomplished when there is a consequence rather than an acquittal. This offender is now on felony probation and will receive sex offender treatment, a result which was not guaranteed, nor likely, had we gone to trial," LaBorde said.
LaBorde also offered the following explanation for offering the plea agreement in an email sent to Doe and her family, drawing comparisons between Doe's case and another rape case that LaBorde recently lost, The Star-Telegram reports:
"(The jury) engaged in a lot of victim blaming — and the behavior of that victim and (Doe) is very similar," she said. "It's my opinion that our jurors aren't ready to blame rapists and not victims when there isn't concrete proof of more than one victim," LaBorde wrote.
Under the original sexual assault charges, Anderson faced up to 20 years in prison and a $10,000 fine for each assault charge.
Another Baylor student, Erin Albin, created an online petition in protest of the plea agreement when it was offered in October. To date, the petition has over 85,000 signatures.