Former Bolton Adviser Slams Ex-Trump National Security Adviser for Declining to Testify: 'He's Teasing His Book'
Mark Groombridge, a former senior adviser to John Bolton, slammed the ex-Trump administration official on Tuesday over his decision to avoid testifying about the president's actions towards Ukraine, arguing that the national security expert is "teasing his book."
Groombridge, who served as a senior policy adviser to Bolton when he was the U.S. ambassador to the United Nation under former President George W. Bush, made the critical comments in an interview with CNN on Tuesday morning. He argued that his former boss' position to not come forward with the information he has regarding Trump's Ukraine policy was "troubling."
"First, he [Bolton] flatly and bluntly said quote I actually have a lot to say on the subject," Groombridge noted. "That, by definition, implies that he has information privy to the Ukraine investigation and the impeachment process more broadly. But it was the second part of what he said during that interview [with NPR], which to me was most troubling ... he basically implied that 'Well, I want to discuss what I have to say, but I can't do it at this point.'"
"That obviously begs the question of if not now, then when?" the former Bolton adviser asked. "We are at a crucial point in American history, you would think that Ambassador Bolton would want the Senate to have all of the information so that they can make a full informed and productive decision," he said.
Bolton's attorney, Charles J. Cooper, said last month, according to The New York Times, that his client would not agree to testify before a judge decided on a case about the limits of executive privilege and Congress' subpoena powers. House investigators subpoenaed Bolton to testify in the the Democratic-led impeachment inquiry, which led to Trump becoming the third U.S. president in history to be impeached, albeit largely along partisan lines. The former White House national security official, who dramatically parted ways with the Trump administration in September, said he wanted to see how the court ruled before he agreed to testify before Congress, citing the president's claims of executive privilege.
Asked about the president's impeachment during an NPR interview on Friday, Bolton declined to comment.
"Well, you know, there's obviously a lot of swirling around in that department, including some litigation that could affect my status," the former Trump official said "So I think although I have a lot to say on the subject, the prudent course for me is just to decline to comment at this point." Previously in early November, Bolton's lawyer wrote in a letter to House attorney's that his client had been involved with "many relevant meetings and conversations that have not yet been discussed."
Groombridge suggested to CNN that Bolton's public remarks, and decision to avoid testifying for the time being, was linked to personal financial interests. He argued that it was an effort to boost sales of a forthcoming book, which CNN and the Associated Press first reported on in November, citing unidentified sources. The book reportedly may be released ahead of the 2020 presidential election.
"There can only be one logical conclusion," Groombridge asserted. "And forgive me for being snarky and blunt, but he's stealing a page from Omarosa [Manigault Newman]'s playbook, by arguing essentially that 'I have something really important to say but you're gonna have to wait to hear it.'"
"The only logical conclusion is that he's teasing his book," he argued.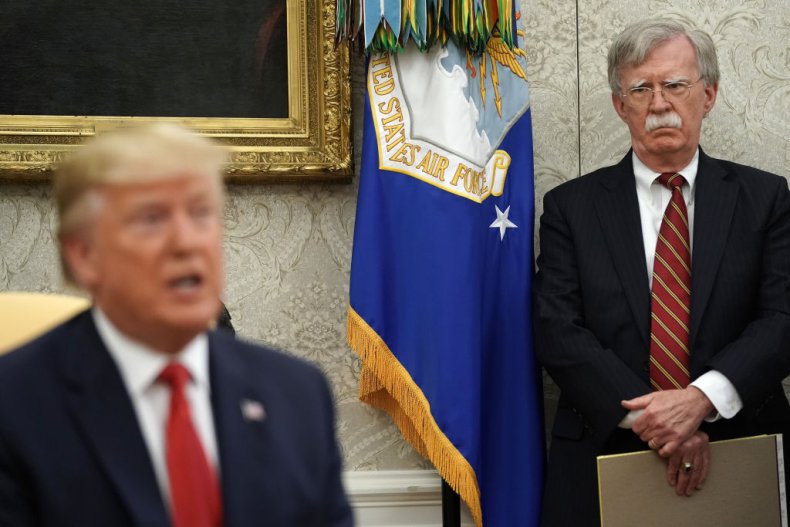 Newsweek has reached out to a press representative for Bolton for further comment.
Manigault Newman, who served for a year as Trump's director of communications for the Office of Public Liaison, made numerous media appearances ahead of the launch of her book, which was released in August 2018. She claimed repeatedly that she had damning information about the president, even dramatically releasing audio recordings from her time in the White House. While drawing short-term controversy, her admissions failed to have any significant negative impact on the Trump administration.
Even if Bolton agreed to testify in the pending Senate trial of Trump, which is expected to move forward in the new year, it currently appears unlikely that he would be called to do so. While Democratic Senate Minority Leader Chuck Schumer has repeatedly pushed for bringing Bolton and other administration officials to testify, Republican Senate Majority Leader Mitch McConnell has rejected the idea.