Former Border Patrol Leader Marco Lopez Says He Can Be Arizona's Stacey Abrams
When the Supreme Court affirmed restrictive new voting laws in Arizona in July, it appeared the state would join others in the increasing number that have passed Georgia-style voting-restriction bills since the November election.
These measures leave little recourse for opponents to challenge new laws that experts and critics say disproportionately affect minorities.
But much like in Georgia, where former candidate Stacey Abrams prioritized registering and mobilizing voters of color, Democrat Marco Lopez believes his gubernatorial candidacy can be the antidote to what ails Arizona.
"My being on the ballot would galvanize and energize Latinos throughout the state to get out and vote and be part of the decision-making process in Arizona," Lopez told Newsweek in a wide-ranging interview.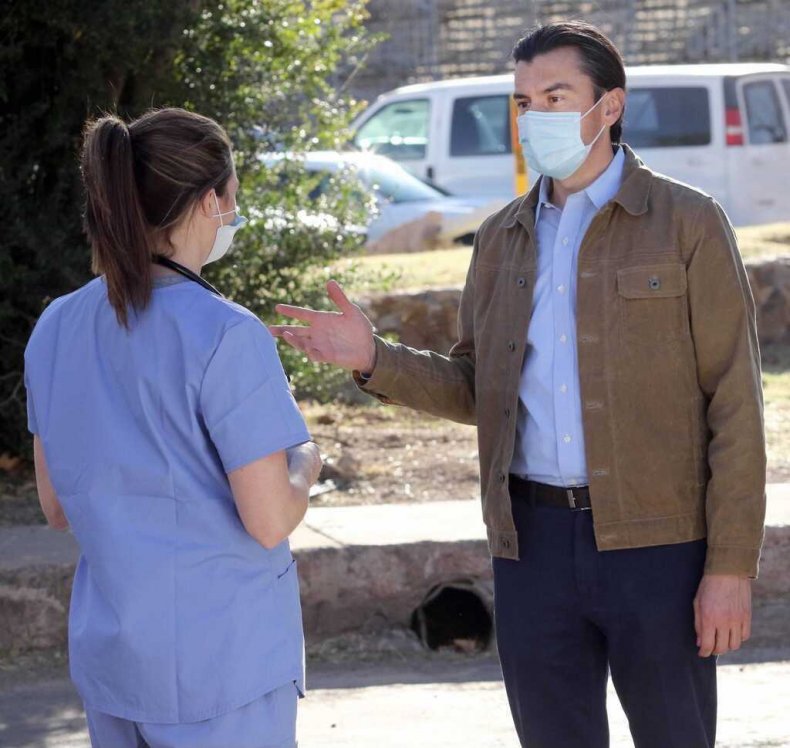 He said that in addition to the new laws targeting Latino voters, historically they have been an afterthought in Arizona elections.
"For so long they've been overlooked and only spoken to in the last three to four months before election day," he said.
With Republican Governor Doug Ducey term-limited, the 2022 race is already getting crowded. Arizona Secretary of State Katie Hobbs, another Democrat who became a well-known face on cable news with updates on the state's closely watched election results in November, has already announced her run, along with other Democrats and Republicans.
But Lopez's resume is one even Republicans admit is a good one.
After becoming one of the youngest mayors ever in the nation at the age of 22 in Nogales, Arizona, Lopez served as director of the Arizona Department of Commerce and executive director of the Arizona- Mexico Commission, before joining the Obama administration as chief of staff at U.S. Customs and Border Protection (CBP), managing a department with a $12 billion budget and 60,000 employees.
Lopez said he has grown up with immigration since he was a child, and his experience at the state, local, and federal levels has provided him with the perspective to see it as a national security issue between the ports of U.S. and Mexico.
But he told Newsweek that he recognizes those ports as "trade and jobs hubs."
"Manpower investments must be made to keep border communities safe," Lopez said.
He noted $16 billion flows in both directions between Arizona and Mexico, and 180,000 jobs depended on trade between the two before the pandemic.
Regarding the asylum issue that has beguiled the Biden administration and led to a crush of Republican criticism, Lopez said that it is "a process that clearly is needing reform; it has needed reform since 1984."
Hoping to win by marshaling Latino votes, Lopez is convinced that Democrats who experienced the loss of their support from 2016 to 2020 can do better. He said that calculus begins and ends with jobs and the economy, issues his campaign says they hear about from the vast majority of voters.
"It's 100% jobs wherever I go," Lopez said. "We saw older male Latinos leave and vote for the other party because they thought that party was having the job and opportunity discussion. We're actually better at it but we have to talk about it."
It's a background and point of view that some Democrats believe could catch fire.
"The 2022 election is going to come down to the economy, safety, and protecting our democracy," said native Arizonan Kristian Ramos, a Democratic consultant and Latino vote expert. "Marco Lopez is Mexican-American in a state that has a history of fighting back against anti-Latino laws and is currently facing the ravages and mismanagement of a Republican governor on the economy, and is in the midst of an unprecedented attack on voting rights."
But some activists and Republicans who work in the state say Lopez will have a lot of work to do to emerge as a frontrunner.
"There's only one Stacey Abrams, and what I mean by that is he has to run in an authentic way," said Alejandra Gomez, the co-executive director of LUCHA Arizona, which is part of the One Arizona table that registered 550,000 voters over the last decade and was launched in response to the strident SB1070 immigration law.
"So the question is. 'Who is he, what does he stand for, and how does he build so the community joins him in that struggle?'" she said.
Chuck Coughlin, who served as campaign manager for former Republican Governor Jan Brewer and now conducts polling on Arizona races as president of political consulting firm Highground, Inc., told Newsweek he met with Lopez looking to hear his blueprint to win, but wasn't satisfied with his answers.
"He's a good guy," Coughlin said. "I just don't see the path."
He also met with Representative Ruben Gallego, a former Marine whom he considers a rising star, to gauge his interest in running for governor. He said he did so because he sees Gallego as a "Hispanic man's man" at a time when Democrats are losing Hispanic males to the Republican Party.
For his part, Lopez has built bridges to Mexico, and he believes his knowledge and connections will benefit Arizona and create jobs.
That bridge building could be aided by his experience as a senior advisor to Carlos Slim, one of the richest people in the world. He said he first made that connection in 2011, when the Carlos Slim Foundation reached out to him concerning the disparity in broadband internet reach, which saw more than half of minority households without service. Lopez took part in helping to launch a program to connect those families.
In light of former president Donald Trump's America First stance, Lopez was asked what he would do as the Democratic nominee for governor of Arizona if Republicans start accusing him of being Mexico First.
"I think that if anyone wants to criticize broadband adoption as tools to succeed, that's on their conscience," Lopez shot back, tying his answer back to his tunnel-like focus on jobs and opportunity during the interview. "In Arizona that's what matters."
Coughlin argued there are 51 good jobs in politics, president of the United States and the 50 governor roles, which is why they're so sought after, but said the position is a 24/7/365 job, unlike being a U.S. senator.
"A senator can always duck or run behind something, but an executive can't run and duck," he said. "COVID hits, you're the guy, the border blows up, you're the guy, the economy blows up, you're the gal."