Elise Jordan, a former aide of the Bush White House, criticized President Donald Trump's efforts to praise and "kiss up" to North Korea's Kim Jong Un during a historic summit over the weekend.
"It makes me want to puke, just my visceral reaction as an American who cares about Democracy and human rights, the fact that Donald Trump is going out of his way to kiss up to–just to this monster instead of actually projecting strength," Jordan said during a Monday appearance on MSNBC's Morning Joe.
"What have we gotten from the North Koreans, for all this pomp and circumstance and the propaganda coup of having the president of the United States crossing into North Korea?" she asked. "I don't understand what we've gotten except diminished our own standing in the world," Jordan continued.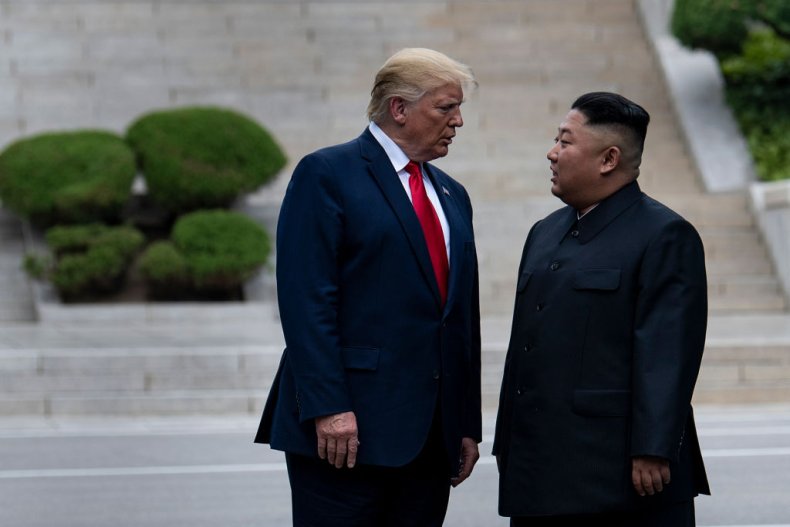 Trump on Sunday became the first sitting U.S. president to enter North Korea as he met the east Asian nation's dictator at the heavily fortified demilitarized zone (DMZ) of the Korean peninsula.
"Stepping across that line was a great honor," Trump said as he met with Kim. "A lot of progress has been made, a lot of friendships have been made, and this has been in particular a great friendship."
The meeting at the DMZ marked the third time Trump had met with Kim face-to-face, following a first historic summit last summer in Singapore and a follow-up in Vietnam earlier this year. After the Vietnam summit, which ended abruptly, denuclearization talks faltered between Washington and Pyongyang. But on Sunday, Kim and Trump agreed to appoint new negotiators and continue the process.
Although Trump has often touted his personal relationship with Kim, saying he "fell in love" with the North Korean dictator, analysts have pointed out that the president's personal relationship appears to have accomplished little in leading North Korea to denuclearize. In fact, some reports have suggested that North Korea has actually expanded its nuclear capabilities since talks began between Trump and Kim.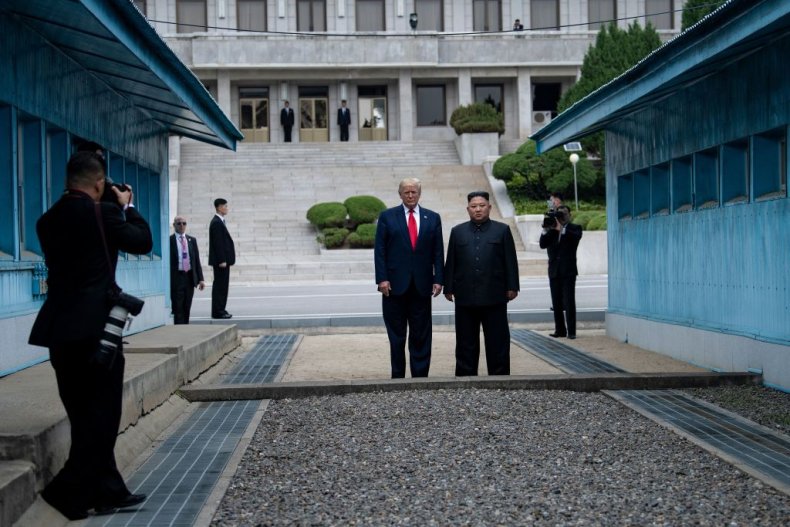 Trump's visit with Kim and his decision to cross the DMZ was allegedly planned at the last minute as the president attended the G-20 Summit in Osaka, Japan over the weekend. However, Trump had floated his plan to meet Kim earlier in the week to media.
After Trump crossed into North Korea alongside Kim, the two leaders met for 50-minutes. While the leaders agreed to restart talks regarding denuclearization, what specific steps will be taken remains unclear.
A report by The New York Times suggested that the White House's new plan was to ensure that North Korea's nuclear arsenal did not expand further, but would not push for dismantling existing weapons. But Trump's national security adviser John Bolton disputed that report on Monday.
"Neither the NSC staff nor I have discussed or heard of any desire to 'settle for a nuclear freeze by NK,'" he wrote on Twitter.