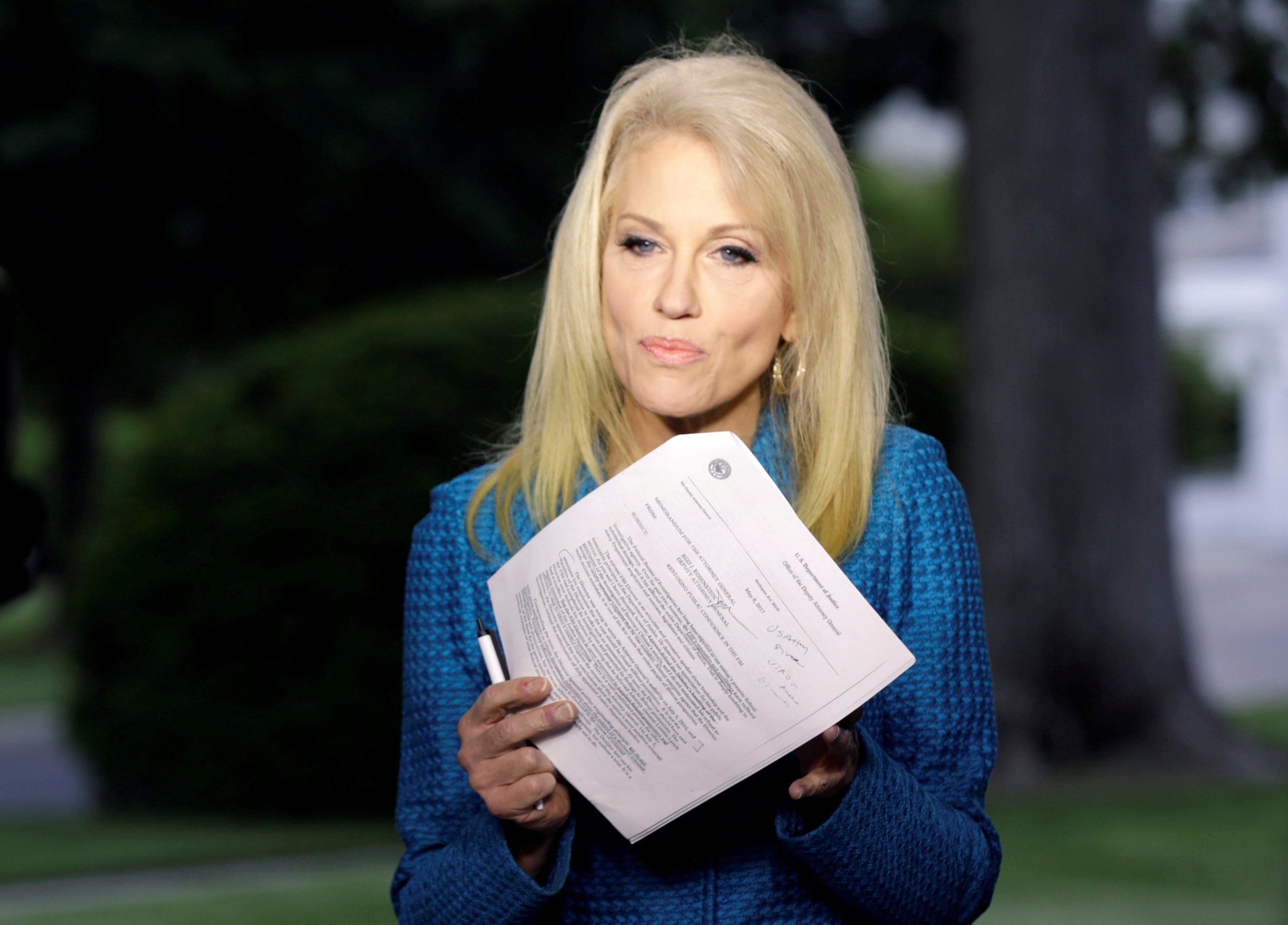 Updated | The ethics chiefs under former presidents George W. Bush and Barack Obama are accusing the counselor to President Donald Trump, Kellyanne Conway, of violating federal law by making political comments on the job.
Richard Painter, a chief ethics lawyer under Bush who now serves as the vice chairman of Citizens for Responsibility and Ethics in Washington, on Wednesday morning quoted a tweet with an image of Conway appearing on Fox News in front of the White House slamming Democratic Senate candidate Doug Jones of Alabama.
"She has violated the Hatch Act by using her position to take sides in a partisan election," Painter said on Twitter. "That is a firing offense. And for her this is strike two."
The Hatch Act states that employees in the executive branch are prohibited from using their official authority or influence to affect the outcome of an election.
In addition to the Fox News appearance Tuesday—during which she implicitly endorsed Jones's Republican opponent, Roy Moore, even though he is facing sexual assault allegations—Conway has offered what amounted to an advertisement for Ivanka Trump's clothing line on the television channel. The Office of Government Ethics recommended that Conway face disciplinary action for the Ivanka Trump plug, and the House Oversight Committee stated that her comments were a "clear violation" of ethics rules.
The tweet Painter quoted was from Walter Shaub, who was director of the Office of Government Ethics under Obama. Shaub earlier on Wednesday morning tweeted that he had filed a complaint with the U.S. Office of Special Counsel, which is responsible for investigating Hatch Act violations.
"It seems pretty clear she was appearing in her official capacity when she advocated against a candidate," Shaub said in another tweet.
Shaub, who resigned from the government ethics office in July, also posted a 2016 letter to Obama stating that Julian Castro, as secretary of Housing and Urban Development, violated the act by "advocating for and against Presidential candidates while giving a media interview."
In her most recent television spot, Conway said a vote for Jones was also a vote against the Trump tax reform plan.
"I'm telling you that we want the votes in the Senate to get this tax bill through," she said. "I just want everybody to know Doug Jones, nobody ever says his name and they pretend that he's some kind of conservative Democrat in Alabama and he's not."
Conway later tweeted that she had not in fact addressed Moore, and the White House principal deputy press secretary, Raj Shah, said via email: "Ms. Conway did not advocate for or against the election of a candidate, and specifically declined to encourage Alabamans to vote a certain way. She was speaking about issues and her support for the President's agenda. This election is for the people of Alabama to decide."
Painter on Twitter complained of Conway ruining Thanksgiving with the alleged violation.
"Trump pardoned two turkeys yesterday," he tweeted. "Looks like he should have pardoned a third."
This article has been updated with a statement from the White House.