Former California Gubernatorial Candidate Says He Has Coronavirus—and Some Advice for Governor Gavin Newsom
John Cox, who lost California governor's race to Gavin Newsom in 2018, exclusively told Newsweek he tested positive for coronavirus more than a week ago and has been quarantined in his home ever since.
Cox said he's been thinking about what he'd be doing had he been governor during the health crisis—especially concerning the homeless population—and noted that suffering from the condition himself gives him a unique perspective.
"I've got a slight headache and have been in bed for nine days straight," the 64-year-old Republican gubernatorial nominee told Newsweek. "My wife has rheumatoid arthritis, an autoimmune disorder, so I'm upstairs and she's downstairs."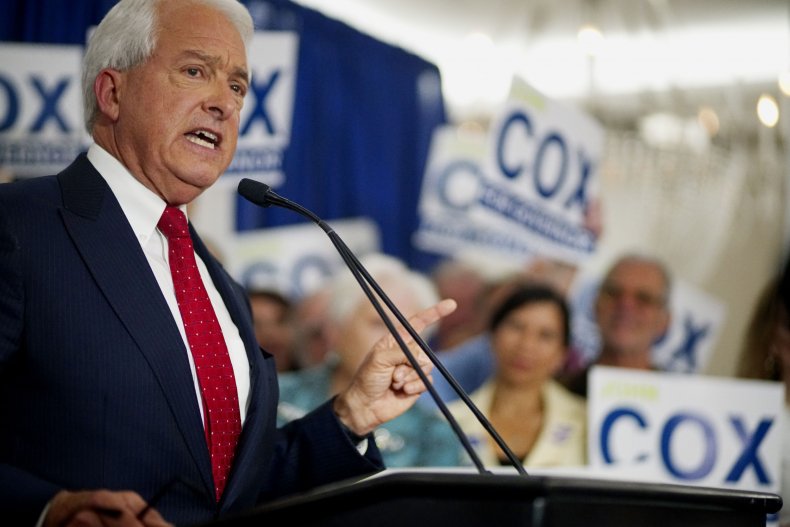 Cox said he likely caught the deadly virus from a 77-year-old golf buddy "who's now on a respirator and just got an experimental drug. I developed a fever and contacted a doctor. They stuck this stick quite deep up my nose, and it took five days to get the results back. When I'm free of fever for three straight days that will be the end of isolation."
"I wish I were governor so I could do something about California's homeless," added Cox, a millionaire who runs various financial and real estate businesses. "You've got 100,000 people living on the street during a pandemic. That's a dangerous situation."
"Newsom has failed the homeless, and now he's commandeering hotels to put them there temporarily. It's a stopgap measure," he said. "He has to address mental health and substance abuse."
Newsweek reached out to Newsom multiple times for comment, but he was unavailable before publication.
"We need to have legislation allowing conservatorships for the homeless who refuse help. It's been used and has worked in other jurisdictions," said Cox.
Cox says one of Newsom's big mistakes, from his perspective, has been to put more mandates on those who construct houses, which has caused California to "build fewer homes last year than the year before. That's going in the wrong direction."
Cox said that he's considering running for governor again two years from now and that his platform would be similar to what it was two years ago.
"In many ways, the pandemic highlighted the issues I talked about in 2018," he said. "I'd cut taxes and cut regulations. It's interesting seeing Newsom waive some regulations because of coronavirus, which is great, but there are still too many, and they increase the cost of living. Plus, he supports increases in real estate taxes, which involves more costs passed through to consumers."
He added, "You've got people losing their jobs in a state where the cost of living is too high. The burdens on families was bad before, and now with a pandemic, there's more stress."
Former California Gubernatorial Candidate Says He Has Coronavirus—and Some Advice for Governor Gavin Newsom | Politics