Former Cardinal, Washington D.C. Archbishop Theodore McCarrick Expelled From Priesthood After Abuse Verdict
U.S. former cardinal Theodore McCarrick has been expelled from the Roman Catholic priesthood after a Vatican panel found him guilty of sexually abusing a teenager.
In its ruling, the Vatican said that McCarrick was guilty of "sins against the Sixth Commandment with minors and with adults, with the aggravating factor of the abuse of power".
He was also found guilty of "solicitation" during confession.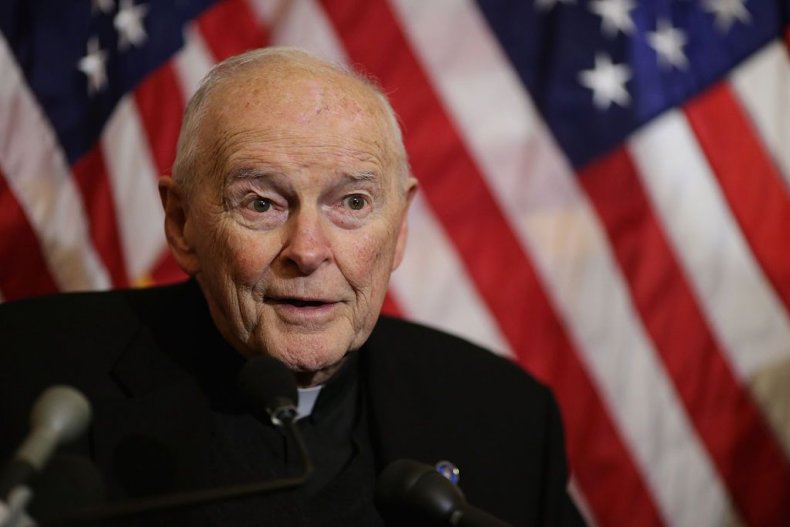 The ruling makes McCarrick the highest profile Catholic priest to be expelled from the priesthood over abuse allegations.
He had resigned his position as cardinal in July, and in the statement the Vatican said he had been found guilty of abusing a teenager by a Vatican court in January, with the decision upheld by Pope Francis in February.
The statement said the Pope had expelled McCarrick with no chance of appeal.
McCarrick's expulsion comes a week ahead of a meeting of senior Catholic clerics to discuss the abuse scandal that has engulfed the church in recent years.
The former cardinal has said he has "absolutely no recollection" of an alleged case of sexual abuse of a 16-year-old boy more than 50 years ago, reported Reuters news agency.
McCarrick was one of the most powerful figures in the Roman Catholic Church in the U.S., serving as Archbishop for Washington D.C. between 2001 and 2006.
In 2017 Archbishop of New York, Cardinal Timothy Dolan, went public with allegations that McCarrick had sexually assaulted a teenager while working as a priest in New York in the early 1970s.
A review board set up by the archdiocese following a request from the Vatican found the allegations credible.
McCarrick has also been accused of abusing seminarians and an altar boy, accusations he denies.
The church has faced questions over its handling of the allegations, with critics claiming it ignored and covered up the alleged crimes.
A letter obtained by the Catholic News Agency and CNN appears to show that the Holy See knew about abuse allegations levelled against McCarrick several months before he was appointed to be cardinal in 2001.
"I ask with particular reference to the serious matters involving some of the students of the Immaculate Conception Seminary, which in November 2000 you were good enough to bring confidentially to the attention of the then-Apostolic Nuncio in the United States, the late Archbishop Gabriel Montalvo," wrote then-Archbishop Leonardo Sandri, a senior Vatican official, in the letter to a New York priest who alerted him to the allegations.