Former CDC Director Tom Frieden Warns Of 'Hard Winter' as Omicron Ravages U.S.
The United States faces a "hard winter" amid a wider "pandemic of pandemic fatigue," a former director of the Centers For Disease Control and Prevention has warned.
In an interview with Newsweek, Dr. Thomas Frieden, who served as CDC director between 2009 and 2017, said: "I think we're heading into a difficult time. We still don't know a lot about COVID, but it's shaping up to be a hard winter."
"If you look at U.S., we're already having over 1,000 deaths a day, and I think we've really become inured to that. That's a huge number. I think we've lost our sense of perspective on how big the problem is," he added.
Frieden, who was commissioner of health for New York City before joining the CDC, noted that even in highly-vaccinated parts of the world such as the U.S. and Europe, there are still regular COVID outbreaks.
That, added to the emergence of the Omicron variant and the winter season being the time where flu is rife, means the next couple of months will be tough for countries in the northern hemisphere.
The current head of the CDC, Rochelle Walensky, told ABC News on Sunday that Omicron, which was first detected by South African scientists last month, has been found in about 15 U.S. states so far. COVID-19 case numbers continue to climb, even in the most vaccinated states.
"It's going to be a hard winter and, in addition to the pandemic, we have a pandemic of pandemic fatigue. What we can do is be clear about what's really needed, what's really important, how can we protect people most effectively?" Freiden said.
"Really the two major issues are vaccinations and masks," he said, adding that people of different age groups and vulnerabilities should balance the risks and benefits.
Frieden said that every adult in America should be offered the booster jab to help protect the country from the virus over the winter.
Less than 60 percent of the U.S. population has received the vaccine, meaning that many are still refusing it due to hesitancy or skeptisim. To overcome this, Frieden has previously said the U.S. should move towards a system of mandatory vaccination, but acknowledged that legal obstacles may prevent that from happening.
Asked about other ways the Biden administration could combat disinformation and vaccine hesitancy, Frieden said: "I think it's quite important that we get the messages right and the messengers right, that we have the right people talking to the right people, so that people can hear from someone or some group that they respect and trust. And that's really going to be central to progress."
"We've released something addressing young adults emphasizing the risk and importance of long COVID as a risk as a way of encouraging people for vaccinations, but getting different groups to identify the best messengers and messages for different populations. That isn't always so easy.
"More broadly — and I think this is something that the Biden administration would love to see but has limited ability to assure — is there some way we can try to reduce the partisanship of this [messaging around the pandemic] given where we are in the U.S. generally?"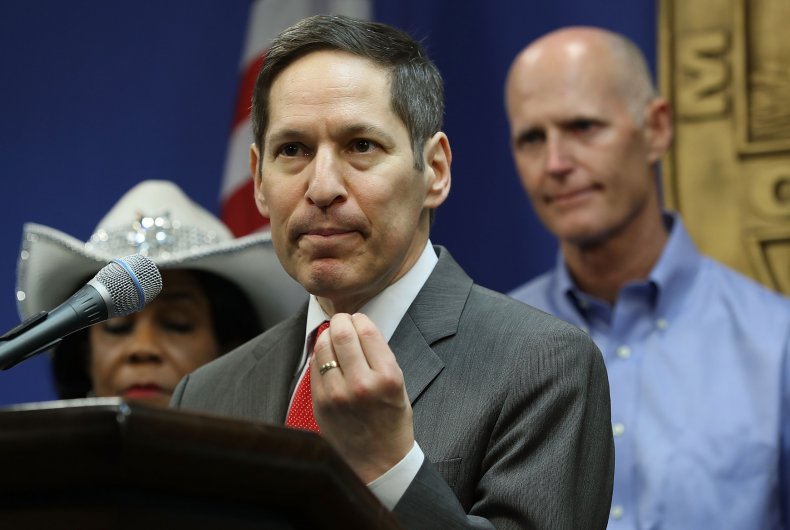 During the pandemic, Frieden founded an initiative called Resolve to Save Lives, which aims to save 100 million lives from cardiovascular diseases and epidemics. The initiative is funded by Bloomberg Philanthropies, the Bill & Melinda Gates Foundation, and Gates Philanthropy Partners, which is funded with support from the Chan Zuckerberg Foundation.
Many scientists believe global vaccine inequity is one of the reasons why the pandemic is not under control and new variants of the virus are still emerging. According to Our World In Data, 55.2 percent of the global population have had at least one dose of vaccine, but this figure is only 6.3 percent in low income countries.
To address this inequity, India and South Africa have led the charge at the World Health Trade Organization for a temporary suspension on patent protections for COVID-19 vaccines and diagnostics. This is backed by 118 countries including the China, Russia and the United States, but it is opposed by the European Union. If the patent protections are waivered, poorer nations can start manufacturing their own vaccines
Asked for his opinion on the debate, Frieden said: "I think it's too simplistic to be speaking just about intellectual property. It's really a question of the overall transfer of technology and I do think we need to be doing that more but just opening up the intellectual property alone won't do much to do that, you have to have hands on technology transfer.
"And I think it's very unfortunate that neither Pfizer nor Moderna has done that. I mean, they've worked with different partners in the case of Moderna, which is a very small company, and they've scaled up their own systems in terms of Pfizer, but they basically maintain their own technology and not share it and the results are that is that if the world faces a more dangerous variant, we're not going to be well-prepared."