Former Chief of Staff John Kelly Describes Donald Trump's Ukraine Request as 'An Illegal Order'
Donald Trump's former White House chief of staff John Kelly defended Lt. Col. Alexander Vindman, who testified against the president in the impeachment inquiry, and described Trump's request of Ukraine's President Volodymyr Zelenskiy as "an illegal order."
Kelly, a retired U.S. Marine Corps General, first served as secretary of homeland security in the Trump administration before transitioning to serve as chief of staff from July 2017 to January 2019. His remarks about Ukraine and Vindman came during a 75-minute Q&A at Drew University in New Jersey on Wednesday evening, which was first reported by The Atlantic.
Vindman, who served on the White House National Security Council, was ousted from his role last Friday due to his testimony against Trump in the impeachment inquiry. Army officials have said that the decorated officer will be reassigned to the Pentagon, but Trump has suggested he should face additional reprisals for telling House investigators what he knew about the president's actions toward Ukraine.
"He [Vindman] did exactly what we teach them to do from cradle to grave," Kelly told the audience at the university event, defending Vindman. "He went and told his boss what he just heard." The retired general made clear that he believed Trump's effort to pressure Ukraine to announce an investigation into his political rival, Democratic presidential candidate Joe Biden, was inappropriate, despite the president repeatedly insisting that his actions were "perfect."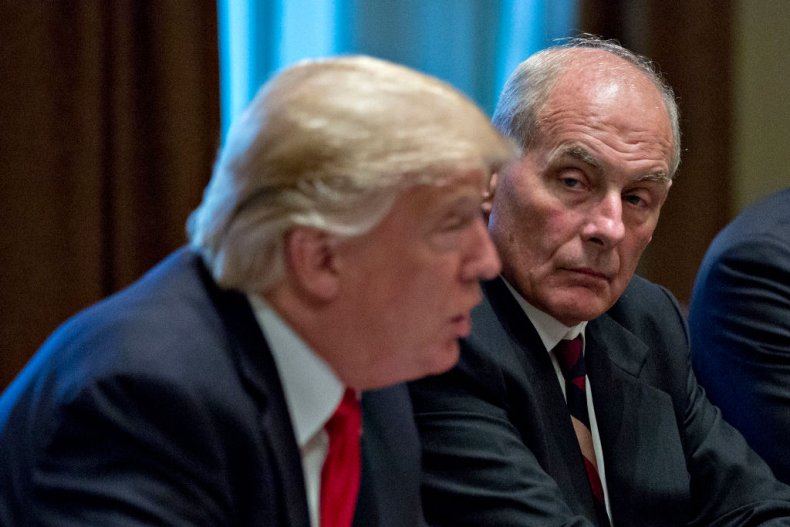 "Through the Obama administration up until that phone call, the policy of the U.S. was militarily to support Ukraine in their defensive fight against ... the Russians," Kelly noted. "And so, when the president said that continued support would be based on X, that essentially changed. And that's what that guy [Vindman] was most interested in."
Kelly went on to say that Vindman had essentially heard "an illegal order," which according to his training he was required to report. "We teach them, 'Don't follow an illegal order. And if you're ever given one, you'll raise it to whoever gives it to you that this is an illegal order, and then tell your boss.'"
The former White House chief of staff reportedly left his post on bad terms with the president, after they had disagreed on several significant policy decisions. Trump announced Kelly's departure from the White House in December 2018. Speaking to a political conference called the Sea Island Summit hosted by the Washington Examiner last October, Kelly said he'd advised the president against replacing him with a "yes man" after he departed from his White House role.
"I said, whatever you do — and we were still in the process of trying to find someone to take my place — I said whatever you do, don't hire a 'yes man,' someone who won't tell you the truth — don't do that," Kelly said. "Because if you do, I believe you will be impeached."
Kelly's warning to Trump appears to have been accurate, as in December he became only the third president in U.S. history to be impeached by the House of Representatives. The vote passed nearly along partisan lines, with independent Representative Justin Amash of Michigan, who was elected as a Republican before formally leaving the part in July, being the lone conservative lawmaker to join with his Democratic colleagues to indict the president.
Democrats opened the impeachment inquiry in late September after an unidentified government whistleblower reported a July call between Trump and Ukraine's President Zelenskiy. Lt. Col. Vindman was one of several administration officials listening in on the call but has testified under oath that he was not the whistleblower.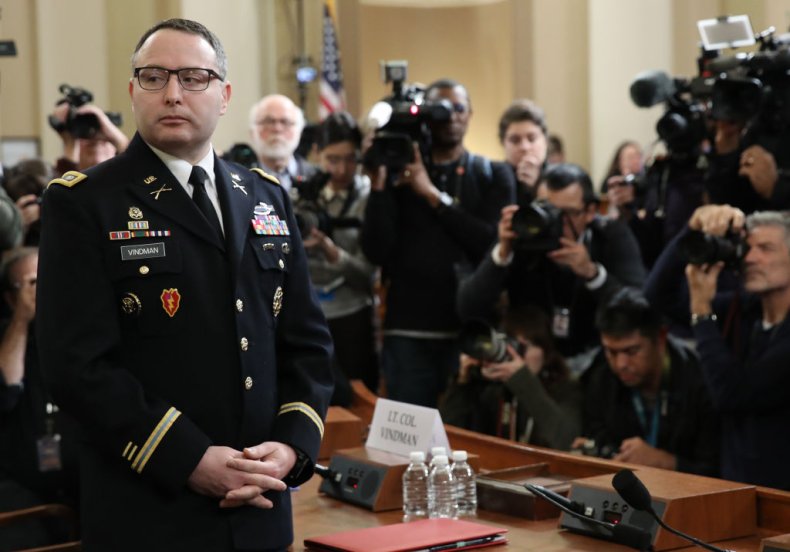 During the call, of which a summary transcript has been released, Trump asked Zelenskiy for "a favor," and to open investigations into a debunked conspiracy theory that Democrats and Ukrainians conspired to interfere in the 2016 election. The president also asked his Ukrainian counterpart to probe unfounded allegations that Biden acted corruptly in Ukraine while he was vice president to benefit his son Hunter's business dealings there.
Multiple administration witnesses were called to testify, including Vindman. In their testimony, they said that the president had not only sought the investigations into his political rivals but that he also temporarily withheld nearly $400 million in military assistance—which had been approved with bipartisan support by Congress—as a quid pro quo. Trump also withheld a White House meeting with Zelenskiy.
The nonpartisan Government Accountability Office, a federal agency that oversees the management of taxpayer funds, reported in mid-January that the White House hold on military aid was illegal. But Trump was acquitted by the Republican-controlled Senate earlier this month. GOP Senator Mitt Romney of Utah was the only member of his party to vote to remove Trump from office alongside Democrats, making him the first senator in U.S. history to cast such a vote against a president from their own political party.
Former Chief of Staff John Kelly Describes Donald Trump's Ukraine Request as 'An Illegal Order' | U.S.