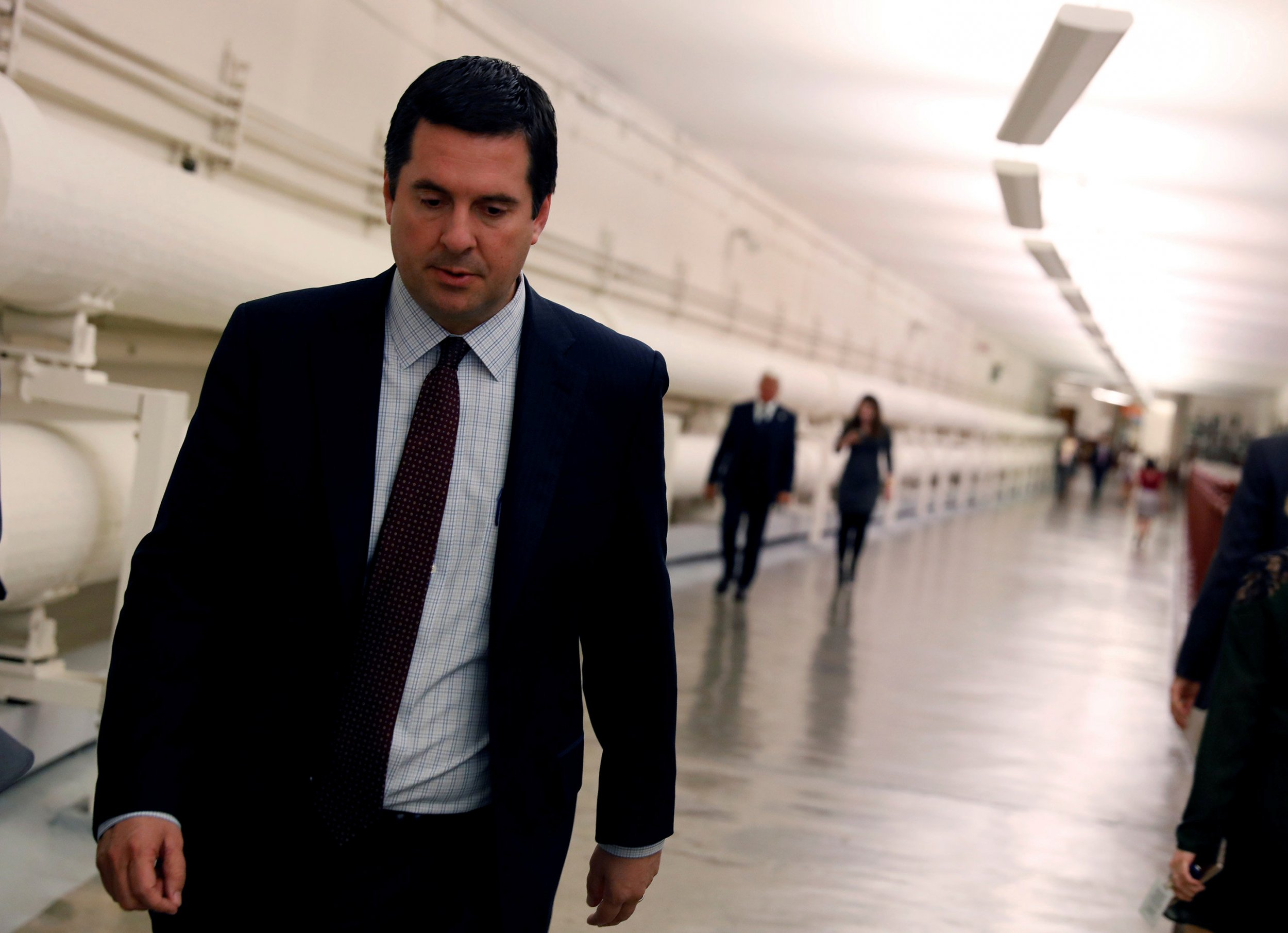 A former CIA analyst is saying there's an easy way to check who House Intelligence Committee Chairman Devin Nunes met with at the White House when he viewed classified information he said supports the idea President Donald Trump's election campaign was under surveillance.
"It would take about 120 seconds for a for a White House staffer to look into that matter," said Edward Price, who served as a CIA analyst between 2006 and February of this year, during an interview on MSNBC late Wednesday.
"I know the team there is new, so I will tell them exactly how to do it," Price said before giving step-by-step instructions. "You go into the WAVES database—a database that most people at the White House have access to—type in Nunes, and it will show exactly who cleared him in." Price wrote a column for The Washington Post in February stating he quit the CIA because of Trump.
A former U.S. ambassador to Russia, Michael McFaul, backed Prices's statements, noting on Twitter that it's "very easy to check out" the WAVES database "to know who came to" the White House and who let them in.
Nunes, a Republican of California, viewed the classified records March 21, in what the committee's ranking member, Representative Adam Schiff (D-Calif.), called a "dead of night" jaunt to the White House.
Their committee is currently conducting one of the two congressional investigations into Russian influence on the 2016 U.S. election, and members of Trump's 2016 election campaign team are also being investigated by the FBI.
Nunes held an unusual press conference on the day after his White House visit, during which he said he had seen the intelligence reports and that they showed "there was incidental" surveillance of "the president-elect and his team." Nunes said that all of the incidental surveillance he was aware of had been done legally.
He then went to the White House to inform President Donald Trump about what he had learned. After hearing from Nunes, Trump said he felt "somewhat" vindicated over his claims in early March that President Barack Obama had "wiretapped" Trump Tower.
During testimony in an open hearing on March 20, FBI Director James Comey said he and the Department of Justice "have no information that supports" the tweets Trump sent on March 4 claiming he and Trump Tower were illegally wiretapped by his presidential predecessor.
The claims have since been widely dismissed—even by the British government, after the White House claimed British intelligence carried out the surveillance.
Nunes has refused to reveal who showed him the records—even to fellow committee members such as Schiff—raising the question about who he met with and whether the information is coming from the Trump administration.
Schiff this week accused Nunes of colluding with the White House and called for him to recuse himself from the investigation into possible Russian interference in the election. Nunes later cancelled a series of hearings that were to include questioning of top U.S. intelligence officials.
A spokesman for Nunes, Jack Langer, on Monday said in a statement that Nunes "met with his source at the White House grounds in order to have proximity to a secure location where he could view the information provided by the source."
Price's comments about finding that source followed White House Press Secretary Sean Spicer's claim during a press briefing that he had "asked some preliminary questions" but got no answers to reporters' questions about how Nunes got on White House grounds to review intelligence information and who he met with.