Former CIA Chief Brands Trump's 'Self Adoration' Disgraceful After President Boasts About Polls
President Donald Trump's second boast in as many days about numbers in a single poll showing him with at least 50 percent approval drew a sharp rebuke from long-serving former CIA chief John Brennan.
"Still Rising: Rasmussen Poll Shows Donald Trump Approval Ratings Now at 51 Percent," Trump quoted from a headline on the hard-right website Breitbart in a late night tweet Wednesday.
On Tuesday Trump thanked "Rasmussen for the honest polling" on Twitter. "Just hit 50%, which is higher than Cheatin' Obama at the same time in his Administration," the president wrote, ignoring three other polls that show him with 44 percent approval or lower. Historic polls showed Trump with a lower approval rating than former President Barack Obama at this time in their respective presidencies.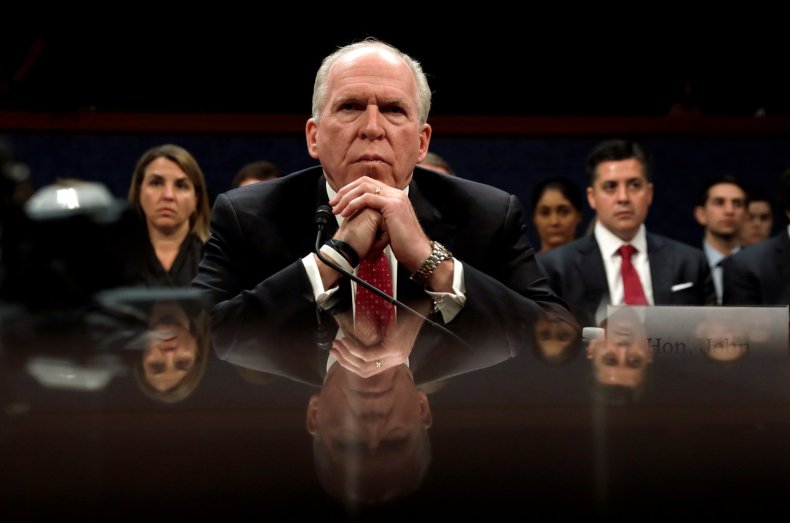 Brennan, who has become increasingly critical of the president in recent months, spoke out early Thursday, stating Trump puts himself before his country. "I served 6 Presidents, 3 Rs & 3Ds. I directly supported Clinton, Bush 43, and Obama," Brennan wrote on Twitter. "While I didn't agree with all their policy choices, I admired and respected all of them, as they put country above their personal interests. Not so with you, as your self adoration is disgraceful," the former intelligence chief continued.
In his Twitter profile Brennan, who served as CIA Director from 2013 to 2017, describes himself as a "nonpartisan American who is very concerned about our collective future." Before heading the CIA he served as the Director of the National Counterterrorism Center under President George W. Bush from 2004 to 2005 and worked in various positions throughout the CIA for 25 years, starting as an analyst.
Read more: Trump says his approval is higher than Obama's, ignoring the polls that say it isn't
Recently Brennan has been criticized for defending Trump's appointment of incoming CIA Director Gina Haspel and her role in enhanced interrogation and extraordinary rendition programs during the Bush administration. He also faced scrutiny in 2014 after CIA employees spied on the Senate Intelligence Committee, which was investigating the agency's involvement in torture during the War on Terror.
Early this year Brennan began making more pointed criticisms against the president, stating in February there is an "absence of moral and ethical leadership" in the White House after the FBI condemned the release of a controversial memo drafted by House Republicans. Trump approved the release of the memo, which alleged the FBI and the Justice Department were part of a political plot to undermine him through the investigation into Kremlin election interference.
Brennan has repeatedly warned about Russian interference in U.S. politics. The CIA and other agencies compiled a report early last year that found Moscow worked to tilt the election to Trump in 2016. Trump has called the investigation of Russian interference in the election a "witch hunt."
In March, Brennan called Trump a "disgraced demagogue" who will be consigned to the dustbin of history when the full extent of his "venality, moral turpitude, and political corruption becomes known." Brennan's statement followed the firing of former deputy FBI director Andrew McCabe, who oversaw the FBI's investigation of the Trump campaign.
Trump's job approval polling has risen this year after reaching a low of 37 percent last December in aggregated polls. The president now has a combined 41.8 percent approval rating and 53.3 percent disapproval rating.