A former CIA officer told Fox News that Republicans serving in the intelligence community could "strike back" at the next Democrat to be elected president because of the way Donald Trump has been treated while in office.
"Are we paying attention to how bad this is?" Bryan Dean Wright, a former CIA officer, asked Fox News host Ed Henry on Thursday morning. "In the next two or more years when a Democrat gets into the White House, whatever year that might be, do you not think that the conservatives or the Republican spies might strike back? What kind of game are we playing?"
The segment kicked off with a discussion about a New York Times report published Wednesday on the consequences of Trump's war with the so-called "deep state."
Trump has repeatedly asserted that there are left-leaning officials in major government positions trying to undermine his presidency. The ongoing impeachment inquiry, Trump claims, is just the latest example.
But the Times report outlines how it's actually Trump's own officials and lifelong public servants that have been defying the White House during the probe. The witnesses who have given damning testimony to lawmakers about the Ukraine controversy include Fiona Hill, Trump's former top Russia adviser, and William Taylor, the top American diplomat in Ukraine.
Democratic Representative Gerald Connolly told the Times the situation was "almost karmic justice" and that "I think you are seeing some payback here, not by design but by opportunity."
Fox's Henry specifically pointed to Connolly's comment during Thursday morning's segment. Wright told the host that there is a history of this kind of behavior in Washington D.C., where officials think they know what is better for the country than the American people do.
"This is incredibly dangerous. President Trump and the Democrats have to understand together that this is a serious problem," Wright said. He added that if something isn't done about the issue, the U.S may be in danger of becoming "like a Pakistan or an Egypt where we have these secret individuals behind the scenes who are unelected and unknowable deciding the future of the nation."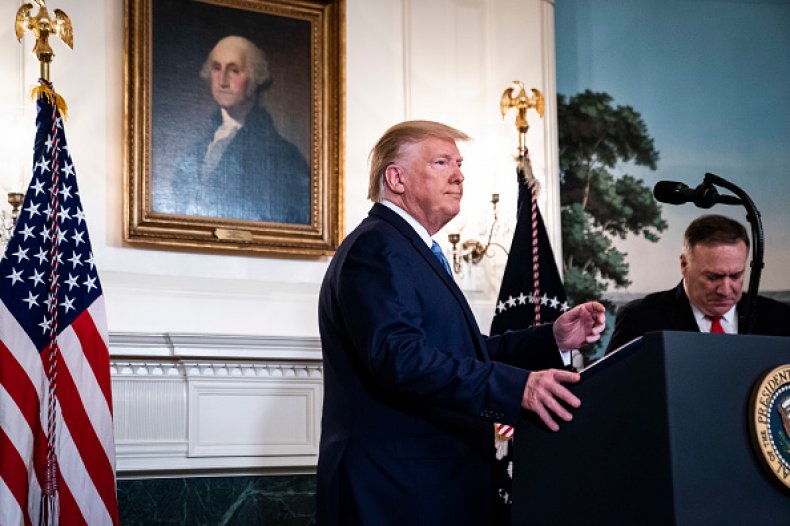 Thursday marks exactly one month since House Democrats launched their impeachment inquiry against Trump. The probe began as a response to reports that Trump pressured Ukrainian President Volodymyr Zelensky to investigate former Vice President Joe Biden and his son Hunter.
On Wednesday, Trump slammed Republicans who wouldn't pledge their loyalty to him throughout the impeachment inquiry as "human scum." He also called for his administration to stop hiring "Never Trumpers" who don't blindly support him.
"The Never Trumper Republicans, though on respirators with not many left, are in certain ways worse and more dangerous for our Country than the Do Nothing Democrats. Watch out for them, they are human scum!" Trump wrote in a tweet.
Trump has dismissed the inquiry as another Democratic "witch hunt" but polling shows that American support for impeaching and removing the president from office is growing. A new Quinnipiac University poll found that 55 percent of registered voters approved of the probe, which was a four-point jump from the week before.