Former civil rights activist Bob Woodson is warning the progressive left that cancel culture could lead to the removal of Martin Luther King Jr. statues across the country.
"The fact that the statue of Frederick Douglass in Rochester, New York, was torn down this summer gives you an idea of where the left is going with the perversion of the civil rights movement," Woodson told RT America's Steve Malzberg. "It's really a perversion of it that is causing this kind of moral drift."
Speaking of King, Woodson said, "I wouldn't be surprised if this time next year they take his statue down."
In June 2020, a statue of prominent abolitionist Frederick Douglass was removed from its base in Rochester's Maplewood Park and later found in a nearby gorge in a damaged condition.
The police opened an investigation into the vandalism, but former NAACP President Cornell Brooks said he believed it was done in retaliation for the removal of Confederate statues in the wake of the George Floyd protests.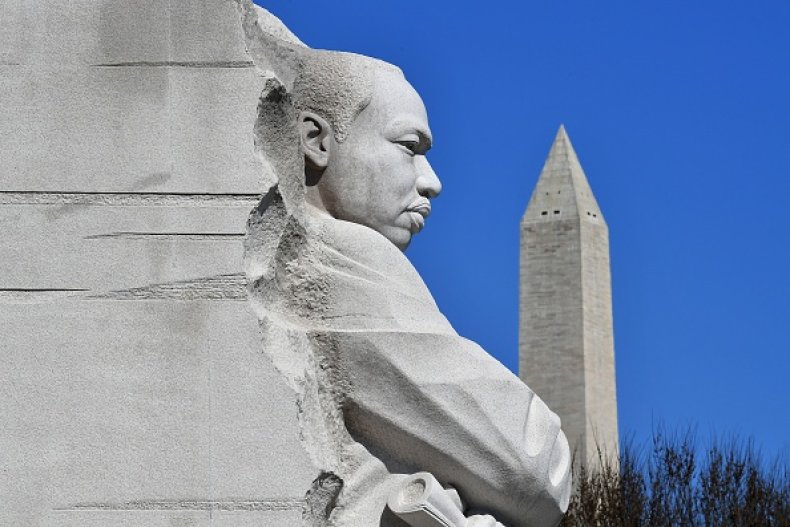 "Dr. King, to paraphrase him, he said that racism isn't bad because it's visited upon Blacks by whites, it's bad because it is evil," Woodson said on RT America, a channel that is part of Russia's RT network. "And therefore all of us—Black, white, brown—we must come together to confront evil."
Woodson also argued that The Nation's justice correspondent, Elie Mystal, "an example of someone who is really out of touch," undermined King's philosophy in a recent op-ed. Mystal recently wrote an article describing his indifference toward returning to normal life after the coronavirus pandemic because of the racism he will be confronted with.
Woodson, the founder and president of the Woodson Center, a nonprofit, nonpartisan organization aimed at helping residents of low-income neighborhoods address problems in their communities, said he hopes white people will push back against efforts by today's civil rights activists and the NAACP.
"They're going to such extremes to racialize everything that I hope white America will wake up and experience race fatigue and just push back against it," he said.
He shared a story he heard about a white student who wrote an essay using King's speech. Woodson said the teacher rejected the essay, arguing that because the speech included the word Negro, the essay was offensive to Blacks.
"Here is an example of white America trying to say to Black America what is offensive," Woodson said. "That's how bad it's getting."
Newsweek reached out to the NAACP for comment but did not hear back before publication.