Former Coal Executive and Prisoner Seeking Constitution Party Nomination for President
A former prisoner and coal executive has thrown his hat into 2020 Presidential election ring, according to reports.
Don Blankenship announced that he would be seeking the far-right Constitution Party's nomination for the presidency at a party conference in Pittsburgh, Pennsylvania on Saturday.
Blankenship was the CEO and chairman of the coal company Massey Energy until 2010. An April 2010 explosion at the company's Upper Big Branch mine in West Virginia claimed the lives of 29 miners. After an investigation, officials determined that the company and management was responsible for the disaster.
Blankenship was convicted on one charge of conspiring to violate federal mining safety regulations, a misdemeanor. He was acquitted on felony charges. Prosecutors claimed that the former CEO's safety efforts at the company were a "façade."
In April 2016, he was sentenced to one year in prison for the crime, and released the following year. The former executive maintained his innocence, and while serving time in a prison near Bakersfield, California is said to have described himself as an "American political prisoner" in a blog post.
Upon Blankenship's release, he renewed a feud with Democratic West Virginia Sen. Joe Manchin, who had earlier told ABC "I think Don has blood on his hands."
"His refusal to accept responsibility for his criminal actions even now only exacerbates these grieving families' pain," said Manchin, in a statement at the time of Blankenship's release. "The families of the fallen 29 brave miners deserve better, so I hope that Mr. Blankenship chooses to do the right thing and disappear from the public eye."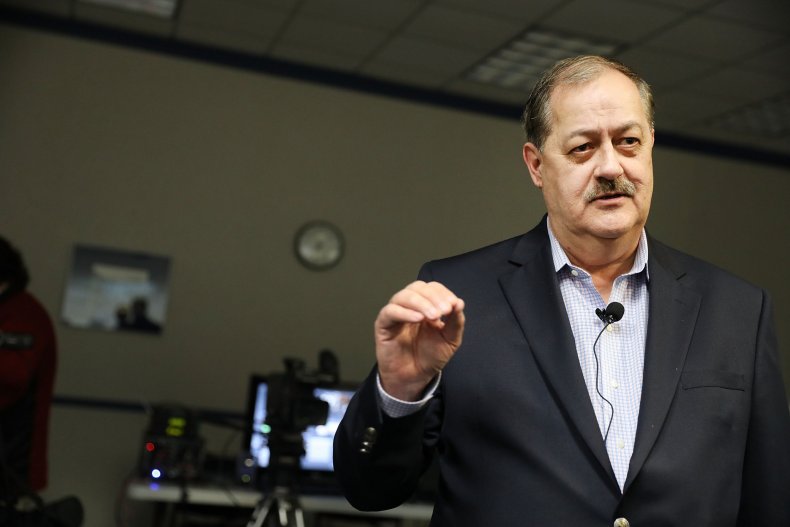 Rather than retreating from the public eye, the former coal executive then launched an unsuccessful campaign for Manchin's senate seat in the 2018 election. His campaign was said to lean heavily on his support of President Donald Trump, who was not an ally of Democrat Manchin.
Blankenship lost the Republican primary, but attempted to run in the general election on the Constitution Party ticket. The state's "sore loser" law, which prohibits major party candidates who lose primaries from switching to minor parties in the general election, prevented that effort.
During the 2018 primary, Blankenship had a contentious twitter exchange with Donald Trump Jr., who erroneously described him as a "felon." Blankenship later filed suit against the younger Trump over the use of the word. The case is set to go to trial in October 2020.
The Constitution Party was formed in 1992 as the "U.S. Taxpayers' Party." It is a primarily Christian conservative group with a far-right platform that hinges heavily on an anti-abortion stance and the party's desire to repeal the U.S. Constitution's 16th amendment, which enabled the federal government to tax citizens.
The Constitution Party earned 203,026 votes, or roughly 0.1 percent of the national vote, in the 2016 presidential election, according the party's website.