Roy Moore's Former Colleague Says Alabama Candidate Dated High School Girls and Everyone Knew About It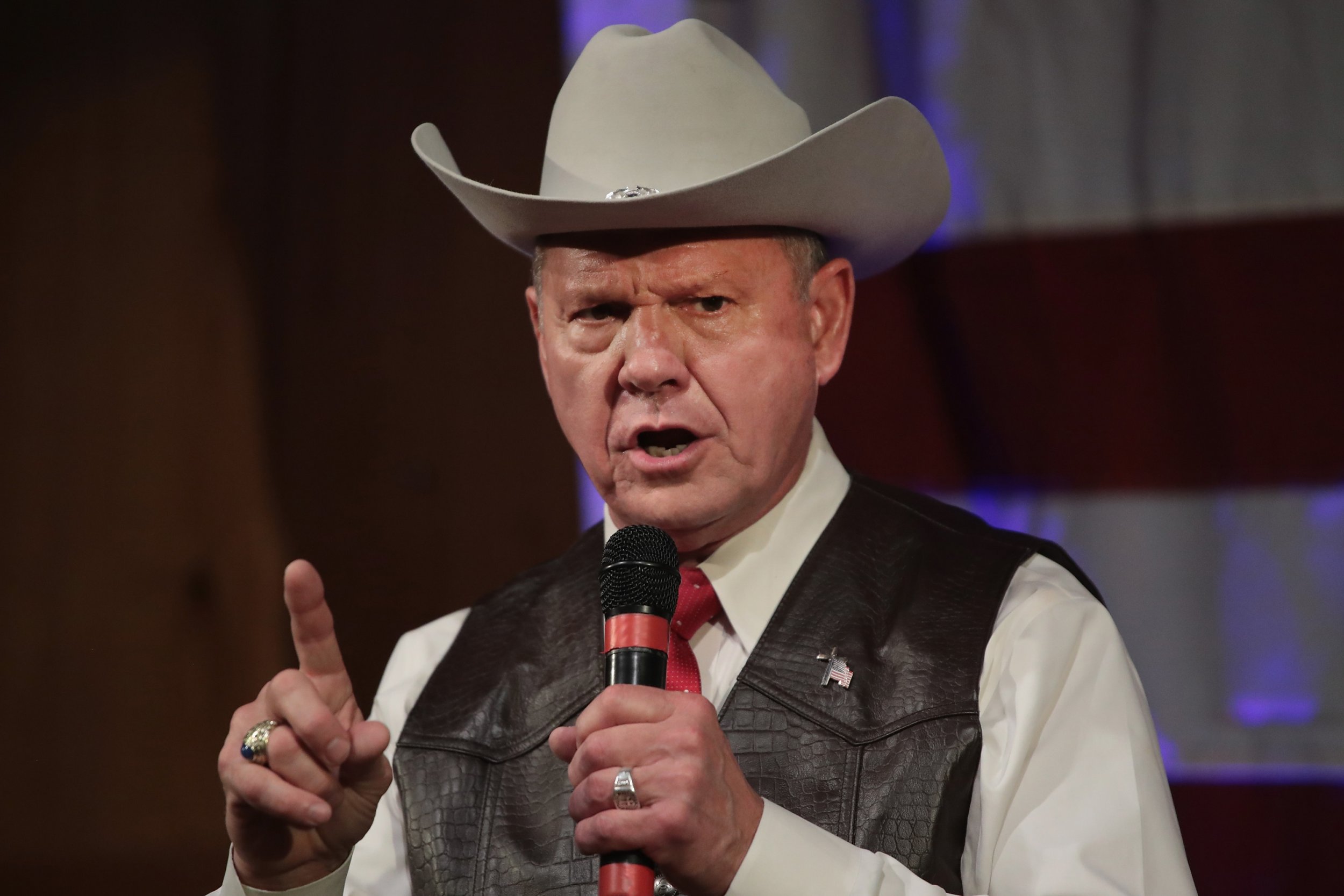 A former prosecutor who worked alongside GOP Senate candidate Roy Moore in the 1980s said it was "common knowledge" at the time that he dated high school girls.
"It was common knowledge that Roy dated high school girls, everyone we knew thought it was weird," former deputy district attorney Teresa Jones told CNN in comments aired Saturday. "We wondered why someone his age would hang out at high school football games and the mall ... but you really wouldn't say anything to someone like that."
Jones is now a partner in a private legal practice in Sarasota, Florida.
She served as deputy district attorney for Etowah County, Alabama from 1982 to 1985, according to her firm's website. Before she joined the DA's office, she was the assistant city attorney for the city of Gadsden, Alabama – where she says she worked with Moore.
Between 1977 and 1982 Moore worked as assistant district attorney for Etowah County, where Gadsden is the county seat.
Jones's comment come after the Washington Post reported that Jones had engaged in sexually inappropriate behavior with girls aged between 16 and 18 in the early 80s – when he was in his early 30s.
One of Moore's accusers, Leigh Corfman, told the Post that Moore sexually molested her when she was 14.
Moore has vehemently denied the claims, but in an interview with Fox News' Sean Hannity on Friday wouldn't rule out that he had dated girls in their late teens at the time.
Moore, speaking at a Veterans Day event at a public library outside of Birmingham, Alabama in his first public appearance since the accusations were made public, slammed the allegations as "completely false and untrue" and "very hurtful to me personally."
"I am not guilty of sexual misconduct with anyone," Moore said, as cited by NBC News.
Newsweek has reached out to Moore's campaign for comment on Jones's claims.
Both Senate majority Leader Mitch McConnel and House Speaker Paul Ryan have called for Moore to step aside in the Senate election race if the allegations are true, and several GOP senators have withdrawn their backing for Moore.