Former Colorado QB Joel Klatt Is a Natural in the Booth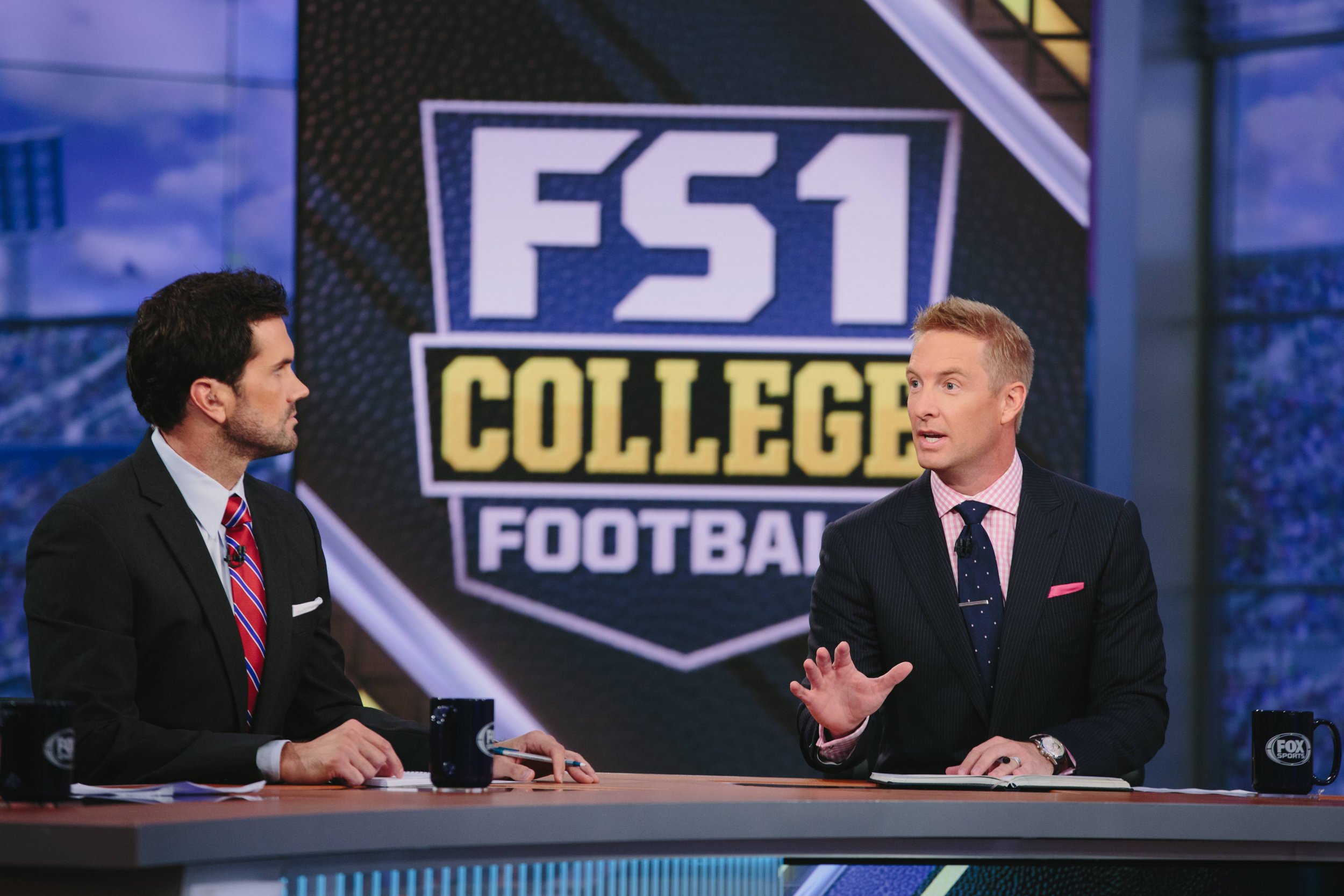 The final play of Joel Klatt's athletic career was the definitive case of adding injury to insult. It happened midway through the third quarter of the Big 12 Championship Game between Colorado and No. 2 ranked Texas on December 3, 2005. Klatt's Buffaloes already trailed 70-3 when he dropped back to pass on third-and-17 and was freight-trained by a blitzing Longhorn safety.
"It's a tough memory, but I still don't have a memory of that game," says Klatt, 33, who was knocked out on a helmet-to-helmet hit and never saw his final pass completed for a 23-yard gain. "It ends badly for everyone, almost."
Ten years and two days later, Klatt will be calling Saturday's Big Ten Championship Game between Iowa and Michigan State for Fox as its lead analyst. For those who know Klatt—who walked on at Colorado but went on to start 36 games for the Buffs at quarterback—this meteoric ascent in broadcasting is not unexpected. Klatt never pursued the profession; rather, he was blindsided by it.
"It was 2007 and I was living in Denver, working in real-estate," says Klatt, who has that handsome-but-not-too-handsome look of a 747 co-pilot. "A local station got wind that I was in town and asked me to appear on a pre-game show for the Colorado-Colorado State game. I said, 'No.'"
At the time, Klatt was spiraling into depression, a descent accelerated by alcoholism. "Without athletics, I had no concept of who I was as a person," says Klatt. "I remember watching the NFL draft, knowing that my name was not going to be called. I couldn't not watch it, but I couldn't stand watching it, either. It was an incredibly tough time, and I was lost. Moody, all the time. I would take it out on my wife [Sara]."
Tim Ring, a local on-air personality at Fox Sports Net, induced Klatt to at least give television a try. "I'll do this," Klatt said, "but only because they're giving me $200."
"When you pull a guy off the street and put him on TV, the results are iffy at best," says Ring, who is now the sports director at KPHO, the CBS affiliate in Phoenix. "TV certainly isn't for everybody. Joel came on and immediately looked and sounded like he'd been doing this for 10 years. Polished, comfortable, interesting—he had the whole package from day one."
After Klatt's debut taping, Ring walked to his production truck for a post-show meeting. As he hit the bottom stair, the door flung open. The show's executive producer, Benji Kaze, leaped out, threw his hands skyward and bellowed, "How good is Joel Klatt?!?"
Very, very good. In a milieu oversaturated with ex-jocks whose names are their only asset, Klatt's versatility and comfort in front of the camera is manifest. That he is a former college quarterback (and minor-league baseball player) is beside the point. "Joel is a natural anywhere you put him," says Fox studio host Rob Stone. "In the booth. On the sideline. He could easily do my job, although I'm not in favor of that right now."
Fox Sports 1 launched in the summer of 2013 as Rupert Murdoch undertook the quixotic attempt to plant his network's flag in a corner of the Roman Empire that is ESPN. While some of the fledgling cable sports network's hires and programs bit the dust (e.g. "Crowd Goes Wild" with Regis Philbin), Klatt quickly gained traction as a credible voice of college football. When he began, most fans' memories of him were no less hazy than were his of the 2005 Big 12 title game, but he has quickly established himself as one of the most respected names in the game.
"Joel is [Kirk] Herbstreit-esque," says Stone, referencing ESPN's blond, former college quarterback who has been a fixture on College GameDay, the weekly zeitgeist of the sport, since 1996. "Joel is as dialed-in as anyone in college football, and he has done so in a remarkably short time. He owns college football at our network."
At Pomona High School in Arvada, Colorado, Klatt played quarterback for his father, Gary, the head coach. When he received no Division I scholarship offers, he signed with the San Diego Padres as an infielder. His life quickly devolved into an outtakes reel from Bull Durham. In 2001, he played a night game for Idaho Falls severely hung over from the evening before. "I remember thinking to myself, If I swing and miss I'm probably going to throw up," Klatt told Fox Sports radio host Colin Cowherd in October. "I went four for four and I only swung the bat four times."
A losing battle with alcohol (and a .209 batting average) convinced Klatt he needed the structure of a college education. He enrolled at Colorado in 2002 and walked on to the football team. Though he majored in economics, Klatt inadvertently found himself minoring in rhetoric.
In 2004, the Buffalo football program was in the throes of a national media conflagration after a former female player, placekicker Katie Hnida, told Sports Illustrated that a teammate had sexually assaulted her in 2000 (Hnida never pressed charges). Klatt, telegenic and well-spoken, found himself appearing on the Today show, Good Morning, America and Larry King Live in defense of the embattled program.
"Joel was my go-to guy through that entire ordeal," says longtime Colorado sports information director David Plati, who also mentored ESPN's Chris Fowler when he was a CU undergrad. "Every time I needed someone to do an interview, I called Joel. He probably did five hundred interviews in his three years, and less than half of them were about him."
Klatt, who arrived in Boulder after Hnida left, appreciated the sensitivity of the subject matter, but also saw it as his role as team captain to defend the program. "I've never met Katie, I wasn't on the team with her," Klatt says. "I just believed in our program and I believed in the culture of our team."
Now sober for four years, Klatt finds that calling games as Fox's lead college football analyst, its Herbstreit, is redolent of playing quarterback. "Doing these games is great therapy for me," he says. "I've fallen into the same patterns that I fell into playing football: Everything is regimented, you have to prepare. Then it's showtime, you have to go out and perform. It's almost like a drug."
Stone says that every Monday, Klatt sends out, via email, a college football newsletter to the production staff. "It's this one-page bible, with a ridiculously small font, of everything that we should know that happened that weekend and what we should be paying attention to this weekend," says Stone, a former production assistant on ESPN's College GameDay. "You'd expect Joel to be prepared on his own, but it's funny that he's also concerned with all of us being prepared as well."
When Klatt enters Lucas Oil Stadium on Saturday night to call the Big Ten title game along with partner Gus Johnson, he will be prepared. And, 10 years after he woozily stumbled off the field, he will complete this conference championship game. "I love it," says Klatt. "And it's a lot safer being in the booth—except now there's Twitter."