Former Cop Found Guilty of Jan. 6 Obstruction of Congress, 5 Other Counts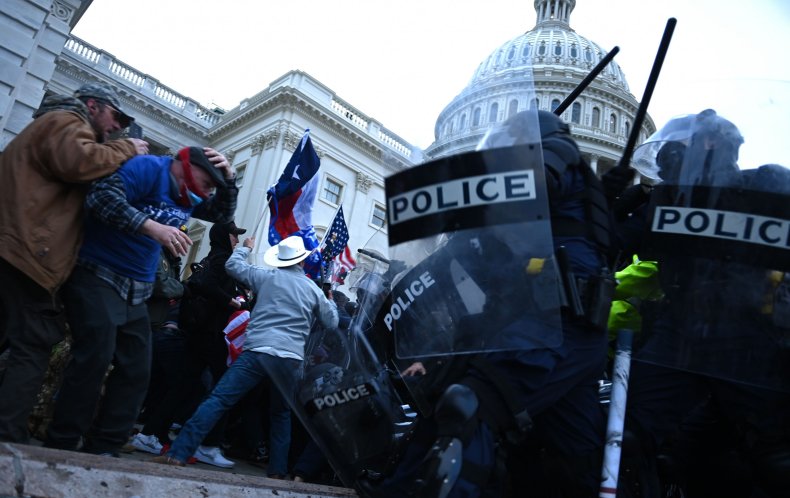 A former police officer has been convicted of obstruction of Congress and five other charges following his participation in the January 6 attack on the U.S. Capitol.
A federal jury on Monday found Thomas Robertson, 49, guilty of all six counts related to his storming of the Capitol. Jacob Fracker, Robertson's fellow former Rocky Mount, Virginia, police officer, had originally been scheduled to stand trial alongside him but pleaded guilty last month to conspiring to obstruct an official proceeding and instead served as a key witness for the prosecution.
In addition to obstruction of Congress, the Washington, D.C., jury also convicted Robertson on charges of entering a restricted area while carrying a dangerous weapon; interfering with officers during a civil disorder; disorderly or disruptive conduct inside the Capitol building; disorderly or disruptive conduct in a restricted area while carrying a dangerous weapon, which was a large wooden stick; and obstruction related to destroying evidence after the riot.
"While Mr. Robertson disagrees with the Jury's decision he respects the rule of law," Robertson's defense attorney Mark Rollins said in a statement to Newsweek. "He will appeal the verdict as he submits he never corruptly obstructed or impeded Congress on January 6 ... Furthermore, while the jury disagreed with his position he did not use his walking stick as a dangerous weapon on January 6 ... "
Five of the six counts were felonies. Robertson could face a maximum sentence of up to 20 years in prison. A date for his sentencing hearing has not yet been set, according to CNN.
Robertson was the second January 6 suspect to face trial by jury. The first, 49-year-old Guy Reffitt of Texas, was convicted of five felonies last month. Although Reffitt was not accused of entering the Capitol like Robertson, he could also face up to 20 years in prison in a sentencing hearing set for June 8.
U.S. District Judge Christopher Cooper revoked Robertson's pretrial release last July after he was accused of illegally stockpiling 34 firearms and attempting to disguise the purchase of ammunition. The judge wrote in his decision that Robertson had "expressed pride in his role" in the Capitol riot and "enthusiasm for the prospect of future political violence."
In court filings requesting his pre-trial detention, prosecutors said that Robertson, despite "holding a position of public trust as a police officer, traveled to the District of Columbia and participated in one of the most riotous acts of insurrection the nation has ever seen. Then, he repeatedly and flagrantly disregarded the court's orders not to possess firearms."
Robertson and Fracker were both fired from the Rocky Mount Police Department in early 2021 after a photo was shared with colleagues that showed them posing with extended middle fingers alongside a statue of John Stark inside the Capitol.
Fracker testified that he and Robertson had participated in the attack on the Capitol in the belief they they might prevent Congress from certifying President Joe Biden's 2020 election victory, according to the Associated Press. Both men believed former President Donald Trump's false claims that the election had been "stolen" from him.
Robertson did not testify at his trial, which lasted for three days and was followed by 1 1/2 days of jury deliberations. Rollins reportedly argued in court that Robertson should be convicted of only misdemeanors, telling the jury that there "were no plans to go down there and say, 'I'm going to stop Congress from doing this vote."
"I think the government made a really compelling case and the evidence was fairly overwhelming," a juror who spoke to the Associated Press on the condition of anonymity said as she left the courthouse.
Federal charges have been filed against more than 770 alleged Capitol riot participants, with over 250 defendants having pleaded guilty to charges that consist largely of misdemeanors.
Update 4/11, 9:30 p.m. EST: This article has been updated to include a statement from Rollins.